---
Society Page
---
News about people and
announcements from
AGI's 37 member societies
______________________
To post news in Society Page, send e-mail to geotimes@agiweb.org with the subject: Society Page.
Contents:
GSA, new president looking forward
Geotimes recently caught up with Sharon Mosher of the University of Texas, president of the Geological Society of America (GSA). Mosher took the helm at GSA beginning this year.

[At left: Sharon Mosher, president of the Geological Society of America. Photo courtesy of GSA.]

What will it take to lead GSA under the Bush administration?
Now more than ever, all geoscience societies need to work together to build a stronger awareness among the public and public policy makers of the importance of basic and applied earth science research to society. We need to speak with a united voice to have any influence on the course this country takes in the areas of natural hazards, the environment or research funding. I will be actively working toward better cooperation and collaboration among geoscience societies and will be encouraging members to become more active in the public domain.

What do you see as your greatest challenge in leading GSA?
The greatest challenge facing GSA today, and also its greatest opportunity, is the transition to electronic publications and formation of electronic journal aggregates. The challenge is to balance the financial risks with the tremendous benefits from using new technology. I would like us to do more than move our print journals online. I think we should be bold and take advantage of the opportunities provided by the new technology, such as publishing digital maps that display the geology, structure and topography in three dimensions and allow the reader to view it from different perspectives. We also need to ensure the continued use of our past literature and to increase the interactive access to all geoscience journals. However, we have to be fiscally prudent and keep this from negatively impacting other critical GSA programs. To my mind, the greatest challenge in leading GSA is maintaining a good balance between GSA's activities in terms of publications, meetings, member professional development, outreach and education.

What excites you about being president of GSA?
This is a time of growth for GSA. GSA is starting many new initiatives, such as global meetings in cooperation with geoscience societies of other countries and a public policy lecture series and listserve. GSA is exploring new options in terms of publishing and member professional development. To be involved in the beginning stages of planning and implementing these new initiatives is very exciting. I am also looking forward to working with GSA's associated societies, other AGI member societies, and societies in complementary disciplines to build better relationships and closer collaboration scientifically and between outreach and education programs.

What questions do you hope earth science researchers will help answer in the next decade?
I hope that through programs such as Earthscope, we can answer the numerous questions related to active tectonics, such as: What physical and chemical processes are acting within major plate-bounding faults? What stress conditions cause earthquakes to initiate and propagate? What triggers volcanic eruptions? How can we better predict tectonically generated natural hazards? Other questions I hope researchers will find answers to include: How are humans influencing climate change and how will these changes be manifested in the future? What were the triggers and controls on climate change in the past? What are the relationships between biologic and geologic processes? Is there life in outer space?




On Feb. 19, the Society for Sedimentary Geology (SEPM) hired Howard Harper as its new executive director. Harper graduated from Harvard University with a doctorate in geology, focusing his research in biostratigraphy. He then transferred his research experience to a job at ARCO, where he later became director of stratigraphy research after dabbling in exploration and business.

As executive director of SEPM, Harper will pursue the society's traditional goals: dedication to the dissemination of scientific information on sedimentary geology, including sedimentology, stratigraphy, paleontology, environmental sciences, marine geology and hydrogeology. "The challenges that we face are maintaining quality publications and meetings in today's fast changing scientific and economic environment," Harper says.

He is looking forward to increasing membership communication through the Internet. International members can take advantage of the Spanish translation of the SEPM Web site. SEPM is also increasing international membership by establishing new sections and joining in international meetings. "We have also funded several international students to attend our annual meeting," Harper says. "We will continue working on our international presence and student involvement."

"We will continue working on our international presence and student involvement."

Harper attended the Geological Society of America's (GSA) Forum for Associated Societies in Boulder on Feb. 23. Representatives from most of the associated societies discussed initiatives for cooperation in the geologic areas of education, public outreach, publications, meetings, global ventures and professional development. "We have strong relationships with AAPG [American Association of Petroleum Geologists] and GSA and are looking forward to working with other geoscience societies in areas of mutual interest."

The Society for Organic Petrology (TSOP) invites applications for graduate student research grants. The purpose of the grants is to foster research in organic petrology by providing support to graduate students from around the world who demonstrate the application of organic petrology concepts to research problems.

The society will grant up to $1,000. TSOP will also provide Merit Awards, in the form of certificates redeemable for TSOP publications, to top-ranking applicants not receiving grants.

The program awards a maximum of two grants each year.

The application deadline is May 15. Grants will be awarded in September 2001. Watch for detailed information and an application form on the TSOP Web site, www.tsop.org/grants.htm. Applications may also be obtained from S.J. Russell, Shell International E&P, Inc., 3737 Bellaire Blvd., Houston, TX 77025, USA. Phone: 713-245-7603. Fax: 713-245-7599; E-mail: srussell@shellus.com.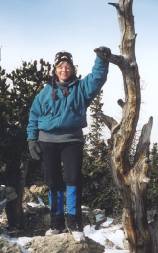 The American Geological Institute's Past President Susan Landon was named president of the Rocky Mountain Association of Geologists (RMAG) early this year. The Rocky Mountain organization is the second largest affiliated society with the American Association of Petroleum Geologists, providing 18 members to the AAPG House of Delegates.
[At left: Susan Landon winter climbing the Colorado Front Range. Photo courtesy of S. Landon.]
Landon is an independent petroleum geologist affiliated with Thomassan Partners Associates, an oil and natural gas exploration group. RMAG is a nonprofit organization that caters primarily, but not exclusively, to geologists operating in the petroleum industry. The organization also focuses on the practical applications of those sciences, fosters scientific research, and encourages fellowship and cooperation among its members.
Landon is looking to push the society toward a more proactive stance on public lands. Specifically, it will look at the Bureau of Land Management and at forest lands in the Rockies that provide some of the major natural gas provinces in the United States. "RMAG has been reluctant to get involved in any political act and I would like to move RMAG cautiously to becoming a little more proactively involved in developing public policies such as appropriate access to public lands," Landon says. Society members will soon comment on a drafted public policy statement on access to federal lands.
Another area in which Landon sees room for improvement is with RMAG's involvement in outreach to the general public and school children. She is currently working to expand the committee that provides speakers to schools. "We have more requests then we can fill," she says. "I would like to increase enthusiasm among the members to understand the importance of and to be more active in outreach."
Landon is an avid mountain climber and has hiked Mount Kilimanjaro, Mount Rainier and Mount Whitney. "I'm goal oriented and to have a mountain peak as a goal I think reflects part of my personality," she says.
---
Associate Editor Christina Reed compiles Society Page.