---
News Notes
---
Water Resources
Water in the West
In February, water agencies across California began to dole out estimated water allotments to farmers, utility companies and cities. In light of the state's power crunch, tensions soared as water shortage predictions began to fill the news. Some even surmised that the dearth of water could compound energy woes. Is California teetering on the brink between energy and water crises?
In an attempt to clarify the situation, the California Department of Water Resources held a public briefing in Sacramento, Calif., on Feb. 26. Jeanine Jones, one of the department's principal engineers, said in an interview before the breifing that water deliveries could be a mere fraction of requested amounts. "These are the current conditions on a statewide basis," she said.
What might compound problems is the energy crunch. While hydropower is only 20 percent of California's energy supply, it plays a crucial role in any energy grid.
"The flexibility to produce more or less energy quickly and efficiently is an important piece of the system," says David Freyberg, a civil engineer at Stanford University. It is most efficient for utility companies to generate nuclear and thermal power at a steady rate.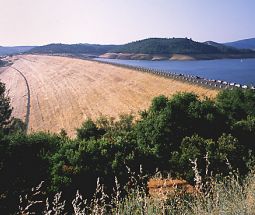 When energy use soars on one particular day, utility companies rely on hydropower. All it takes to generate more power is letting more water through. But if water is tight this summer, there won't be as much to discharge through generators.
[At right: During the spring thaw, Sierra Nevada snowmelt feeds the Feather River drainage basin, which fills Lake Oroville, the main reservoir for California's State Water Project. The Oroville Dam, shown here, stands at 770 feet and is the tallest dam in the United States. California Department of Water Resources.]
Across the northern border in Oregon the situation looks similarly desperate. This year, the Pacific Northwest has received between 50 and 70 percent of its normal rainfall. And what is has recieved must fulfill hydroelectric, irrigation, municipal and environmental — namely salmon — needs.
"This has been difficult in normal years," says Eileen McLellan, an advisor to Sen. Ron Wyden (D-Ore.) "This year could be catastrophic for salmon."
Oregon's problems will trickle over its southern border where power generated by hydroelectric dams provides the supplemental energy California needs to meet summer's sky-rocketing energy needs. When the Columbia River flows a little lower this summer, the Bonneville Dam will be sending less hydropower out of the state.
President's Day weekend changed the water outlook a bit as 8 inches of snow blanketed the Sierra Nevada Mountains, where snow pack is a significant part of Californias water supply estimates. Heavy rains fell in other parts of northern California and, as a result, February's precipitation was 118 percent of the historical average as of Feb. 26. "Certainly things look better than they did a few weeks ago," says Freyberg. "We're in relatively good standing."
Still, even if California were to receive its typical 6.9 inches of rain during the month of March, as of Feb. 26 the odds that water supplies would reach average levels were 1 in 15. The State Department of Water Resources has collected water-supply data since 1922 and, on average, almost 70 percent of the year's precipitation falls between October and February. This year, water supplies have not met the 50 percent mark. On Feb. 15, the Central Valley Project, a federal water agency that supplies water to one-third of all irrigated land in California, announced that growers on the west side of the Central Valley might receive only 15 percent of their contract. The State Water Project, the agency that supplies water to the San Joaquin Valley, estimated that water deliveries would only fulfill 20 percent of what was requested.
Water deliveries are given as a percentage of contractors' annual requests. Farmers, for example, don't expect their contracts will be met in full. In an especially wet year, two-thirds of that request will be met. In order to get by — plant, irrigate and harvest crops, hire workers and contract truckers — a farmer needs at least one-third of his contract allotment. By the middle of February, the situation looked grim for all, especially for Central Valley farmers.
Laura Wright