---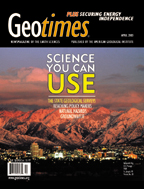 What's in the print version of Geotimes this month ...
---
April 2003
vol. 48, no. 4

FEATURES

14 Life Along the Fault: Reducing Risk in Utah
Large earthquakes do not occur often enough in Utah to "remind" people that they are living and building in earthquake country. This scenario presents a unique challenge for the state geological survey.
Gary E. Christenson


Click the image above to view a high resolution version of the cover.

18 A Circuitous Path: Protecting Groundwater in Wisconsin
Groundwater follows a winding path — and one much faster than previously thought — to municipal wells in the city of Sturgeon Bay, and it may pick up contaminants along the way
Kenneth R. Bradbury

22 The Complex Dakota Aquifer: Managing Groundwater in Nebraska
One size (or strategy) does not fit all where Dakota groundwater management is concerned.
David C. Gosselin, F. Edwin Harvey and Charles Flowerday

25 Field Camp for Policy Makers: Reaching Out in New Mexico
Expert speakers, a lasting guidebook, comfy chairs and detailed planning are key ingredients for helping New Mexico's decision-makers appreciate why science is important in the state.
Paul W. Bauer

---
NEWS & VIEWS


---

5 COMMENT
Oil and Gas Research at a Critical Juncture
Achieving energy independence will take significant federal investment in research.
Scott W. Tinker


6 NEWS NOTES
El Niño's future * The mighty, tiny larvae * Mapping secure boundaries for data * Devonian dentistry * Seeing Chicxulub


13 POLITICAL SCENE
Geosciences Again Look to Congress to Restore Cuts
And we're off! The fiscal year 2004 appropriations process is underway, with one bright spot and several large challenges ahead for geoscientists.
David Applegate and Margaret A. Baker


30 GEOPHENOMENA
Black Tide
Scientists question how the Spanish government handled the sinking of the oil tanker Prestige, which is still leaking.
Christina Reed

34 RESOURCES
Majors Return to Russian Oil Fields
A merger between BP and one of Russia's largest oil and gas companies signals that Western investment in Russian oil is on the rise.
Lisa M. Pinsker

48 GEOLOGIC COLUMN
I'll Eat your Atlas with a Bit of Mayonnaise
Favorite observations from geogrammarian readers.
Hugh Hay-Roe

DEPARTMENTS


---

2 From the Editor
4 Letters: Perspectives from readers
28 Where on Earth?
32 Profiles: Vicki Cowart
33 Benchmarks: Looking back in Geotimes
36 Geomedia: Mapping Colorado at fine scale
38 GeoMarketplace
41 Classified Ads: Career Opportunities
43 Contributors Page

Looking for a geoscience meeting? Visit the online Calendar.






---