---
Comment
---
A Celebration of 125 Years
Charles G. "Chip" Groat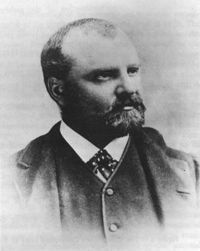 In the 125 years since its creation, the U.S. Geological Survey (USGS) has provided the scientific information needed to make important decisions and safeguard society. In this anniversary year, we celebrate the mission that has guided us, the people and traditions that have shaped us, and the science and technology that will lead us into the future.

Clarence King was the first director of the U.S. Geological Survey, which was founded in 1879 and is now celebrating its 125th anniversary.

Our traditions of excellence in science and service to the nation and the world run deep. Two hundred years ago, Thomas Jefferson commissioned Meriwether Lewis and William Clark to conduct the first government survey of the natural resources of the American Northwest. Today, the USGS continues to map, measure and monitor our land and its resources, carrying on the work begun by those first intrepid explorers of "the National Domain." Research that builds fundamental knowledge about Earth, its resources and its processes continues to contribute relevant information to critical societal issues.

It is not just our longevity that we celebrate, but also the strength of our mission. Through a wealth of long-term data and research, we have served the needs of society, the planet and its environment.

Over the past 125 years, we have evolved from gathering data using picks and pack mules to gathering data by way of remote sensors with real-time data access. That body of knowledge serves a myriad of customers and an endless array of topics and potential projects. Through the years, we have responded to the changing needs of the nation, expanding our traditional role of geography, geology and hydrology to include the assessment and monitoring of our nation's biological resources.

We have also seen great improvements in our technological capabilities. Our ability to measure, monitor and model the processes that lead to natural disasters has increased dramatically, as has our ability to communicate information about hazards to those whose lives may be affected. These innovations in tracking and communicating the changes in our dynamic planet, supported by a deeper understanding of Earth's processes, enable us to expand our predictive capabilities and point the way to a safer future.

For example, the USGS in partnership with other space agencies has begun using Interferometric Synthetic Aperture Radar (InSAR) to monitor ground deformation at several active and potentially active volcanoes by detecting small changes in the elevation of Earth's surface from space. We are hoping to expand the application of InSAR past the pilot stage toward a national monitoring capability, with increased tracking of the behavior of potentially dangerous volcanoes.

Our people and their science make a difference in the quality of life in America and abroad. As an unbiased science organization, our scientists dedicate themselves to impartial study of the landscape, our natural resources and the hazards that threaten us. By drawing on their diverse mix of skills, rigorously preserving the data collected and building on our ever-growing knowledge base, the people of the USGS have created a treasure trove of information that America's decision-makers can use to protect the people of the United States and the health of their economy and environment.

In recent years, we have seen growing recognition of the connection between the environment and human health — windborne dusts, mercury contamination, naturally occurring arsenic and West Nile Virus; the list continues to grow. The interface between wildlife and human health, the emergence of new contaminants in the environment, and the introduction and spread of invasive species all have significant and far-reaching implications for public health. The USGS will continue to play an increasingly important role in providing understanding of and ultimately solutions to these health issues.

Even as public health is a new horizon, public safety will continue to be a primary area of focus for the USGS. Whether from our traditional role in natural hazards assessments for earthquakes, floods, landslides and volcanic eruptions to threats from wildland fires, USGS science will play a crucial role in ensuring the safety and security of our lives and property.

And as for the prosperity of the nation, science drives that too. Whether it's the energy and mineral resources to fuel the country, water and biological information to increase agricultural production, geologic mapping and geospatial information to guide infrastructure improvements, or the basic knowledge of the landscape that drives our economy, our science is here to serve society.

As we celebrate our individual contributions and those made in concert with the broader geoscience community, we look with renewed energy to what we all will achieve in the coming decades. The USGS and the nation will face many challenges — water availability, climate change, habitat alteration, emerging diseases, invasive species, being able to predict the onset of hazards and other unforeseen problems — during the coming years. It will be imperative that we are flexible and able to embrace the new opportunities as they arise, to respond as new environmental resources and concerns emerge on the scene, and to seize new enhancements to information technology that make it easier and faster to produce and present our science.

We have not made this journey of discovery alone. Partnerships and cooperative studies — many forged in our infancy that continue today — have been the companion strength to our successes. We thank our partners in the geoscience community who continue to share in our efforts to advance the earth and natural sciences worldwide, and we invite everyone to celebrate with us. We are using the entire year of 2004 to showcase our science and to show our appreciation to those with whom we have worked. We look forward with a renewed sense of commitment to our mission of science for a changing world.
---
Groat is director of the U.S. Geological Survey. He was executive director of the American Geological Institute from 1990 to 1992.

Opinions and conclusions expressed in Comment by the authors are their own and not necessarily those of AGI, its staff or its member societies.
Back to top
---