---
Energy & Resources
---
Russian oil doors close, maybe
Exploring for oil with satellites
Mineral of the Month: Garnet
---
Russian oil doors close, maybe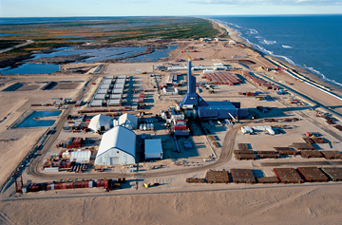 Officials in the Russian Ministry of Natural Resources announced in February that any significant natural resources placed on the market for purchase this year would have to remain 51-percent-owned by the Russian federal government. The announcement, called a surprise by a variety of sources, threatens to hurt some western interests.

ExxonMobil built facilities for developing the Chayvo Field, part of Sakhalin-1 on Sakhalin Island, as a part of its activities in Russia. Recent Russian government policies may hamper Western companies' activities in the country. Courtesy of ExxonMobil.

The policy, for example, could potentially keep Sakhalin-3, a giant offshore oil field up for leasing this year, from being developed by Exxon, and seems to affect the interests of TNK-BP, which has a 50-50 operating agreement between Russian-owned TNK and English company BP, according to the Financial Times and others. But at the moment, the situation in Russia remains uncertain, as the Ministry of Natural Resources seems to be backing off the policy.

"It's too early to gauge the reaction" to the recently announced policy or its potential impacts, says Robert Ebel, chair of the energy program at the Center for Strategic and International Studies (CSIS) in Washington, D.C. However, he says, "I would look at it as a small step backward."

Even though the new policy will not affect companies already operating in Russia under contracts, Ebel says, major oil companies are still looking to the unused potential of Russia's oil fields for future investments. And because Russia has neither the money nor the technology to improve its fields, particularly in its oil-rich Arctic and offshore regions, foreign companies will be necessary to future development there, say Ebel and others.

The decision to control foreign investments smacks of a continuation of the crackdown seemingly initiated with the dissolving and re-nationalization of Yukos, says Gal Luft, co-director of the Institute for the Analysis of Global Security in Washington, D.C. "The Yukos affair really shattered perceptions about Russia, [and] brought about a suspicion and lack of trust that is really important in this business." (See Geotimes, February 2005.)

Luft says that because oil prices currently are so high (at $55 a barrel as of press time), most companies are not worried about investing in new exploration or reserves in general. That comfort level also extends to the Russian government, which gets 40 percent of its revenues from oil and gas, Luft says. All parties "feel very comfortable," he says, and feel no need for "urgency."

PFC Energy analysts have tracked the Russian Ministry of Natural Resources as it seemingly backtracks on the 51-percent rule after a "firestorm" of criticism, inside and outside the country. And in a PFC Energy report in March, analysts raised further doubts about Russia's federal oil policy. They noted that the merger plan for Gazprom and Rosneft, two of Russia's biggest state-owned oil and gas companies, "suffered a setback" as company officials "feuded openly over the terms just hours after they were announced."

In the midst of these activities, western companies might stay away no matter what the country's policy on new bids. "It is not a good season for them to go into Russia until things clarify, and we realize whether there are good practices in place," Luft says. And in the meantime, Russia is turning to face the East rather than the West, where interest in its oil from China, Japan and India has heightened.

Naomi Lubick

Links:
"Yukos under fire," Geotimes, February 2005

Back to top

---
Exploring for oil with satellites


One of the primary ways to find hydrocarbon deposits on land is seismic surveying, which can involve a crew of hundreds of people, a fleet of large trucks, seismic energy sources and thousands of "geophones" to measure sound waves as they travel through Earth. It's a relatively expensive endeavor, and one that's not guaranteed to find hydrocarbons, says Stephen Coulson, head of the European Space Agency's (ESA) Earth Observation Market Development program. So some oil and gas exploration companies are looking for ways to increase the likelihood of successfully imaging the subsurface. For the past three years, ESA and surveyor WesternGeco have partnered up for one approach: combining satellite images with seismic surveying.

Seismic technologies can image and characterize the subsurface down to about 6 kilometers. They not only can locate potential reservoirs, but they also can see geologic structures within the reservoirs. Because the technology is located at the surface, it cannot image through some rock types, such as very soft or very hard rock, and the seismic data may fail to give much information about the subsurface. Satellite synthetic aperture radar from ESA's ERS and Envisat satellites can directly image those rocks and help seismic surveys obtain a more detailed and diverse look at what's belowground, Coulson says.

Using satellite images in this way is "certainly cheaper and easier than physically going to remote locations," says Peter Duncan, president of MicroSeismic, Inc., in Houston, Texas. And satellite images can provide different types of information that might be helpful in oil and gas exploration, Duncan says.

Images of vegetation can reveal the geochemistry of the soils, while images of the topography at the surface can reveal the geology at depth. And gravity maps can detail the subsurface extensively, which is the only true way to see subterranean structures such as reservoirs, Duncan says. The other things satellites can show, says John LaBrecque, manager of the Solid Earth and Natural Hazards Program at NASA are the types of minerals at the surface and the lithology at and below the surface.

Prior to seismic surveys in east-central Algeria, for example, on a 500-square-kilometer satellite fly-through, WesternGeco could see surface geologic clues as to where the surveys would and would not work. Digital elevation models, ground-cover images and short-wave infrared data revealed a pronounced limestone outcrop, while thermal infrared imaging showed buried mineral deposits and information on the hardness and softness of the near-surface rock.

By looking at these factors all together, companies can "come up with a map where it's best to run seismic surveys," Coulson says. "They are not going to tell you where you'll find oil, but they will tell you where to stop wasting your time and money running expensive surveys that won't work."

Megan Sever

Back to top
---
Mineral of the Month: Garnet

Donald Olson, the U.S. Geological Survey Garnet Commodity Specialist, has compiled the following information on garnet, a colorful mineral used as gemstones and sandpaper.

Garnet is the general name given to a group of complex silicate minerals, all with isometric crystal structure, similar properties and chemical compositions. Garnet occurs in every color of the spectrum except blue, but it is most commonly red, purple, brown and green. Garnet necklaces dating from the Bronze Age have been found in graves and also among the ornaments adorning the oldest Egyptian mummies.

However, garnet's angular fractures, relatively high hardness and specific gravity, recycling potential, chemical properties (it is inert and nontoxic), and lack of crystalline silica, make it ideal for many industrial applications. While some people may be familiar with industrial garnet from its use in sandpaper and nail files, the largest industrial uses are in abrasive blasting, waterjet cutting, water filtration, abrasive powders and anti-slip coatings.

Garnet resources are large and occur in a wide variety of rocks, particularly in gneisses and schists. The mineral also occurs in veins and other contact-metamorphic zones in limestones, pegmatites and serpentinites. In addition, alluvial garnet is present in many heavy-mineral sand and gravel deposits throughout the world, and is the source of most U.S. industrial garnet.

In 2004, total world industrial garnet production was estimated at over 440,000 metric tons, with Australia, Canada, China, India and the United States as the leading producers. The United States produced about 6.5 percent of the industrial garnet mined worldwide, with three mines in Idaho and New York providing an estimated 28,400 metric tons valued at $3.05 million in 2004.

In 2004, the United States imported about 34,600 metric tons and exported approximately 11,000 metric tons. U.S. consumption in 2004 was about 56,700 metric tons.

During 2004, seven mines located in California, Idaho and Montana produced an estimated $56,000 worth of gemstone garnet. Other U.S. mines in Alaska, Arizona, Colorado, Connecticut, Maine, New Hampshire, New York, North Carolina, Pennsylvania, Oregon and Virginia have produced significant gem garnet commercially in the past.

For more information on garnet, visit minerals.usgs.gov/minerals.

---