Society Page
---
News about people and
announcements from
AGI's 39 member societies

Christina Reed
______________________
To post news in Society Page, send e-mail to geotimes@agiweb.org with the subject: Society Page.
Contents:
Nanogeoscience at the core-mantle boundary

In the 1940s, George Gamov introduced the public to quantum mechanics in two books with the popular character Mr. Tompkins. In the second book, Mr. Tompkins tours an atom as an electron.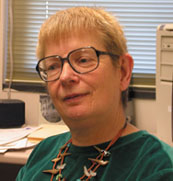 If geochemist and material scientist Alexandra Navrotsky of the University of California, Davis, could miniaturize herself like Mr. Tompkins, she would make her way to the core mantle boundary, she says. Combing the mysteries of Earth's interior and identifying the properties of thermodynamics, pressure and heat that give rise to different structural properties of minerals has led Navrotsky into the burgeoning field of nanogeoscience.

Alexandra Navrotsky of the University of California, Davis, studies the big effects of the small. UC Davis

Her work on the thermochemistry of minerals, high pressure materials and nanomaterials led the Franklin Institute to award Navrotsky its prestigious Benjamin Franklin Medal in Earth Science. This year's Franklin medals will be presented during a ceremony at the Benjamin Franklin National Memorial in Philadelphia on April 25. The awards are often regarded as the "American Nobels" as 98 Franklin Institute laureates have gone on to earn Nobel Prizes, 14 in the last five years.

Navrotsky is a fellow of the Mineralogical Society of America and a member of the American Geophysical Union. In 1993 she was elected to the National Academy of Sciences. Studying the interface of chemistry, material science and geology, "one has the whole spectrum of processes to think about from the atomic scale to thinking about processes on a planetary, geological or regional scale," she says.

"The rocks we stand on are made up of atoms and fastened to the geological process. Take an earthquake as an example. It starts somewhere on a small scale by breaking a few chemical bonds. It magnifies into something that falls on a geologic scale, but first something small has to happen." Molecular machinery, Navrotsky explains interweaves the universe together. "The boundary is fuzzy between what's relevant for chemistry and what's relevant for geology," she says.

Today she is working closer to the surface. Most intriguing, Navrotsky thinks, is the absorption and desorption of heavy metals on particles and the issue of contaminant transport of chemicals. At University of California, Davis, Navrotsky holds a chair in mathematical and physical science and leads the initiative on Nanophases in the Environment, Agriculture and Technology (NEAT). "If you like what's happening, it is nutrient transport. If you don't like it, it's pollution," she says.
"The three things that make Alex such a fantastic scientist are her encyclopedic memory for detail, her ability to write beautifully and quickly, and her sense of whimsy that makes her unafraid to entertain new and potentially crazy ideas," says Bill Casey, a colleague of Navrotsky's at UC Davis.

One of Navrotsky's proudest achievements was her early work in the 1980s on lower-mantle phase transition. She and her teammates showed for the first time the crystal-chemical reasons why temperature and pressure decrease at that depth. The Franklin award honored her for convincingly establishing "the identity of materials at hundreds of kilometers of depth in the Earth that otherwise are inaccessible to direct observation."

If Navrotsky could shrink herself and step inside a crystal structure, which one would she choose? "Some of the complicated, hydrous-silicate-perovskite materials found in the mantle," she says quickly. "What order or disorder is their structure really like?" she wonders. "Each time I answer one question, three more pop to mind," she says. "It is always exciting to be at the beginning of something. I don't know yet what the next problem will be."
Paleoclimatologist wows Scripps with cool ideas
Scripps Institution of Oceanography at the University of California, San Diego awarded Maureen Raymo of Boston University its prestigious Cody Award on Jan. 26. Raymo is a member of the American Geophysical Union and the Geological Society of America. The award consists of a gold medal and a $10,000 prize.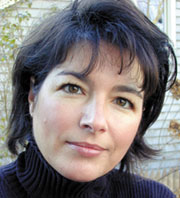 In 1988, while still a graduate student at Columbia University, Raymo proposed that the uplift of the Himalayas and other mountain building processes during the late Cenozoic brought about the cooling of Earth's climate during the last 40 million years and the onslaught of the ice ages. The enhanced chemical weathering she says reduced the amount of atmospheric carbon dioxide in the mountainous regions and triggered chilly climate conditions. Only later did Raymo discover that T. C. Chamberlin had outlined similar ideas in a report published about a 100 years earlier.

Maureen Raymo received the Cody Award. Image courtesy of Scripps.

Now referred to as the Raymo-Chamberlin Hypothesis, the research, while still controversial, has helped explain why ice ages became a common phenomena relatively late in Earth's history. Raymo's current research looks at how Earth's orbit may have affected changes in ocean circulation and global ice volume during recent ice ages.

Raymo is proud of receiving the Cody Award because "it was an affirmation of the value of my work in inspiring and influencing the work of others studying global climate change in the past." Her own inspiration to study paleoclimate came when she was a geology undergraduate at Brown University. Warren Prell and John Imbrie accepted her for a work-study job in their lab focusing on the global aspects of climate change, and she became hooked. She went to graduate school specifically to study why the northern hemisphere ice ages started.

Her research has taken her out to sea, including two months as Co-Chief Scientist aboard the JOIDES Resolution, and around the world, including to Tibet and the Himalayas. While one of her greatest challenges is balancing career and family life as a single mom with two kids, "traveling to new places and meeting new people has always been one of the favorite parts of my job."

Raymo's theories garnered the attention of four major television documentaries aired around the world over the last seven years, including a segment that can still be viewed at the London Science Museum. She coauthored the book Written In Stone — A Geological History of the Northeastern United States with her father, Chet Raymo, a science columnist for the Boston Globe and professor emeritus of physics at Stonehill College in Easton, Mass.

National Academy of Engineering lassos King
When a friend of Farouk El-Baz saw the small, El-Baz shuttle craft on an episode of Star Trek: The Next Generation, he called the professor and director of the Center for Remote Sensing at Boston University to say, "get all your books and papers and throw them out the window, man you've made it!" El-Baz recalls.

On Feb. 15, the National Academy of Engineering included El-Baz among its 74 newly elected members, a high honor of professional distinction accorded to engineers. The Academy recognized El-Baz , specifically "for selecting the landing sites for the Apollo missions, and for pioneering methods of discovering subsurface freshwater from space observations."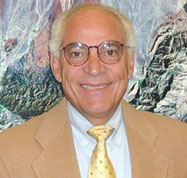 Two weeks earlier, the Islamic Center of Southern California awarded El-Baz the prestigious American Muslim Achievement Award in Los Angeles. El-Baz, who grew up in Egypt, was named after the young King at the time — the first leader in over a hundred years to speak to the people of Egypt in their native Arabic. "The court spoke Turkish and the educated of the time spoke French. When the young man Farouk learned Arabic and first spoke as King, everyone went bananas. He spoke to them in their own language," El-Baz says. "It was a very exciting time to grow up."
Farouk El-Baz photo courtesy of Boston University
El-Baz would eventually lead NASA in selecting the best landing sites for the Apollo missions, based first on safety and second on scientific significance, and later advise Egypt's President Anwar Sadat on where to develop new communities in the desert. But at first he wanted to be doctor. "I was good at biology," he says. When he submitted his papers to the ministry after finishing high school to learn where he could go for college, they gave him two choices: dental school or science. "Until that time I did not know the word geology. The first year you select five courses and I asked what is geology? They said: 'These people go out to the mountains and collect rocks.' I said that's for me! During field trips with the boy scouts to the mountains near Cairo, I already had my own collection of rocks I had saved in a shoebox. I had rocks of all different colors in my museum within the shoebox: limestone and sandstone, yellow and red rocks. I was a geologist without knowing it."

If El-Baz could choose his next field trip, "I would travel to the far side of the Moon," he says, "to the side that we never see and collect basalt rocks from the Tsiolkovsky crater. It formed from an impact that penetrated the thick crust on the far side of Moon and allowed the volcanic rock to come up from beneath the surface."

When advising NASA on landing sites, El-Baz was limited to areas that were not inclined more than 12 degrees in order for the astronauts to land safely on a relatively flat surface. "They also had to land where they would find a variety of things, not just one type of rock, and all within walking distance."

Now, as director of Boston University's Center for Remote Sensing, El-Baz endeavors to unravel the next great challenge in desert science: to figure why and how major climate change created all the deserts areas. "In the past, these lands weren't so dry. There were lakes and rivers and plants, animals and man roamed the land. Then a major climate change dried up the land, and it became a desert. We don't know if that change was fast or over centuries, whether the changes were one by one or when is the next wet cycle. These deserts are going to be wet again."

To help pursue these questions, El-Baz gave $5,000 last August to the Arab Science and Technology Foundation. "The Ruler of Sharjah [United Arab Emirates] gave a million dollars to fund the foundation and I was so impressed I thought we scientists each one of us should do as much as we can," El-Baz says. "It's a good cause because there is nothing in the Arab world like the National Science Foundation to give money to researchers to help them. And there are many Arab researchers and good ones without sources of funding, so this foundation will do that."
The National Academy of Engineering elected 74 new members and seven new foreign associates on Feb. 15. In addition to Farouk El-Baz, several earth scientists are included in this honor:

Incoming president of the American Geophysical Union, Robert E. Dickinson, professor of Earth and Atmospheric Sciences at Georgia Institute of Technology in Atlanta. Dickinson was elected for his pioneering contributions in atmospheric dynamics and earth system modeling.

Warren M. Washington, senior scientist and head of the climate change research section at the National Center for Atmospheric Research in Boulder, Colo., for pioneering the development of coupled climate models, their use on parallel supercomputing architectures, and their interpretation.

Past winner of the Ian Campbell Medal, M. Gordon "Reds" Wolman, professor of geography and environmental engineering at Johns Hopkins University in Baltimore, Md., Wolman was elected for his outstanding contributions in fluvial processes, water resources management and policy, and environmental education.

And the academy's new foreign associate Hiroyuki Abe, president of Tohoku University, Sendai in Japan, was elected for outstanding contributions in the extraction of geothermal energy and leadership in developing nondestructive evaluation and electronic packaging techniques.
---