---
Geophenomena
---
Dry Spell

---
Drought
Floods break parched ground

Costly fires
---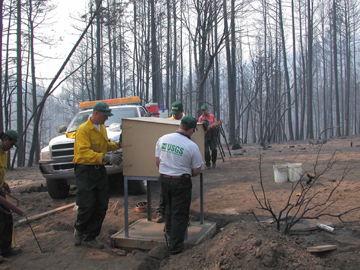 This year, drought has held the country firmly in its grip. Across the United States, communities face their worst water shortages in decades. Forest fires rage in the western states: the Rodeo-Chedeski fires in Arizona and the Hayman fire in Colorado made national news as they spread uncontrollably. Dust storms rise above the plains of Nebraska, Kansas, Montana and Wyoming. Agriculture and ranching has been affected in many states.

USGS scientists, working as part of the multiagency Burned Area Emergency Response team, install a streamflow gaging station near the Apache Indian Reservation near Show Low, Ariz., site of the Rodeo/Chedeski fire. The gaging stations dot the country and monitor the changing levels of streams. These data make up an essential component of the drought monitor map.

The Show Low station will supply the The National Weather Service River Forecast Center in Salt Lake City with data for models of rainfall runoff. The Center will use these models to give the towns of Cibecue and Carrizo warnings of impending flood conditions that would result from erosion on fire-ravaged lands.

The federal view on drought has been to treat it primarily as an unforeseeable, emergency event. This view is slowly changing. "In practice, yes, the drought mitigation paradigm is new. This is evident in that only a handful — five or six — of the 35 states with plans are recognized by us as being mitigative in nature," says Mark Svoboda, a climatologist at the National Drought Mitigation Center (NDMC) at the University of Nebraska-Lincoln.


Under the auspices of the NDMC and other federal, state and local agencies, understanding of drought as a normal and recurrent aspect of climate is being emphasized so that people are prepared for it. It is essential to understand drought not just as a physical phenomena of prolonged deficiencies in precipitation, but also as an interplay with human demands for water. This summer, drought continued to ravage parts of the country, and allocated emergency funding to counter the situation escalated (this year, more than half the states in the country had counties assigned emergency farm loans). At the same time, scientists and policy makers are trying to consolidate and enhance the resources available to monitor and mitigate drought.

The drought monitor map, updated each month, is the primary overview of drought status in the United States. It combines several variables that contribute to drought. For example, it uses the Standardized Precipitation Index, which incorporates data about stream flow, soil moisture, groundwater and reservoir levels. This index balances out the Palmer Drought Index, which does not consider irrigation impacts. The map combines data from the U.S. Geological Surveyand other federal agencies. Click on the above map pr visit the drought monitor online for the most recent version.


Salma Monani
---
Floods break parched ground

After months of drought, July has topped the books for the wettest July in recorded history for San Antonio, Texas. Around the country, relief from the drought has come with a cost. Since mid-June, flooding has hit regions in Montana, Minnesota, Wisconsin, Florida and Texas.

A flash flood near Ogallala, Neb., followed 10 inches of rain on July 6, damaging Interstate 80. A truck driver from North Carolina died during the flood when his vehicle plummeted off the roadway.

From June 30 through the first week of July, torrential floods inundated south-central Texas, killing nine with one person still missing. Heavy rains dumped from about 4 to 34 inches across a 33,000 square mile region of the state. Gov. Rick Perry estimated the cost of damages at $1 billion. In San Antonio, 15.72 inches of rain fell during the first 11 days of July, breaking the month's 1990 record of 8.29 inches.

Meteorologist Robert Blaha of the National Weather Service in Austin/San Antonio says the flood didn't happen soon enough to help the region. "It relieved dry conditions considerably of course, but some crops planted in the winter were already affected by the drought and the farmers will have to wait until next planting rotation and then go from there."

The good news is that the water supplies in the Texas Choke Canyon Reservoir and Lake Corpus Christi are reaching full capacity for the first time in about a decade. "For Choke Canyon, the floodwaters were definitely a benefit. The lake level was down in excess of 20 feet. Floodwaters coming to this lake improve fisheries and migratory waterfowl migration," says Laird Fowler, program administrator for Texas State Parks Division. "This is one silver lining out of all this."

Christina Reed

back to top
---
Costly fires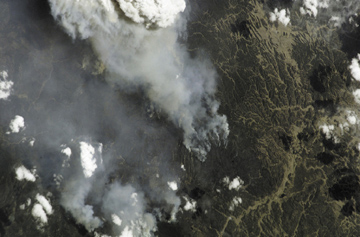 According to the National Interagency Fire Center (NIFC), as of June 19, the year-to-date estimate for lands burned by wildfire was 1.75 million acres. The tally on the same date for the year 2000, the worst fire season in nearly half a century, fell just under 1.3 million acres while the 10-year average is 875,000 acres. The costs of suppressing this year's wildfires have already reached $141 million for the federal government. That number will only increase with time. Currently, the estimated daily cost of fighting fires nationwide is approximately $8.6 million. The cost of stomping out the year 2000 fires was more than $1.36 billion, a number that includes outfitting and paying firefighters and pilots, equipment costs, fire retardant costs, and all expenses that go toward extinguishing the flames.

The Hayman, Colo., fire photographed from space on June 18. JSC/NASA

Also by June 19, the Hayman wildfire burning outside Denver had razed more than 140,000 acres and amassed $15 million in suppression costs, according to the NIFC. In addition to homes, electrical facilities and transmission lines, gas pipelines, recreation areas and timber reserves are at risk.

Laura Wright
Geotimes contributing writer

back to top
---