---
Society Page
---
News about people and
announcements from
AGI's 40 member societies


By Christina Reed
To post news in Society Page, send e-mail to geotimes@agiweb.org with the subject: Society Page.

Contents:
---
Dan Smith to head AAPG

Dan Smith, the new president of the American Association of Petroleum Geologists (AAPG), first thought of becoming a geologist when he was a senior in high school. "I was leaning toward geology because I had a keen interest in mineralogy and was always oriented to outdoor activities. Geology appealed to me because all of it is done outdoors." After graduating from the University of Texas in 1953 he began working for Amoco with the certitude that he would spend his career exploring for natural resources. "I was surprised when I became involved on the business side of being a geologist," he says. "I learned that the business side is a lot more complex than what I had ever dreamed it would be — more complicated and in a good way."

Last year he joined the company Sandalwood Oil and Gas Inc. in Houston as executive vice president of exploration, with operations in the Gulf Coast of Louisiana and Texas. As the 2002-2003 president of AAPG, Smith took over in July from Robbie Gries, president and CEO of Priority Oil and Gas in Denver. "During her year, Robbie really did a great job in international development for AAPG. She initiated new student chapters around the world, and I certainly will continue these programs," Smith says. "My major objective for this year will be to further establish AAPG as the source of information for what petroleum geology is all about and what the true science is regarding extraction of natural resources in an environmentally responsible manner."

Working with Smith this year is president-elect Steve Sonnenberg, manager of the DJ Sub Business Unit for EnCana Energy Resources Inc. in Denver. Sonnenberg, who became a member of AAPG in 1974, ran for the office because "I believe in strong professionalism and that every member of a society should give back to that society." His goals for his future term in office include providing the right services to members and expanding public outreach for students.

Smith's advice for students interested in pursuing careers in geology is to "stick with it. I can't imagine any occupation more enjoyable or more satisfying than being a geologist."

---
Calling all geologists: Put your mental pictures here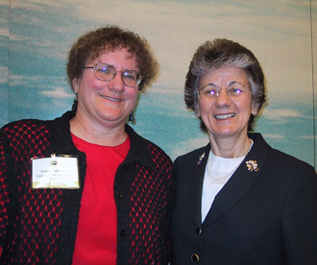 In order to help students visualize geology in motion, Tanya Atwater of the University of California, Santa Barbara, is working with undergraduate and graduate students to transform the mental cartoons geologists create of the world around them into visual concepts animated and distributed on the Web. "Geologists see the world changing over time in their heads, whereas for most other people that view is static," she says. For this project, Atwater became one of six Distinguished Teaching Scholars to receive this year's Director's Award from the National Science Foundation (NSF). The award of $300,000 over four years is given to help and honor distinguished scientists who are working out ways to translate research into education. The money is meant to provide teaching scholars the opportunity to expand their work beyond their institutions.

NSF Director Rita Colwell spoke to the winners during a gathering in Washington on June 19. "We feel strongly that this is one of the most important recognitions of true talent — to be able to teach as well as explore new frontiers."

Tanya Atwater (left), standing with NSF Director Rita Colwell, is one of six teaching scholars to receive the NSF Director's Award. Photo by Christina Reed.

Atwater is now asking geologists who want to animate the processes exemplified in their own local areas to "come to Santa Barbara and work with us," she says. "We'll provide the computer expertise, the studio, the sound and video expertise and pay for living and travel expenses," Atwater says. In turn the geologists bring their maps, images and ideas. Already she has had geologists from Turkey, India and Chile expressing an interest in her offer. Atwater's team of students is illustrating continents and oceans as moving digital images, speeding up the element of time and presenting them as teaching resources on the Web and as videos for those without Internet access. Currently they have animations for western North America and southern California. "Everything we produce slips into the digital libraries and becomes globally available," she says. Atwater is most well known for her work on the plate tectonic history of western North America, and specifically of the San Andreas fault system. She began animations of plate tectonics using the same technique as the early cartoons for television: by drawing and painting plastic cells and taking pictures of them one frame at a time. Her colleagues applauded her videos and encouraged her to continue. "Then in the 1990s computer animation became friendly enough even for people like me," she says laughing.

By bringing in geologists from different regions of the world, Atwater hopes to provide teachers around the globe with the tools to teach general geology with a local angle. "My vision is for every schoolchild to be able to look out a window and understand the world," Atwater says. Atwater is a trustee of the American Geological Institute (AGI) Foundation and a member of AGI's Education Advisory Committee. She is also a fellow of the American Geophysical Union and the Geological Society of America.

---