---
Web Extra Thursday, August 14, 2003
---
Greek Islands blasted with strong quakes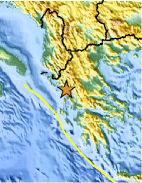 Around 8:15 a.m. local time, the Greek island Lefkada began shaking and continued all day, with at least five earthquakes registering between magnitudes 4.3 and 6.3 on the Richter scale.
The first, and strongest, quake measured at magnitude 6.3 according to the U.S. Geological Survey. Its epicenter was 10 kilometers deep located on the seafloor in the Ionian Sea about 290 kilometers northwest of Athens. Lefkada is the closest island and sustained the worst damage, from structural cracks and collapsed walls in buildings to cracked roads covered with boulders from landslides. According to the Associated Press, at least 50 people have been treated for minor injuries though not all villages have reported. Some villages are reporting electricity, water or telephone service interruptions.
Like all Greek vacation spots, resorts in Lefkada and its closest neighbor, Cephalonia, were filled to capacity this week with tourists for Greece's traditional summer break. This morning, ferries from Cephalonia and the one bridge from Lefkada to the mainland were packed with tourists fleeing the islands in fear.
These quakes come on the heels of memorial services in Lefkada and Cephalonia, mourning the 50th anniversary of a magnitude-7.3 quake that devastated Cephalonia and killed more than 500 people.
People felt today's initial quake and aftershocks as far away as Athens and southern Italy.
Greece is quite prone to earthquakes as the country lies on several large faults, including the Anatolian fault that runs from central Greece to eastern Turkey — where a May 1 quake killed nearly 100 people.
Megan Sever
Links:

USGS
Map of Greece
AP Story on Yahoo News

Back to top
---