---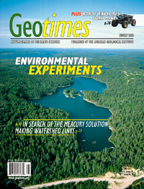 What's in the print version of Geotimes this month ...
---
August 2003
vol. 48, no. 8

FEATURES

16 In Search of a Mercury Solution
Mercury contamination is a leading threat to U.S. lakes and estuaries. Some large-scale ecosystem studies are trying to get at the recent source of the problem: air pollution.
Lisa M. Pinsker


Click the image above to view a high resolution version of the cover.

22 Hubbard Brook: Making Watershed Links
For nearly 40 years, one experimental forest in New Hampshire has led the way for long-term, multi-disciplinary ecological research geared toward making sound environmental policy decisions.
Greg Peterson



26 Education & Outreach: Using Real-time Data for Public Outreach and Safety
The Sabino Creek Canyon Recreation Area in Arizona is whetting visitors' interest in local hydrology with up-to-the-minute stream-flow and climate information.
Kyle Blasch

---
NEWS & VIEWS


---

5 COMMENT
Geosciences and the Future of Environmental Research at NSF
The geosciences must take an integrated approach to research in order to help decision-makers and society maintain a healthy planet.
Margaret Leinen


6 NEWS NOTES
Greenspan calls for gas imports * Homestake washout * Open house informs public, cheers scientists * Mars Express for geologists * Tertiary acid rain survivors * China fills Three Gorges Dam * Making mountains from a molehill


15 POLITICAL SCENE
A Geological Path to City Hall
How one exploration geologist bucked the trend and became mayor of Denver.
Larry Kennedy


26 GEOPHENOMENA
Montserrat: Measuring an ozone-depleting volcano in the Caribbean


32 ENERGY & RESOURCES
Mineral Resources of Peru's Ancient Societies
The survival of ancient Peruvian societies hinged on their understanding and wise use of local mineral resources.
William E. Brooks

36 TECHNOLOGY COLUMN
Robot Maps Coal Mine in 3-D
Meet Groundhog: a 1,600-pound autonomous robot designed to map abandoned coal mines in 3-D and save lives in the process.
Tim Palucka

44 GEOLOGIC COLUMN
Is There a Doctor in the House?
Geology and medicine are surprisingly and inextricably linked.
Lisa A. Rossbacher

DEPARTMENTS


---

2 From the Editor
4 Letters: Perspectives from readers
28 Where on Earth?
31 Profiles: Kathryn Sullivan
34 Benchmarks: Looking back in Geotimes
35 Geomedia: Sea Legs: Tales of a Woman Oceanographer
38 GeoMarketplace
40 Classified Ads: Career Opportunities
43 Contributors Page

Want to attend a geoscience meeting? Visit the online Calendar.












---