---
Web Extra Monday, August 30, 2004
---
Wide-open West

For years, the oil and gas industry has complained about limited or restricted access to energy resources in the American West. They contend that excessive environmental restrictions are hurting the economy and increasing the nation's dependency on foreign energy. Echoing industry's grievances, the Bush administration has made streamlining oil and gas leases on federal lands one of its top priorities. A new investigative report released Wednesday, however, turns this argument on its head.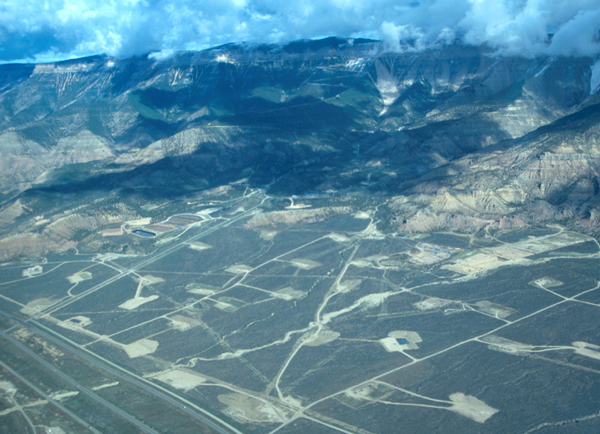 The report, published by the Environmental Working Group, says that the oil and gas industry has enjoyed "nearly unfettered" access to huge expanses of land in the West. In the past 20 years, the study reveals, the federal government has leased out more than 200 million acres of land in the Rocky Mountain West — an area twice the size of California. The report goes on to say that industry has produced just 53 days' worth of oil and 221 days' worth of natural gas from the regions.

Gas wells and access roads cover the base of the Roan Plateau in northwestern Colorado. The Bureau of Land Management (BLM) is considering leasing more land in the area which could include the top, undeveloped portion of the plateau. A new report by an environmental group argues that the oil and gas industry already has plenty of access in the West. BLM reports that the area could provide the nation with 35 days' worth of natural gas. Image is courtesy Colorado Environmental Coalition.

"The oil and gas industry keeps saying that 'if we could only open up those lands, we wouldn't have to depend on foreign oil,'" says Dusty Horwitt, an Environmental Working Group analyst. "In fact, the West has been wide open for at least the past 20 years." He also points out that over the last 15 years, "federal lands have produced a very small amount [of oil and gas] compared to our national need." He argues that it is not worth opening protected lands to leasing if there is so little energy available in the West.

Just this month, during a town hall-style campaign stop in Hot Springs, Ark., Vice President Dick Cheney said: "What we've fallen into the habit of doing is we continue to increase our consumption of energy, specifically oil and gas, but we aren't producing here at home. … We've taken large chunks of the country and put it off limits to any kind of exploration or development."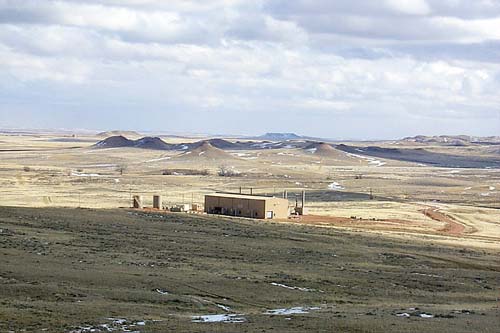 Dave Alberswerth, a program director for the Wilderness Society, says that claims like Cheney's are "not really the case." He says the new study bolsters a report released last year by the Department of Interior. According to that report, only 12 percent of the region's technically recoverable natural gas and 15 percent of its oil are off-limits. "Most of the oil and gas is already available," Alberswerth says. "There shouldn't be an argument that there are too many restrictions and limitations on development."
A gas well and associated buildings blend in with the austere Powder River Basin in northeastern Wyoming. BLM recently opened eight million acres of land to drilling in the region and estimates that the number of gas wells like these will double in the next 10 years. The Department of the Interior estimates that the area contains 50 days worth of oil and 129 days' worth of natural gas. Image is courtesy BLM.

Industry leaders, however, say that the numbers in those studies are misleading. Peter Stark, of IHS Energy Group, says he has heard of other studies suggesting the opposite — that up to 60 percent of resources in the West are located in federally restricted areas. He warns against trusting politically charged statistics. "One group uses statistics to make their point of view, and the same data can be used by another group to point out the other perspective," he says.
Jeff Eppink, the vice president and treasurer of Advanced Resources International, a consulting firm for the oil and gas industry, says that the amount of energy in the West is more significant than it appears. "To say that that production from federal lands represents only a short time period ... is not a meaningful comparison," he says. "To the average worker, it is akin to saying your next paycheck is only a small fraction of your annual salary, so you can go without it. I don't think that would sit too well with most individuals."
He adds that the new report, which examined records from 1982 to 2003, may not reflect the current situation. "During the 1990s, prices were low and projects were less economic on lands in the Rocky Mountain region. Today we have a higher price environment and better technology that has led to increased activity," Eppink says. "You have to look at the sustainable production rate going forward rather than a past history that was wrought by a low price environment."
Horwitt acknowledges that production and interest has increased in the 1990s, but he says that doesn't change the amount of oil and gas available. "Even if the companies ramp up their production, they're not going to get much energy," he says. "It is going to be gone very quickly." Once domestic natural gas supplies run out, "we are going to be in the same place we are with oil — dependent on foreign countries," he says.
For some in the oil and gas industry, that sounds like a very good reason to ease restrictions on leasing in the West. "The issue is the fact that the United States doesn't have the wherewithal to boost production," Stark says. "We're at a crossroads for energy supplies."
Jay Chapman
Geotimes intern
Links:
"Who owns the West?," the Environmental Working Group report
Bureau of Land Management
"No lockup on gas in the West," Geotimes March 2003


---