---
Technology
---
Wine insurance in the Northeast
Naomi Lubick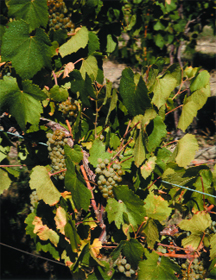 In California's hot and dry Napa Valley, grapes grow clustered on loose canopies of vines that sprawl across valleys and hillsides. Drip irrigation is often necessary here, where water is scarce during the growing season. Across the country in the northeastern United States, smaller boutique wineries perch on lush hillslopes in a region known for its wet summers. With the industry booming and a recent increase in droughts, however, drip irrigation may soon be a necessity in the Northeast too.

Without enough water, this Chardonnay vine's shoots are stunted and some of the larger leaves at its base are sunburned. Image courtesy of Alan Lakso.

Agriculturists of all types — working in orchards, small-scale farms and vineyards — have adopted drip irrigation technology over the past several decades. Joined together and regulated with water-pressure flow valves and other connectors, an octopus of plastic tubes brings water directly to apple trees and grapevines, spouting from punctured holes in the tubes or from complex sprinkler heads known as emitters. Although their intricacy varies, such systems allow farmers to control water delivery and to influence the size and flavors of their fruits.

Wine growers have found that a variety of factors, of which water is key, contribute to producing a satisfactory wine grape. Too much water accelerates the growth of leaves, forming a canopy that blocks grapes from the sun. Excess water also makes grapes too big and therefore less suitable for winemaking (though perhaps more suitable for table grapes). Less water content in a grape concentrates the agents that create wine flavors, such as tannins, which tend to gather in a grape's skin. A good wine grape can command around $2,000 a ton, as much as 10 times more than the amount of money per ton for a Concord grape that is used for juice, according to Bob Pool of Cornell University's New York State Agricultural Experiment Station in Geneva, N.Y.

The benefits of drip irrigation when managing vineyards are clear, says Alan Lakso, Pool's colleague at the Cornell agricultural station. Such systems generally use less water than a sprinkler system, he says, which enhances evaporation and gets water all over plants — setting up conditions for fungal diseases, which are common in the eastern United States because of humidity. With drip irrigation, he says, "you can put it right directly under the vine, so water goes directly to the vine roots." That system is advantageous because root systems can vary in size and depth according to soil type, making them difficult to track.

In water-poor California and other dry grape-growing regions, including Chile, Israel, South Africa, Australia and Washington State, viticulturists and other growers adopted drip irrigation in the 1970s. For winemakers, the delivery system allows them to grow exactly the kind of grape they want to harvest. Such control in California's Napa Valley or Central San Joaquin Valley, for example, is relatively easy, where vineyards might receive less than 5 inches of rainfall a year and almost no rain at all during the summer growing season.

In comparison to California and elsewhere, the postage-stamp-sized vineyards of the Northeast may only represent a drop in the bucket for drip-irrigated acres. The total acreage of Long Island's vineyards, for example, would fit into one California vineyard, according to the Long Island Wine Council. Much of the Northeast's vineyards, from upstate New York to Long Island, Connecticut and elsewhere, are in countryside shaped by the Laurentian glaciation, Pool says. The ice sheet, which stretched to the Atlantic, carved valleys and dumped a patchwork quilt of soil types that hold different amounts of moisture. And for this area, where rainfall generally averages 40 inches a year, water is out of the control of farmers — and the problem is usually one of too much water.



Nevertheless, interest from northeastern winegrowers in drip irrigation has increased over the past decade from "essentially none to quite a bit," Pool says. So far, he counts four established wineries in the Finger Lakes region in upstate New York that have put in drip irrigation; he says that new wineries in that area, which are increasing vineyard acreage by 20 percent a year, also intend to use the technology.

Wine growers are now starting to embrace drip-irrigation technology in the relatively wet northeastern United States, such as at the Prejean Vineyard in the Finger Lakes region of New York. Image courtesy Tom Prejean.

Bill Nelson of Wine America says that Northeast wineries can sell up to $70,000 per acre of bottled wine a year, in addition to bringing tourism to economically depressed regions, and the number of northeastern wineries is exploding. "They represent a phenomenally important farm product for the local areas," he says.

For such an industry, having a little bit of water insurance can pay off big. In general, Lakso says, the Northeast has a much shorter growing season, with ample water. Because the region tends to have cool, cloud-covered summers that keep moisture in soils and plants, the effects of a drought may not be that bad.

Some estimates, however, of drought severity for the Northeast over the past century show that the region's climate may be shifting. The driest historic periods fell during the Dust Bowl of the 1930s and 1940s, and the 1970s were abnormally wet. Since then, data over the past 30 years show that "droughts are increasing, and some of the drought severity is increasing," Lakso says. He and his co-workers documented seven droughts with significant effects on northeastern fruit crops in the past 16 years.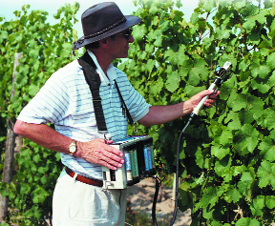 That unexpected lack of water proved extremely stressful to the region's grapevines, affecting the quality of their grapes. Pool, Lakso and their co-workers conducted aerial surveys of vineyards in the Finger Lakes region over a three-year period, gathering high-resolution multispectral scans to determine soil nitrogen and moisture content among other characteristics. They then tracked the wine made from the harvested grapes.

Alan Lakso of Cornell University's New York State Agricultural Experiment Station in Geneva, N.Y., measures the photosynthesis levels of grapevine leaves, in order to determine whether the vines are stressed. Image courtesy of Alan Lakso.

Overly stressed white wine grapevines, they confirmed, either lacking in nitrogen or water, "produce grapes that initially seem fine. But after six months to a year, the wines just seem to fall apart," Lakso says. The wines suffer from a condition known as atypical aging: "They lose their character, seem stripped or unfinished, and pick up some off aromas, like furniture polish or varnish," he says. "In the worst cases, you end up with dirty dish rag [aromas]." Stressed red grapes show fewer effects.

To maintain the consistent production of fine wine grapes and avoid extreme stress, some northeastern wine growers are willing to invest the thousands of dollars to install drip irrigation systems in their vineyards as protection against dry times. For the typical hillside vineyard, Pool says, the technology in the end "is cheaper; you don't need as much water, and you can be more precise about applying water." Drip irrigation tubing might cost pennies per foot, but installing it with all the emitters and connectors along hundreds (or thousands) of yards of vines can add up. Some estimates place a total system's cost at $500 to $1,500 per acre.

"Wineries will do this because they're more vulnerable," Pool says; without such precautions, they might end up with nothing to sell — fields of grapes everywhere, without a drop to drink.
---
Lubick is a staff writer for Geotimes.


Back to top
---