---
News Notes
---
Oceanography
Red tide plagues Northeast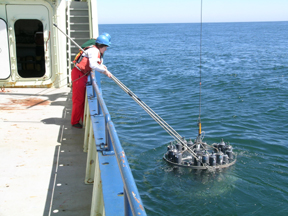 Prior to 1972, the phenomenon of harmful algal blooms, or "red tides," was relatively unknown in New England waters. That fall, Hurricane Carrie stormed up the coast, spawning winds and currents that brought a toxic genus of dinoflagellate algae normally found in Canada's Bay of Fundy down into the western Gulf of Maine.

Researchers aboard the Woods Hole Oceanographic Institution research vessel Oceanus take samples from Massachusetts Bay in May 2005, during a massive red tide event that has wreaked havoc for the area's shellfisheries, due to high levels of toxin-producing organisms. Image courtesy of Mike Carlowicz, Woods Hole Oceanographic Institution.

Although that red tide event actually appeared red in color, the blooms of microscopic, toxin-producing organisms that have occurred each summer since usually do not. Indeed, the water has remained clear this summer as New England is experiencing the worst outbreak of red tide since 1972, which prompted the closure of shellfish beds from Maine to Martha's Vineyard.

The massive bloom was brought on by an unusual combination of weather conditions, says Donald M. Anderson, director of the U.S. National Office for Marine Biotoxins and Harmful Algal Blooms and senior scientist at Woods Hole Oceanographic Institution on Cape Cod, Mass. A rainy, wet spring with high snowmelt provided plenty of nutrient-rich runoff that created a layer of freshwater at the ocean's surface, where the bloom has been flourishing in the summer sun. Two nor'easters then compounded the intensity of the bloom by driving it down the coast and against the shore.

The outbreak happened to coincide with a previously scheduled oceanographic research cruise for the new Woods Hole Center for Oceans and Human Health, on which Anderson was co-principal investigator, to study the genetic diversity of the annual harmful algal blooms in the Gulf of Maine and Massachusetts Bay. That effort soon became a collaboration with the coastal resource managers who regularly monitor New England's waters between April and October for signs of red tide. "We've been out again and again, sometimes with up to four boats in the water, turning the cell counts around very fast so that we can give them [coastal managers] maps of the cells that are coming toward the shore," Anderson says.

The first closures of shellfish areas began in early May in the state waters off western Maine and New Hampshire when biologists detected toxin levels in shellfish higher than 80 micrograms per 100 grams of meat, the regulatory threshold level. By early June, some levels in Maine and on Cape Cod were more than 2,000 micrograms of toxin per 100 grams of meat.

On June 14, based on cell counts of the algae being reported at sea and a request from the U.S. Food and Drug Administration, NOAA's National Marine Fisheries Service closed about 39,000 square kilometers (15,000 square miles) of federal waters off New Hampshire and Massachusetts to the harvest of surf clams and ocean quahogs, calling it "the largest bloom on record in New England history warranting a public health emergency."

The toxin, which can cause a potentially fatal disease called paralytic shellfish poisoning (PSP), is concentrated in filter-feeding shellfish, such as clams, mussels and oysters, which remain unaffected themselves but become unsafe to eat. The toxin does not accumulate in finfish, lobsters, crab, shrimp or the adductor muscle of scallops, nor, says the Cape Cod Chamber of Commerce, does it make it unsafe to swim in affected waters.

According to the Centers for Disease Control and Prevention, high doses of the toxin can paralyze the diaphragm, leading to respiratory failure and death. No treatment exists for PSP except to pump a patient's stomach to get rid of any remaining shellfish to reduce the toxin levels and to provide breathing assistance. No human cases of PSP had been reported by the end of June, when the red tide had weakened in the western Gulf of Maine, but was intensifying off eastern Maine, which is testament, Anderson says, "to the well-managed nature of this huge bloom." In the meantime, however, the fisheries have been suffering.

On June 10, Massachusetts Gov. Mitt Romney, citing an average loss of $3 million per week to the state's fishing industry, requested an official "determination of commercial failure" from U.S. Commerce Secretary Carlos Gutierrez. It was later granted, along with a similar request from Maine Gov. John Baldacci, making the industries of both states eligible for federal disaster aid.

The unusual size of this year's bloom also may not bode well for future years, Anderson says. The organism's life cycle has a cyst stage that allows it to remain dormant on the ocean floor until conditions are ripe for a bloom. However, prior blooms originated in "seedbeds" of cysts on the seafloor farther north, and winds and currents carried the blooms to Massachusetts Bay and Cape Cod Bay. Now, he says, scientists suspect the profusion of this year's bloom will allow seedbeds to take hold farther south.

"We saw the first step down the coast, the dispersal of the species, in the outbreak of 1972," Anderson says, "and now we're wondering if this is the next giant step."
Sara Pratt
Geotimes contributing writer

Links:
For maps of ocean current-tracking "drifters" deployed by WHOI research vessels, see NOAA and WHOI Web pages.
The NOAA New England Red Tide Information Center


---