---
News Notes
---
Earthquakes
Sumatra tsunami fault photographed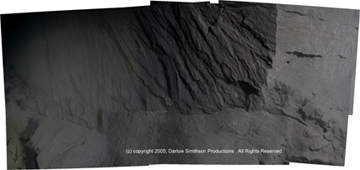 The large earthquake that pushed water into huge waves that scoured the coasts surrounding the Indian Ocean last December also jerked huge sections of ocean crust several kilometers below the sea surface. Oceanographers took the first close-up photographs of one of the remaining fault scarps last May: a cliff face that is one in a pair of parallel faults that created a kind of canyon just off the continental shelf of Sumatra.

A team of oceanographers took this first-ever close-up shot of one of the faults involved in the Dec. 26 Sumatra tsunami. The image shows the damage left behind on the seafloor after the devastating event. Copyright Darlow Smithson Productions.

Working with a documentary crew, Kate Moran of the University of Rhode Island and David Tappin of the British Geological Survey led the team of oceanographers that captured the image, using sidescan sonar on a remotely operated vehicle, diving to 4.4 kilometers (2.7 miles) deep. Moran says that the research team has taken to calling the canyon "the Ditch," which was first identified earlier this year by another survey team. The matching fault scarps are almost-vertical faces about 200 meters apart.

Their snapshot shows an area 8 meters (more than 26 feet) wide and 3 meters (almost 10 feet) tall, Moran says. "We're looking at the seaward face of a fresh uplifted feature," she says, which parallels the Sumatra coast and the major subduction fault that created the earthquake. In the photo, the vertical feature at the top of the image is a joint, and the striations to the left were created during shearing of the fault during the earthquake. The base of the wall is sheathed in rubble that eroded and slumped after the quake.

Evidence collected on the cruise, including how far the sides of the fault moved relative to each other, will be incorporated into models of the region, both to determine what happened in last year's devastating tsunami and for use in modeling future events.

Naomi Lubick


---