---
Geologic Column
---
Our National Treasure
Fred Schwab

What troubled possession of yours and mine has almost 16,000 kilometers of roads, 23,000 kilometers of trails, 20,000 buildings (many falling apart), 1,400 deteriorating water treatment systems, more than 1,500 somewhat worn-out wastewater treatment facilities and more than 1,000 campgrounds? The answer is the National Park System. This vast complex of 388 "units" administered by the National Park Service (NPS) includes not only the national parks and monuments, but also historic sites and parks, battlefields, lakeshores, coastal recreation areas, scenic rivers and trails, and 1600 Pennsylvania Avenue.

The National Park System units comprise some 340,000 square kilometers, roughly 3.5 percent of the area of the United States — an area roughly the size of Montana. Total land area under federal ownership is 10 times that much, close to 30 percent of our land area.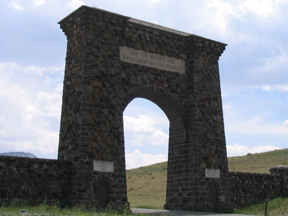 Established on Aug. 25, 1916, NPS employs some 20,000 professionals — permanent, temporary and seasonal — with another 140,000 workers through the Volunteers-In-Parks Program, who gave more than 5 million hours of their time in 2004. The mission of NPS is to conserve the scenery, historic objects and wildlife therein for the enjoyment of future generations. Theodore Roosevelt said it better. Referring bluntly to the Grand Canyon, he said, "Leave it as it is. ...man can only mar it. ... Keep it for your children, your children's children, and for all who come after you."

Yellowstone is the oldest national park, established March 1, 1872. Some 130 years later, the National Park System has insufficient funding to eliminate its backlog of repairs. Image courtesy of Lisa Pinsker.

The national parks run from A (Abraham Lincoln Birthplace National Historic Site) to Z (Zion National Park). The largest, Alaska's Wrangell-St. Elias National Park and Preserve (153,000 square kilometers or 3.2 million acres), is roughly twice the size of Massachusetts; the smallest is Thaddeus Kosciuseko National Memorial in Pennsylvania (0.00008 square kilometers or 0.02 acres). The oldest, Yellowstone National Park, was established on March 1, 1872, as a "pleasuring ground for all people." More than 100 nations have followed our lead and set aside their own national parks and reserves.

Thirty-two million recreational visits were made to the national parks in 1949, 164 million in 1969, 269 million in 1989, and almost 300 million last year. The total NPS budget for 2004 was about $2.6 billion. This country spent 15.4 percent of our money, about $1.8 trillion, on health care in 2004. That's almost $6,000 annually per American for healthcare, but only $9, the cost of a single Viagra pill, for the park system.

Park recreation fees in fiscal year 2004 totaled $157 million. Revenue from the sale of park passes amounted to $21 million of that figure. In March 2005, the backload of repairs necessary for the parks was estimated by the nonpartisan Congressional Research Service at $9.7 billion. The $1 billion per year sum for five years pledged by candidate Bush in campaign 2000 to eliminate the backlog has unfortunately been cut to some $900 million or so in new money through this year. Happily, a move spearheaded by Rep. Mark Souder (R-Ind.) is currently afoot to inventory the system, evaluate its true state, and help make things better. Souder is also co-sponsoring a bill that would allow additional funds to be raised for the parks, including perhaps a check box on tax returns that would be designated especially to support the system.

I've personally cheated my parks system, or at least I feel like a thief. When I turned 62, I purchased an NPS Golden Age Passport. This $10 card, "Valid for the lifetime of the Permittee," admits me and my carload or van full of friends, to anything in the park system. Even though a (very small) portion of my taxes have helped support the system over the years, this still seems too generous of a deal. Charge me more!

Why should we earth-science enthusiasts care more than other folks should? I've spent many happy summers in the West with four kids ("Are we there, yet?") and weeks hiking about the Grand Canyon, Zion and the Smokies with generations of undergraduate geology majors. There is no question that the national parks are one of geology's best recruitment tools. I've yet to encounter any student not turned on by the natural wonders seen in these gorgeous to stark venues. And just as importantly, families peering out from the overlooks or trudging up the nature trails are invariably captivated by our planet and more aware of geology.

How can we ensure that these precious places continue to thrive both for our enjoyment and self-interest? First and foremost, we need to effectively lobby lawmakers to wisely use an adequate portion of the taxes we pay on our public lands. Second, we can individually help support the park system. Currently, more than 150 groups contribute time and money to the national parks (nps.gov/partnerships). You can also join 140,000 of your fellow citizens who already serve as naturalists, summertime park rangers and other volunteers (nps.gov/volunteer). Finally, we must continue to expose students, colleagues and friends to these places. The wonders of the parks will take it from there.

NPS will celebrate its 100th birthday in 2016. It and the park system it administers need our help so the centennial party can be a really happy one. Teddy Roosevelt was wrong: We can't leave it as it is … we must work to make it better!
---
Schwab is a professor of geology at Washington and Lee University in Lexington, Va., and a corresponding editor for Geotimes. E-mail: schwabf@wlu.edu.


Back to top

---