---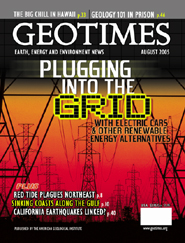 Click the image above to view a high-resolution version of the cover.
What's in the print version of Geotimes this month ...
---
August 2005
vol. 50, no. 8

FEATURES

18 Weighing in on Renewable Energy Efficiency
Producing energy always requires energy, and that paradox highlights the importance of efficiency when judging any new energy technology.
David Pimentel
24 The Race to Connect Cars, Communities and Renewables
There is a new way for people to cash in on hybrid cars — on the grid — and some people hope that integration will be in our future.
Terry Penney and Jennifer Elling
30 Hooking into Local Clean Energy
From underwater turbines in the East River to solar energy panels at the Pentagon, some innovative projects are using non-oil and gas energy sources to generate electricity.
Geotimes staff
---
NEWS & VIEWS


---

7 COMMENT
The Sustainable Hydrogen Economy
Hydrogen offers something most other alternative energy sources do not — the potential to replace gasoline in the transportation sector.
John A. Turner


8 NEWS NOTES
Red tide plagues Northeast * Early migration for Canadian oil * Space administration shakeup * Sumatra tsunami fault photographed * Confusion over sinking coasts in Gulf * River of data decodes Nile cycles * Marshes record climate changes * Heat on U.S. climate policy * Icy methane volcano on Titan


17 POLITICAL SCENE
The State of Nuclear Nonproliferation
On the Hill, nuclear issues have been garnering attention, as leaders consider both energy and security issues.
Katie Donnelly


40 GEOPHENOMENA
California earthquakes linked?
Great Salt Lake spiral submerged

42 TRENDS & INNOVATIONS
Injecting Energy Into Advertising
What do a tap-dancing elephant and 3-D seismic have in common? Just turn on your TV, and don't skip the commercials.
Naomi Lubick

46 EDUCATION & OUTREACH
Geology 101 in Prison
Meet the graduating class at San Quentin: Their dorms are behind bars, the prison yard is their classroom, and their teachers include geologists who are eager to
expand their horizons.
Megan Sever

48 ENERGY & RESOURCES
U.S.-China energy quandary
Plastic oil
Mineral of the Month: Cadmium

50 GEOMEDIA
Movies: I.D. screen time at the Smithsonian
Books: Dancing with giants: A review of The Last Giant of Beringia
Books: Skimming the surface of an epidemic: A review of Venomous Earth
Maps: Mapping a transportation hub in Alabama
On the Web: Earthquake prediction

56 PROFILES
Brian Atwater: Earthquake hunter in the field


57 BENCHMARKS August 24, A.D. 79
Mount Vesuvius buries the ancient cities of Pompeii and Herculaneum.

68 GEOLOGIC COLUMN
Our National Treasure
Look no further than the U.S. National Park System for some unique refuges that are in need of some extra attention countrywide.
Fred Schwab

DEPARTMENTS

---

4 From the Editor
6 Letters: Perspectives from readers
38 Where on Earth?
58 GeoMarketplace
60 Classifieds: Career opportunities


Want to attend a geoscience meeting? Visit the online Calendar.



Click here to subscribe.

---