---
Trends and Innovations
---
Injecting energy into advertising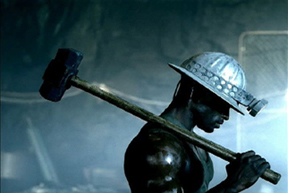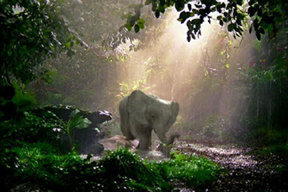 As the summer started, NBC TV viewers saw an elephant tap-dancing in a verdant forest to the tune of "Singin' in the Rain," just as Gene Kelly did in the 1952 movie. As the elephant dances away, a narrator intones catch-phrases about cleaner water and efficient jet engines, "technology that's right in step with nature." The incongruous and amusing image was a preview to the "Ecomagination" ad campaign, kicked off by the CEO of General Electric (GE), Jeffrey Immelt, on May 9, who said, "increasingly for business, 'green' is green." At around the same time, ExxonMobil also started a campaign to remind policy-makers and some of its customers that it is a major technological force with clean purposes in mind, not just an oil and gas company that "puts a tiger in the tank."

Both companies are repositioning themselves in the public eye. Although the campaigns are quite different and are aimed at different audiences, their messages are somewhat similar, with each showing that the corporations are more diverse than they might appear.

GE's Ecomagination campaign positions the company as a leader in clean technology, using TV ads that include coal miner models (top) and a dancing elephant (bottom). Courtesy of GE.

Perhaps the biggest impetus for the new advertising campaigns is to update the companies' images. This campaign is the first for ExxonMobil in about a decade that does not focus only on its retail products. And for GE, Ecomagination is part of its Imagination at Work campaign, the new tagline introduced in 2003 to replace what may now be perceived as its staid motto, "We bring good things to life." In addition to adding new sexy technologies to the lightbulb, the old tagline "starts to be perceived as dated" and "as your father's brand," says Jef Richards, a professor who teaches ad campaigns at the University of Texas at Austin. "It's a fine line to walk; you don't want to entirely abandon the well-known."

The Ecomagination ads "communicate that GE is a leading producer of technology that is better for the environment," says Jonathan Klein, a GE spokesman. "No one is going to watch our ads about wind turbines and go out and buy one," he says jokingly. The ads instead are a brand campaign aimed at everyone from public consumers to GE's employees.

GE, which owns NBC and Universal Pictures, is currently challenging global market leaders in wind-turbine production, and its ads are painting a rose-tinted and entertaining picture of a variety of other clean technologies that the company produces. For example, in one TV advertisement, railroad workers gather for a photograph after the joining of the continental railroad, and they are obscured by belching coal-fired trains; GE's "Evolution" locomotive sails into view with clean skies and mountains in the background, with petticoated women and top-hatted men strolling over to take a look at the new clean engine.

"I've not seen anything like the GE commercials before, dealing with such serious matters but lighthearted enough to get people's attention and keep their attention," Richards says. "An advertisement has got to give people a reason to watch it, it's got to reward them in some way."

One particularly memorable TV Ecomagination ad shows a crew of models mining coal, in an ad that looks like a Madonna video. The ad depicts muscular and attractive men and women standing or swinging pickaxes in the half-light, glistening with sweat. The short, titled "Model Miners," promotes GE's clean coal division, which makes products for building more efficient power plants that use coal gasification for fewer emissions. "It gets enough information across to let people know there's an issue and that they're working on it," without explaining the technology at all, Richards says.

Some critics have viewed the "Model Miners" commercial with less pleasure. One comment in the New York Times pointed out that the video's message crossed sex with a pro-labor miners' song that is distinctly Marxist: "You load 16 tons and whaddya get? / Another day older and deeper in debt. / Saint Peter doncha call me 'cause I can't go / I owe my soul to the company store." And a critic in the online magazine Slate noted that coal miners still die of black lung disease, making it hard to consider coal "beautiful," as the ad's narrator says. But GE's intent was to present the company "in a clever, often humorous way," something that might get overshadowed by critiquing the 30-second short, Klein says.

A similar irony might arise in viewing one of the company's print campaigns, which show actual Audubon bird portraits slightly modified to have coal plants or trains running in the background, tagged with titles such as "Choo-Choo Tweetus Tweetus." Like the elephant commercial, the intent may be to paint a friendly environmental image for viewers and readers, a strategy that all comes down to changing the company's profile.

Such imagery harkens back to the less lighthearted ads in Chevron's "People Do" campaign, which showed its workers saving turtle eggs on the beach, among other environmental conservation activities. More recently, BP's shift in 2000 to "Beyond Petroleum" several years ago included an ad campaign that switched its logo to the green and yellow sunburst and talked more about clean energy than the company's main oil products.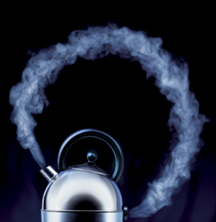 ExxonMobil's new campaign (which is also more serious) has placed ads in "opinion leader" outlets, such as the New York Times and The Economist, aimed at policy-makers as well as the general public, says company spokesman Robert Lanyon. One such message for ExxonMobil concerns its mix of energy technologies. "Oil, gas and coal will play a role in the decades to come. We believe that it's important that people recognize that as they plan," Lanyon says. In particular, one print-ad series highlights numbers on renewable resources from the International Energy Agency, showing that wind and solar power will be only a small component of world energy by 2030.

ExxonMobil's recent print and TV advertising campaign includes this image of a recycling teapot, one of its more effective spots, says Jef Richards, an advertising professor at the University of Texas at Austin. Courtesy of ExxonMobil.

Some of the print ads are very text heavy, Richards points out, and the TV and other video advertisements can be quite abstract. One advertisement in particular shows 3-D seismic imaging, something that the company does not expect all audiences to recognize or understand. "We highlight … our leading role in technology, as a common thread that runs through the advertisements," Lanyon says, whether it is liquid natural gas or new processing techniques.

That expectation of who will be reading the ads shows through, says Richards, who notes that interested customers will pursue more information. "The Exxon commercials are designed obviously to educate on certain points, and the GE commercials are aimed to make people aware of certain points without getting into detail," he says. Those in the audience who know more about the issues — such as natural gas or clean coal — will want more information and most likely will perceive the ads differently than those who do not.

Both GE and ExxonMobil say they want their audiences to know more about what they do, particularly their commitments to corporate citizenship. Other examples that evidence that the companies are positioning themselves as good neighbors are Exxon-Mobil ads that highlight the work it does for malaria control in Africa, and GE ads that highlight medical equipment.

Overall, both companies are trying to recast themselves in an era when issues over Enron "have really raised awareness of the public about the potentials for abuse in the energy industry," Richards says. "It becomes very important for these companies to cultivate a very positive image," for both the products and the corporations.
Naomi Lubick

Links:
GE's Ecomagination ad campaign
ExxonMobil's ad campaign
Chevron's ad history with links to examples, including one of the "People Do" ads
Chevron's new ad campaign: "Will You Join Us?" (launched mid-July)

Back to top



---