About 1,700 years ago an earthquake struck a region in the Mediterranean Sea, creating a tsunami that wiped out the Eastern Port of Alexandria in Egypt and Cleopatra's Royal Quarters. After finally discovering the flooded treasure room in 1996, scientists turned their attention to other lost pharaonic cities further east in the Bay of Aboukir.

The scientists announced discovering the cities this summer, but it remains a mystery how Canopus, Menuthis and Herakleion, cities 25 kilometers east of Cleopatra's sunken royal quarters, also fell prey to a watery demise. At the fall meeting of the American Geophysical Union in San Francisco this month, researchers will be scrutinizing earthquakes as possible culprits.

But, "we have a problem," says geophysicist Amos Nur of Stanford University. Nur and his colleagues know the ground under the cities subsided by about 5 meters — damage that a magnitude-8.2 earthquake on a nearby fault could deliver. Only, "we don't know if such a fault existed in early Alexandria," he says. This leaves the possibilities for destruction and the geological significance of the area wide open, he says.

Nur is part of an international team of geologists, historians and specialized divers who have been working under the leadership of French archeologist Franck Goddio to uncover the cities. Using clues from ancient texts and past discoveries, they surveyed the Bay of Aboukir with depth sounders, nuclear resonance magnetometers, side-scan sonar and a sub-bottom profiler. The team found the eastern suburb of Canopus, its neighboring city Menuthis and the entire missing city dedicated to Hercules, Herakleion, under 6 to 8 meters of water.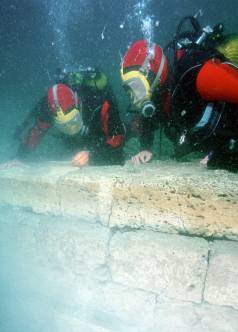 Divers Gregory Dalex and Philippe Rousseau
examine the foundations of a wall after excavation.
All of the vestiges were buried beneath the sediment.
Christoph Gerigk for Hilti Foundation/Discovery Channel/
Frack Goddio