---
Society Page
---
News about people and
announcements from
AGI's 35 member societies
______________________
To post news in Society Page, send e-mail to geotimes@agiweb.org with the subject: Society Page.
Contents:
Calling all micropaleontologists!

The W. Storrs Cole Memorial Research Award was established in 1989 to support research in invertebrate micropaleontology. It was not awarded this year due to a lack of qualified applications. The stipend for this award in 2000 was $9,500 and will be the same in 2001. The award is given to a Geological Society of America member or fellow between 30 and 65 years of age who has published one or more significant papers on micropaleontology.
Information and application forms may be requested from Grants, Awards and Medals Program Officer, Geological Society of America, P.O. Box 9140, Boulder, CO 80301, by e-mail at lcarter@geosociety.org or from www.geosociety.org.
All applications must be postmarked on or before Feb. 1, 2001.

The Geological Society of America awarded Joel L. Pederson of Utah State University in Logan, Utah, the 2000 Gladys W. Cole Memorial Research Award for his post-doctoral research on the Grand Canyon. The award, established in 1980, carries a stipend of $11,500. It supports research of the geomorphology of semi-arid and arid terrains in the United States and Mexico.
Though there has been 130 years of geomorphic research on the landscape evolution of the Grand Canyon region, "with new tools and approaches we are continuing to piece together the story of the erosion of this fantastic place," Pederson says.

He is working on a suite of Pleistocene stream terraces in the eastern Grand Canyon. Pederson's research will provide updated rates of incision of the Canyon, clarify what has controlled and affected erosion in the area, and address problems in geomorphology of what stream terraces mean and how they can be used, he says. "At the large scale, results are bringing into focus the emerging picture of an eastern and a western Grand Canyon with distinctly different Quaternary landscape histories."

Through the generosity of the late W. Storrs Cole, the Gladys W. Cole Memorial Research Award is given to a GSA member or fellow between 30 and 65 years of age who has published one or more significant papers on geomorphology. Funds cannot be used for work already accomplished, but recipients of a previous award may reapply if they need additional support to complete their work. The amount of this award in 2001 will be $11,500. The deadline for application is Feb. 1, 2001.


Joel L. Pederson in the Grand Canyon.
Presidential honors for National Sea Grant director


Ronald Baird after a successful
brook trout fishing trip on Bazeley
Pond in Uxbridge, Mass.
Ronald Baird, director of the National Sea Grant College Program, received a Presidential Rank Award on Nov. 2 for his accomplishments in helping to position the United States as a world leader in marine research and the sustainable development of coastal resources, the National Oceanic and Atmospheric Administration announced last month.

"Throughout his career, Ron has compiled a distinctive record of outstanding accomplishments," said D. James Baker, NOAA administrator. "This is a fitting recognition of the work he has done and the major innovations he continues to bring to Sea Grant and NOAA as a whole." NOAA manages Sea Grant, which acts as a bridge between the federal government and the 29 sea grant universities across the nation.

The Presidential Rank Award recognizes a small group of career senior executives. Winners are selected because they deliver great service, foster partnerships and community solutions to achieve results, and continuously strive to work efficiently and effectively.

Baird, who was named Sea Grant director in 1996, is considered to have provided crucial leadership in putting the Sea Grant reauthorization legislation back on track after it stalled in Congress for two years. His efforts resulted in the legislation passing with near unanimous support.
The Rolex Award for Enterprise awarded Elizabeth Nicholls of the Royal Tyrrell Museum of Paleontology in Drumheller, Alberta, as a Rolex Laureate in Canada for her work on recovering a rare ichthyosaur. Nicholls, curator of marine reptiles at the Royal Tyrrell Museum, raised funds for six years before excavating the 23-meter long fossil in 1998. "This ichthyosaur is so big that it is beyond the scope of anything I, or my museum, would normally have undertaken," Nicholls says. Before this discovery, the largest known marine reptile was a 15-meter-long shonisaur — recovered without a complete skull from the Nevada Desert. The Rolex award presented to Nicholls this summer provides $75,000 to help her complete excavations and laboratory work on the ichthyosaur.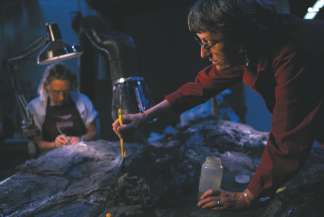 The Rolex Awards for Enterprise are given every two years. Deadlines for the 2002 awards vary by location. Enterprising individuals from around the globe are asked to submit innovative working projects in one of five areas of human endeavor: science and medicine; technology and innovation; exploration and discovery; the environment; and cultural heritage. An independent selection panel will judge these initiatives based on their originality, feasibility, potential impact, and above all, on whether the applicant demonstrates a spirit of enterprise. All projects must result in the betterment of humankind. The winners will be announced in October 2002. For more information, visit www.rolexawards.com.
Right: Elizabeth Nicholls paints the skull of an ichthyosaur with vinac, a solution designed to preserve bone.

---
Associate Editor Christina Reed compiles Society Page.