Society Page
---
News about people and
announcements from
AGI's 37 member societies
______________________
To post news in Society Page, send e-mail to geotimes@agiweb.org with the subject: Society Page.
Contents:
Robert J. Weimer, past president of the American Association of Petroleum Geologists, is the 2001 Hollis D. Hedberg Award winner for his leading role in the search for oil and gas worldwide. The Institute for the Study of Earth and Man at Southern Methodist University in Dallas presented the award at a benefit dinner on Nov. 8.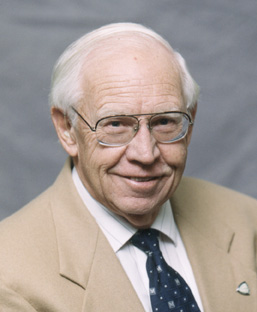 The evening celebration also featured a talk by Tim Severin, author of In Search of Moby Dick: The Quest for the White Whale and the ticket price for attendance helped fund SMU student research in geology and anthropology.
"Bob Weimer has not only done significant research in the energy field but has trained many students who have gone on to successful careers in the search for energy," said James E. Brooks, president emeritus of the Institute. Weimer has been a member of the geology faculty of the Colorado School of Mines since 1957.
[Robert Weimer]
He is also a fellow of the Geological Society of America. The Institute presents the Hedberg Award annually to individuals who have made exceptional contributions to understanding Earth and its resources. The award pays tribute to the distinguished career of the late Hollis D. Hedberg, a geologist who made substantial contributions in geophysics, paleontology, sedimentology, the geology of source rocks, hydrocarbon exploration and the history of geology. Hedberg also played a key role in the nation's deep-ocean exploration program.
After a year and a half as a Legislative Fellow on Capitol Hill, Jack Hess is heading to Boulder this month to lead the Geological Society of America (GSA) as its new executive director.
"I am most excited about working with the GSA membership, Council and staff to make GSA the organization of choice for the geosciences community that it serves and reaching out to strengthen GSA's role with other professional organizations," Hess says.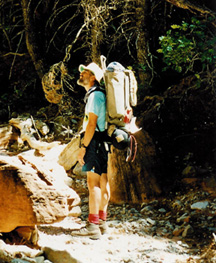 Hess worked in the office of Sen. Harry Reid (D-Nev.) in Washington, focusing on radioactive waste, water, global climate change, renewable energy and other science and technology related issues. "As a Legislative Fellow I have learned that there is a need and desire on the part of Congress for sound unbiased scientific advice to help make policy decisions."
He has been Vice President of Academic Affairs for the Desert Research Institute with the University and Community College System of Nevada, which sponsored the legislative fellowship. He has also served the Desert Research Institute as its Acting Vice President of Finance and Administration and as Executive Director of the Division of Hydrologic Sciences. Hess starts at GSA on Dec. 1.
[Jack Hess hiking in Utah's Zion National Park. Photo by Tish Hess.]
Hess is a long-time member of GSA and has been active in the Hydrogeology Division, serving as its chairman from 1995 to 1996. "He is a strong supporter of all aspects of GSA activities," says GSA President Sharon Mosher. "He brings an excellent member perspective to headquarters along with his extensive administrative, managerial and financial skills."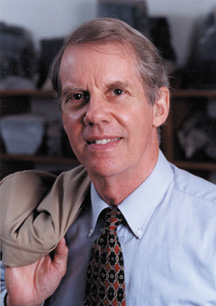 The American Geological Institute (AGI) inducted Steven M. Stanley as its 2002 president during its reception and awards ceremony on Nov. 6 at the annual meeting of the Geological Society of America (GSA). Stanley is a professor of paleobiology in the Department of Earth and Planetary Sciences at Johns Hopkins University in Baltimore, Md., and also serves as Chair of the Environmental Science and Policy Master's Program. He leads both new and returning executive committee officers in 2002.

New officers include: President-Elect M. Ray Thomasson, President of Thomasson Partner Associates Inc. in Denver; Treasurer Steven L. Veal, President of DCX Resources Ltd., also in Denver; and Member-at-Large R. Heather Macdonald of the College of William and Mary in Williamsburg, Va.
[AGI president Steven Stanley plans to initiate EarthLaunch, a summer camp experience for high school students.]
John Steinmetz, State Geologist of Indiana and Director of the Indiana Geological Survey, will continue as Secretary. Also returning for their third and second year terms respectively are Members-at-Large Rhea L. Graham, manager with the New Mexico Interstate Stream Commission, and Joseph A. Briskey of the U. S. Geological Survey. Larry D. Woodfork, West Virginia State Geologist, returns in 2002 as past president.
Stanley begins his term next year with four years of experience serving on the the AGI Executive Committee. He is past president of the Paleontological Society, and a member of the National Academy of Sciences, the Geological Society of America, the American Geophysical Union, and the SEPM (Society for Sedimentary Geology). As president, Stanley plans to initiate EarthLaunch, a summer camp experience for high school students.
"The biggest challenge we face is getting young people interested in earth science," he says. "I believe AGI can help solve this problem by giving students informal experiences in the earth sciences. Earthlaunch is a program that universities across the country can participate in. We want to spread this everywhere."
The American Geological Institute honored John Noble Wilford of The New York Times with its award for Outstanding Contribution to Public Understanding of the Geosciences. Wilford is the author of The Riddle of the Dinosaur (1985) and The Mapmakers (1981, with a revised edition out last year). AGI presented the award on Nov. 4 at the annual meeting of the Geological Society of America in Boston.
Wilford began working with the Times in 1965, covering the Apollo missions. He was director of science news when the newspaper started its weekly Science Times section in November 1978.
The section was the first of its kind for American newspapers - identifying science, in and of itself, as a subject of public interest. When Wilford returned to working as a reporter, he won the 1984 Pulitzer Prize for his science articles. Then in 1987 he won the Pulitzer Prize again as a member of a team that covered the Challenger space shuttle disaster and its aftermath.
[John Wilford reporting from the Gobi Desert in 1991. Photo by Fred Conrad, NYTimes.]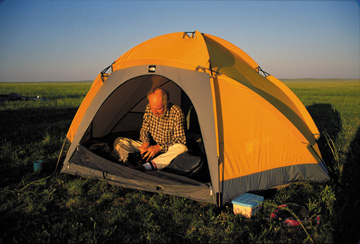 Although Wilford primarily wrote about space science during the 1960s, he would also report about the occasional paleontological news. "My favorite subject in school was history, and paleontology is ultimately another history story," he says. "What I liked about paleontology was you could tell a story, not just explain the science, but tell a story as a narrative of the history of life on Earth."
In the 1970s, space science had its own share of geology stories - martian geology and lunar geology - that Wilford covered. When debate escalated in the 1970s over the cold-blooded or warm-blooded nature of dinosaurs, Wilford reported the controversy. In 1980, Luis Alvarez, Walter Alvarez and colleagues captured public fascination with the explanation that a massive impact event caused or at least contributed to the demise of the dinosaurs 65 million years ago. Wilford, the author of several science books for a public audience, covered the Alvarez explanation. In 1984 he published The Riddle of the Dinosaurs, which covers two centuries of geologists, paleontologists and biologists and how our understanding of dinosaurs developed.
In 1991, Wilford traveled with Mongolian paleontologists and scientists from the American Museum of Natural History to the Gobi Desert to find fossils. "It's one of those places I fell in love with," he says. "It was exhilarating to be in such a harsh environment, to stand with the wind blowing, bones sticking out of the ground everywhere you went and say 'Come on wind, show me what you can do.'" His driving fascination for paleontology, anthropology and space science continues in his coverage of those topics today.

---
Associate Editor Christina Reed compiles the Society Page.