---
For Students
---
Applied Geology in Service of the Public Welfare
Allen W. Hatheway, Richard J. Proctor and David B. Simon


Engineering geology originated in Britain in 1881, when W. H. Penning's book of that name was published as a guide to applying geology to engineering principles and practice. Penning's advice ultimately resulted in a concentration of research that documents geologic processes that could adversely impact public welfare.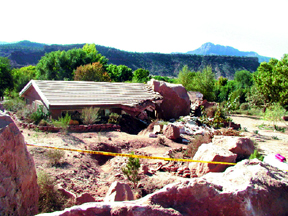 That definition still holds true today. Engineering geology is the application of geologic principles to engineering practice. Simply put, engineering geologists provide geologic information about water supply, transportation and environmental protection to those responsible for the design and construction of engineered structures.

Near Rockville, Utah, a large boulder traveled 400 feet in a rockfall that demolished this home's bedroom while the owner was in the shower, only a few feet away. New homes will likely be built beneath this cliff even though the area is dotted with such boulders. Image courtesy William Lund, Utah Geological Survey.

Everyday decisions of practicing engineering geologists directly impact public welfare and the safeguarding of life, health, property and the environment, making engineering geology the archetypical applied geologic specialty performed for the good of the public. The practice of engineering geology involves an inherent obligation to educate public officials and policy-makers (who are seldom scientists) about the need to include geologic recognition in activities that are impacted by geologic processes or rely on the use of natural resources.

Hillside development is a prime example. Over long periods of time, earth media (soil, rock and water) reach a state of equilibrium. Human activity can disrupt this fragile equilibrium. A particular hillside may be stable under current topographic and climatic conditions. However, during site development, large quantities of earth are moved (by, for example, grading), which results in a different topographic configuration.

The typical residential homeowner then uses significant amounts of landscape irrigation water, essentially changing the climatic equilibrium. In some semiarid regions, the amount of landscape irrigation water equals the annual precipitation of a tropical rainforest. If the developer uses septic systems for disposal of solid waste, even more water enters the subsurface. The introduction of large quantities of water into the subsurface is the main cause of catastrophic landslides. Similarly, the hazard of building homes beneath cliffs prone to rockfalls would be obvious to most geologists, but often is unrecognized by the lay homeowner (see photo).

Many times, subtle landslide features are not identified without geologic evaluation. It is not unusual for an engineering geologist to point out, to a city council's chagrin, that its new school site is actually underlain by a landslide — even though engineering studies indicate suitable soil conditions for its foundation. We often find ourselves saying, "Yes, sir, those are the trees, but here's the forest!"

We believe that a career in engineering geology is one of the most demanding applications of geology. No other specialty of geology strives to improve the safety and reliability of engineered works. Engineering geologists are practical scientists. Inherent to all engineering geologic quantification is the application of multiple working hypotheses, common to virtually all geologic investigations, theoretical or applied.

By virtue of its application, engineering geology is a field-oriented profession. Image interpretation, field geologic mapping, borehole logging, backhoe trenching, geophysical surveying and hydrogeologic testing are routine activities. Field observational techniques are paramount to data collection and the need to present written and oral technical reports is constant. Many of these techniques are not taught at an undergraduate level; however, a bachelor's degree will give a thorough grounding in all geologic principles, which is essential. Along with data collection capabilities, the engineering geologist must be capable of quickly evaluating and assessing field evidence and in rendering near-instant advice to clients, architects, engineering colleagues and public safety professionals.

With the decline of North American resource exploitation (mainly mining and forestry), engineering geologic career assignments in such fields have also diminished. Most of the decline has been driven by environmental protection imperatives; however, those imperatives have opened up a broad expansion of public-sector careers for engineering geologists in water quality/groundwater protection and environmental remediation.

Today's discharge, as well as historic dumping of municipal and industrial waste, has come to degrade the quality of surface and groundwater from source areas, such as landfills, industrial facilities, underground petroleum storage tanks and above-ground bulk petroleum distribution facilities. The characterization and remediation of contaminated properties is an important application of this specialty.

Most important to a career in engineering geology is a commitment to lifelong learning. Professional licensure is also important to and for engineering geologists because of the important and direct role the profession plays in serving the public. Currently, 27 states and all of the Canadian provinces grant licenses to qualifying graduate geologists.

As long as humans continue to develop the planet for essential needs of water supply, energy, housing, transportation and recreation, engineering geologists will always perform a crucial role in their optimal siting, design, construction, operation and maintenance.
---
Hatheway, based in Big Arm, Mont., and Proctor, based in San Clemente, Calif., are past presidents of the Association of Engineering Geologists. Email: allen@hatheway.net. Simon is the current president of the Association of Engineering Geologists and works at Simon Bymaster Inc., in Bountiful, Utah.

Links:
Hatheway's home page
"Encompassing hydrogeology, environmental geology and the applied geosciences," Hatheway et al., Engineering Geology, vol. 70 (2003)

---