---
Web Extra Monday, December 27, 2004
updated Jan. 3 at 4:00 p.m. EST
---
Devastation in the Indian Ocean

A magnitude-9.0 earthquake struck off the west coast of Northern Sumatra, Indonesia, on Sunday morning at 6:58 a.m. local time. The giant temblor devastated the Indonesian province of Aceh, and created destructive tsunami waves that crashed onto faraway beaches in Sri Lanka, Thailand, India and other countries. So far, news agencies are reporting at least 140,000 dead and thousands still missing, mostly from the tsunamis.
A magnitude-9.0 earthquake struck off the coast of Sumatra, Indonesia, on Sunday morning, followed by dozens of powerful aftershocks and large tsunami waves that reached as far as the east coast of Africa, some 4,800 kilometers away. The tsunami waves caused the most damage, including more than 140,000 people dead in 10 different countries. Image courtesy of the U.S. Geological Survey.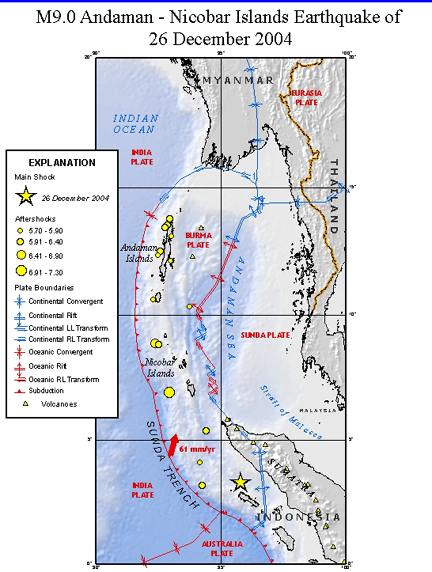 The temblor itself was felt widely on Sumatra, where more than 94,000 people have been killed, and buildings and towns have been leveled. The quake, only 10 kilometers below the ocean, knocked out communication to the Aceh province, where reports suggested that the initial quake and ensuing tsunamis killed at least 30,000 people in the capital city of Banda Aceh, according to MSNBC. Another Indonesian town on Sumatra, Meulaboh, is reporting 40,000 people killed, of its 120,000 residents. Communication and relief efforts are hampered there by an ongoing rebel insurgency, in addition to treacherous terrain. Officials surveying the area said the devastation is much worse than previously thought, according to MSNBC reports.
The earthquake occurred on the interface of the India and Burma plates, which is in one of the most tectonically complex regions in the world, according to the U.S. Geological Survey (USGS). The India plate is plunging underneath the Burma plate, creating a so-called megathrust fault at the plates' boundaries. The quake and its aftershocks were distributed along much of that fault, with a total movement of about 1,000 kilometers (about 600 miles).
Aftershocks will continue for at least several months, and maybe even up to a year after the earthquake, says Stuart Sipkin, a seismologist at the USGS National Earthquake Information Center in Denver. Because of the huge magnitude of the mainshock, the aftershocks will also start out big but will decrease slowly in magnitude.

Powerful aftershocks rocked the interface between the Burma and India plates. Several measured above magnitude 6.0, and one was a magnitude 7.3. The remote Andaman and Nicobar islands marked the epicenters of many of these aftershocks. Image courtesy of USGS.
This earthquake is one of the largest recorded in the past century, and the largest to occur worldwide in the past 40 years (see sidebar). Several of these earthquakes — all greater than magnitude 9.0 — triggered tsunamis, which are an expected result from huge underwater earthquakes such as the one that occurred Sunday. And while U.S. authorities are aware of the risk and NOAA tracks tsunami waves in the Pacific, no tsunami warning system is in place in the Indian Ocean region to notify of impending waves.
The quake and its dozens of very powerful aftershocks triggered tsunamis reportedly up to 14 meters high (40 feet), traveling at speeds of several hundred miles per hour. The waves hit the coasts of Sri Lanka, India, Indonesia, Thailand, Malaysia, Somalia, Bangladesh, Maldives and Cocos Islands, sometimes moving up to a kilometer inland. Somalia is more than 4,800 kilometers from the earthquake's epicenter.

Authorities in Sri Lanka declared a state of emergency, reporting more than 30,000 people dead, thousands still missing and at least 1 million people displaced or homeless. The country has launched its military on relief and rescue missions, and India has sent warships filled with relief supplies. Flooding and land instability are hindering rescue and relief efforts, as are landmines (remnants of a long civil war in the country) that were uprooted by the tsunamis and are causing additional rescue difficulties and deaths, as reported by CNN.
The last 100 years

The world's largest recorded earthquakes are all megathrust events occurring at subduction zones. This magnitude-9.0 quake is the largest in 40 years, since the Good Friday earthquake in Prince William Sound in Alaska in 1964. It is the fourth largest in the last century, following only a 9.0 in Kamchatka in 1952, a 9.1 in Alaska in 1957, the 9.2 Prince William Sound quake, and the largest ever recorded, a magnitude-9.5 earthquake in Chile in 1960, according to the U.S. Geological Survey. All five events are megathrust quakes at subduction zones.
India is reporting nearly 9,500 dead, mostly along the southern coast where several entire villages were swept away, and in the islands of Andaman and Nicobar, where dozens of aftershocks were centered (many of which were over magnitude 6.0, with one at magnitude 7.3). Communication has been entirely cut off by the disaster and thousands of fishermen from India's coastal cities have not been accounted for yet.
In neighboring Thailand, hundreds of people are missing and close to 5,000 have already been confirmed dead following 9-meter-high tsunamis crashing ashore. Nearly half of the dead are tourists. The Maldives Islands, a popular scuba-diving destination, are reporting 80 dead and more missing, including a number of scuba divers, according to CNN reports. The Washington Post reports dozens of deaths in Malaysia, Myanmar (formerly known as Burma), Somalia, Bangladesh and Kenya from floodwaters, with many more unaccounted for. It will likely take days to weeks before exact death tolls are known, as many remote provinces in these nations have not even been reached by rescuers or inspectors yet.
Countries around the world have sent or pledged aid, ranging from money, food and first aid equipment to a floating hospital and a water purification plant. The United Nations and the International Committee of the Red Cross are leading relief efforts.
Compiled by Megan Sever
U.S. Geological Survey National Earthquake Information Center
MSNBC news coverage
CNN news coverage
Washington Post coverage
Associated Press coverage on Yahoo.com

Back to top

---