---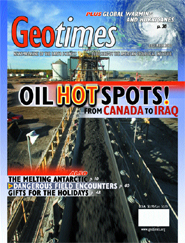 Click the image above to view a high-resolution version of the cover.
What's in the print version of Geotimes this month ...
---
December 2004
vol. 49, no. 12

FEATURES
18 Global Oil Hot Spots
Changing technological, political and economic landscapes are opening up new opportunities — and new challenges — for meeting the world's petroleum needs.
Geotimes staff
26 U.S. Offshore Oil Industry: New Perspectives on an Old Conflict
The United States and Norway have taken vastly different approaches for developing oil resources offshore while addressing environmental concerns.
Frank T. Manheim
30 Deepwater: Petroleum's Third Wave
Offshore exploration for petroleum is reaching deeper than ever before.
Rasoul Sorkhabi
32 A Passive Approach to Healthy Oil Production
Listening to the planet's creaks and groans allows researchers to "watch" what is happening to oil and
natural gas belowground.
Lisa M. Pinsker
---
NEWS & VIEWS


---

7 COMMENT
Seismic Success Story in Wyoming
Citizens can be effective in promoting policy change: Take the case of a group of local citizens who rallied the support of Congress and their community in installing a seismic network.
Wallace Ulrich

8 NEWS NOTES
Alaska's new pipeline * New dates for old deer bones * Carbon dioxide alchemy * Antarctic ice connections * Review of creationist book shelved * Pyrite fossil preservation * Acidic waters threaten sea life * Vying for the North Pole


17 POLITICAL SCENE
Beating Natural Hazards to the Punch
Proactive strategies to mitigate natural hazards will develop a strong society prepared for any disaster.
Emily Lehr Wallace and David R. Millar

38 GEOPHENOMENA
Corroding pipe organs
Extreme storms as climate warms


40 FOR STUDENTS
Dangerous Field Encounters
From skirting mountain drops and avoiding hostile townspeople to fighting off predatory animals, working in the field can be hazardous.
Callan Bentley

44 ENERGY & RESOURCES
Mineral of the Month: Gypsum

45 PROFILES
Geofellows in D.C.

48 GEOMEDIA
Books: On the Shelf for the Holidays
Books: Quakes, shakes and fakes: A review of The Big One
On the Web: Energy site for kids
Maps: New maps from the U.S. Geological Survey


72 GEOLOGIC COLUMN
Was Chicken Little Right?
The sky is falling on science and technology in the United States — or is it?
Fred Schwab

DEPARTMENTS
4 From the Editor
6 Letters: Perspectives from readers
36 Where on Earth?
52 Benchmarks: Looking back in Geotimes
54 GeoMarketplace
56 Classifieds: Career opportunities

Want to attend a geoscience meeting? Visit the online Calendar.



Click here to subscribe.

---