---
Highlights 2005 — Energy
---
Gas prices keep rising
Congress passes energy bill
For a complete list of energy headlines from 2005, see the December 2005 print issue.

---
Gas prices keep rising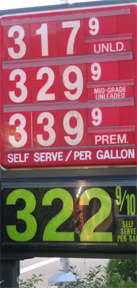 In May and June 2004, Geotimes ran stories about rising fuel prices at the pump — gasoline prices had reached an all-time high when not adjusted for inflation. That high was $1.78 a gallon.

Gas prices hit a high mark in September, following hurricanes Katrina and Rita, but have dropped as the offshore industry in the Gulf Coast recovers. Photo courtesy of Lisa M. Pinsker.

In September 2005, the story was almost the same — rising fuel costs concerned the nation — but at more than a dollar more than the 2004 prices, gasoline actually came within 4 cents of reaching the all-time, inflation-adjusted high of $3.11 per gallon, and briefly substantially surpassed that mark.

On the surface, reasons for the high gasoline prices in September and October 2005 were the blows the energy sector took from hurricanes Katrina and Rita, when oil and natural gas production shut down in the Gulf of Mexico, which supplies 35 percent of U.S. domestic oil production and 20 percent of U.S. natural gas production, according to the Energy Information Administration (EIA). Furthermore, many oil refineries, which convert crude oil into gasoline, home heating oil and other products, were shut down for several days, with at least four remaining closed for months after the hurricanes left the area.

How long these refineries may be down is "indeterminate," considering the extent of damages, and "we are still a ways away from restoring production at many of the rigs," John Felmy, an economist with the American Petroleum Institute, told Geotimes in September. "We are likely months away from running at full capacity." Hurricane Rita was called by many the most damaging storm ever to the energy industry, and together, the two storms left at least 108 platforms completely destroyed and dozens more badly damaged.

However, analysts suggest more is driving the price increases, which were already well above 2004 rates prior to the hurricanes. Crude oil prices nearly doubled in a year, and were up $20 a barrel, or nearly 50 percent, from January to June. Also putting pressure on an already tight system are continued political unrest in important oil areas, such as Venezuela, Nigeria and the Middle East; the Organization of Petroleum Exporting Countries' (OPEC) continued quotas on exports; and ever-rising demand from China, Asia and the United States.

Worldwide petroleum demand growth continued at about 1.7 million barrels per day of oil (above 2 percent) in 2005, according to EIA, but production increases (supply growth) were only about 0.7 million barrels per day. Supply growth is not keeping up with demand. The obviously stressed world energy market could not afford the additional stress from the hurricanes, according to Cambridge Energy Research Associates (CERA). "The Katrina-induced supply shock laid bare how tight the global refining market had become," CERA said in a statement Sept. 16.

No new refineries have been built in the United States since 1976. In the weeks following the hurricanes, however, Congress began looking at ways to lower gasoline prices, including providing incentives to energy companies that would build new refineries. A House bill, which was sent to the Senate Oct. 17, included such incentives as a streamlined licensing process, reduced environmental regulations and tax breaks.

The House and Senate also looked at ways to increase oil and gas production, including drilling in the Arctic National Wildlife Refuge (ANWR) or offshore on the outer continental shelf. While the Senate voted to allow exploration in ANWR and is considering offshore provisions, the House rejected both options in its budget reconciliation bill. A conclusion was still pending as of Nov. 15.

The rash of energy policy activity in Congress came just two months after President Bush signed the energy bill — the first in four years — into law. Legislators were quick to trumpet the bill's passage as a testament to bipartisan cooperation, filled with notions that will help the nation's long-term energy concerns. At the same time, they reminded the public that the provisions in the bill may help stabilize the energy sector in the long term, but is unlikely to change their electricity bills or save them any money at the gas pump in the short term.

To address short-term energy concerns, President Bush has called for greater conservation. He joined industry analysts and environmental groups in reminding the public to drive less — take public transportation, carpool or combine errand runs — have their cars finely tuned, and drive more modestly, which increases fuel efficiency. Ultimately, however, no matter what legislation comes out of Congress this year, Felmy said, what controls gasoline and oil prices is largely simple economics: supply and demand.
Megan Sever
Links:
"At the pump," Geotimes, May 2004
"At the pump, part II," Geotimes, June 2004
"Katrina strikes the energy sector," Geotimes online, Web Extra, Sept. 9, 2005
"Katrina blows in higher energy prices," Geotimes, October 2005 Print Exclusive

Back to top

---
Congress passes energy bill

For the first time in four years, Congress passed an energy bill, which President Bush signed into law Aug. 8 (see Geotimes, September 2005). Some key provisions in the $12.3 billion legislation include:
$200 million per year through 2014 for the Clean Coal Power Initiative and $1.1 billion over the next three years for advanced coal technologies, such as coal gasification;
7.5 billion gallons of ethanol must be included in the nation's gasoline supply by 2012;
a $14.6 billion energy tax package with incentives and subsidies for further oil and gas exploration, and $2.9 billion for clean coal, $2.9 billion for renewable energy, $2.6 billion for domestic fossil fuel production, and $1.7 billion for conservation and energy efficiency;
$4 billion for new nuclear power generation, including $1.25 billion through 2015 for the Next Generation Nuclear Plant project and $2 billion in risk insurance for new nuclear reactors;
and an extension of daylight savings time by one month.
During conference, House and Senate leaders dropped the most contentious parts of the bill. The final version included no provisions for drilling in the Arctic National Wildlife Refuge, no liability protection for producers of methyl tertiary butyl ether (MTBE), and no renewable portfolio standard.
Links:
"Energy bill passes," Geotimes, September 2005.



---