---
What's in the print version of Geotimes this month ...
---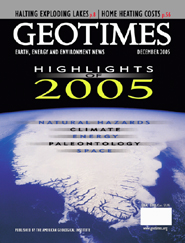 Click the image above to view a high-resolution version of the cover.
December 2005
vol. 50, no. 12

FEATURES

18 NATURAL HAZARDS
A Year of Living Dangerously
From Sumatra to the Gulf Coast, natural disasters remind us of the dynamic forces at work on Earth and our growing responsibility to understand and address them.
David Applegate
Plus! Drilling a fault, Mount St. Helens and other hazards news from 2005
24 CLIMATE
A Warming World
Global-scale models and observations are sharpening scientists' view of a dramatically changing climate.
Kevin E. Trenberth
Plus! Global warming and storms, melting ice, drought and more
28 ENERGY
Energy Outlook 2005
Energy has been in the spotlight in the wake of Gulf Coast hurricanes, peak oil predictions and increased worldwide demand.
William L. Fisher
Plus! The energy bill, rising gas prices and other energy news from 2005
32 PALEONTOLOGY
Out of the Past and Into the Future
New techniques and fossil finds are shaping understanding of life's patterns through time.
Douglas H. Erwin
Plus! Early Americans, T. rex tissue, "hobbits" in Indonesia, the evolution debate and more
42 SPACE
Exploring the Universe
Planetary geologist David J. Stevenson talks about the biggest discoveries in space over the past year.
Plus! Discovery launches, Saturn's moons, Mars rovers and other space news from 2005

---
NEWS & VIEWS


---

7 COMMENT
Don't Try to Fool Mother Nature
Protecting a city that lies in a delta such as New Orleans is an uphill battle against the laws of nature.
Donald C. Swanson


8 NEWS NOTES
Halting exploding lakes * National parks in crisis * New view of a Saturnian moon * Road salt contaminates water * Mammal growth spurt * Slushball life * Sun fuels climate change * Correcting the fossil record * Open access wide open


17 POLITICAL SCENE
Now We Must Conserve
As the federal deficit grows, so too does concern over fiscal priorities in Congress.
Linda Rowan

50 GEOPHENOMENA
Landslides bury Guatemala
Quake sets off landslides in Kashmir

52 EDUCATION & OUTREACH
Confronting Evolution Challenges at Museums and Parks
With increasing public attention on nonscientific alternatives to evolution, museums and parks are getting more aggressive in teaching visitors what science is and is not.
Kathryn Hansen

56 ENERGY & RESOURCES
Tight home fuel supply
Mineral of the Month: Aluminum

60 GEOMEDIA
On the Web: Spinning around the globe
On the Shelf: Recommended books for holiday gifts

64 PROFILES
Geoscientists meet Hill policy

66 BENCHMARKS
December 16, 1811: Earthquake strikes American heartland
A set of earthquakes in the Midwest sets off a busy winter of seismic activity in the center of the United States.

84 GEOLOGIC COLUMN
New Orleans: Why Rebuild?
The devastation in New Orleans raises serious questions about (re)developing coastal areas.
Fred Schwab

DEPARTMENTS

---

4 From the Editor
6 Letters: Perspectives from readers
48 Where on Earth?
68 GeoMarketplace
70 Classifieds: Career opportunities


Want to attend a geoscience meeting? Visit the online Calendar.



Click here to subscribe.

---