---
Society Page
---
News about people and
announcements from
AGI's 37 member societies
______________________
To post news in Society Page, send e-mail to geotimes@agiweb.org with the subject: Society Page.
Contents:
National Honor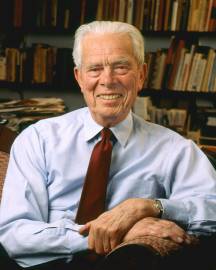 President Clinton awarded the National Medal of Science to 12 scientists from across the country on Dec. 1. Of the three awardees honored for their work in the physical sciences, Gilbert F. White was the sole earth scientist. White is a distinguished professor emeritus of geography at the University of Colorado, Boulder, and a member of the American Geophysical Union. His work has helped shape the nation's policies on flood plains, water use and natural disasters for more than five decades.

[At right: Gilbert White, father of floodplain management. Courtesy of Peter Caughey, University of Colorado-Boulder news services]

In 1942, White titled his doctoral dissertation from the University of Chicago: "Floods are 'acts of God,' but flood losses are largely acts of man." Today he is known as the "father of floodplain management." White has made major contributions to the study of water systems in developing countries, global environmental change, international cooperation, nuclear winter, geography education and the mitigation of natural hazards including earthquakes, hurricanes and drought.

He is founder of the Natural Hazards Research and Applications Information Center at the University of Colorado and former director of its Institute of Behavioral Science. At 88, White is still active on the Boulder campus where he has been a faculty member since 1970, after 14 years as a professor at the University of Chicago and 10 years as president of Haverford College in Pennsylvania.

The National Medal of Science was established in 1959 and has been awarded to 386 distinguished scientists and engineers. For more information and a complete list of recipients visit the Web site at www.nsf.gov/nsb/awards/nms/start.htm.



The Geoscience Information Society provided Theodora Zoto of Albania an international fellowship in November to attend the society's annual meeting in Reno and spend four weeks in North America. Zoto is Chief of Library, Archive and Information of the Institute for Geological Research of the Geological Survey of Albania in Tirana, Albania.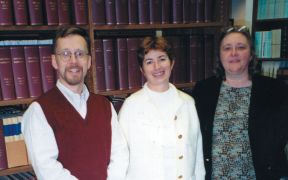 The fellowship program was established in 1998 to assist geoscience information specialists and geoscience librarians who work in a geological survey or academic institution in a developing nation. The Society hopes that honorees, upon their return to their organizations, will develop seminars and workshops to share their new skills and broaden the expertise of their co-workers at both the local and national level.
[Pictured left to right: Shaun Hardy of the Carnegie Institution of Washington DTM-Geophysical Laboratory with Geoscience Information Society (GIS) Fellow Theodora Zoto and GIS president Sharon Tahirkheli. Photo courtesy of GIS]
Zoto was interested in learning more about automating a library and providing Internet access to the collection and its resources. During her stay she visited the U.S. Geological Survey Library in Reston, Va.; the American Geological Institute in Alexandria, Va.; the Carnegie Institution of Washington's Geophysical Laboratory Library; and the Earth and Mineral Science Library at Pennsylvania State University in University Park, Penn. For more information on the fellowship visit www.geoinfo.org.
New officers for the society include Sharon Tahirkheli, director of GeoRef/Information Systems at the American Geological Institute, as president; Michael Noga, collection manager and mathematics librarian at the Massachusetts Institute of Technology Libraries, as vice-president and president-elect; Suzanne Larsen, head of the Jerry Crail Johnson Earth Sciences and Map Library at the University of Colorado, Boulder, as secretary; and April Love of the University of California in Irvine as treasurer.

An interview with SPWLA president Philippe Theys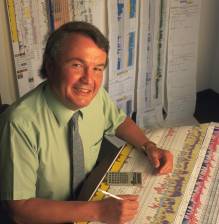 The American Geological Institute welcomed two new member societies at the end of 2000. Below is an interview with Philippe Theys, president of the Society of Professional Well Log Analysts (SPWLA). Next month, Geotimes interviews John Nicholl, president of the Environmental and Engineering Geophysical Society.
[At right: Philippe Theys, deep in well-log data. Courtesy of SPWLA]
What are the challenges you face in voicing the role of SPWLA's members in today's society?
Petrophysicists plan and implement the acquisition of logging and core data, control the acquired data, and then analyze and format it in a way that can be used by decision-makers in oil companies. It is critical to manage the uncertainties in this process in order to optimize reservoir characterization and development. Failure to do it could be extremely costly; this failure can be prevented by the skills and experience of the petrophysicist. These skills may be poorly understood in some oil and gas companies.
How has SPWLA fared in the last decade?
In spite of the cycles in the oil industry, SPWLA has kept its total membership around 3,000 in the past 10 years. The recent international recruiting is compensating the slight decrease of our U.S. membership.
In what ways can you encourage students to pursue careers in petrophysics?
I can only quote a petroleum engineering student, Herre Bartlema, from a column in Petrophysics, the magazine of SPWLA, entitled "The Future of the Petrophysical Profession." She writes, 'The coming 50 years will see increased production from smaller and formerly abandoned fields. This will result in an increased demand for petrophysical specialists who will supply the industry with logs of increased resolution and quality ... The future of the petrophysical profession will be an interesting and energetic one, be prepared!'
Are there ways those in the field of petrophysics can apply their knowledge in other directions?
Petrophysicists are facing and solving data management issues on a daily basis. These issues are also hindering the work of other geoscientists. Petrophysicists can help.
What does the society offer its members?
SPWLA supports its chapters with a Distinguished Lecturers program and supports its members directly with two topical conferences every year. The Annual Symposium, in Houston for 2001, also provides the opportunity to present a vast array of technical papers.
Do you offer scholarships for students?
The SPWLA foundation awards grants and scholarships every year. More information can be found on our Web site, www.spwla.org.

---
Associate Editor Christina Reed compiles Society Page.