---
Geophenomena
---
The year's first big one a shudder
Australian fires contained
Moving in on danger
Web sites for Earth watchers
---
The year's first big one a shudder
The year's first severe earthquake, of magnitude 7.2, struck the remote South Pacific island nation of Vanuatu on Jan. 2. Damage to roads and bridges occurred on the main island of Éfaté, where landslides and falling boulders cut off the wharf in the capital city of Port Vila. The Vanuatu Red Cross team reported treating 190 people for injuries, and counseling another 100 for shock. Residents fleeing their homes during the early morning tumbler feared the quake would create a large tsunami.
"People living in low-lying areas saw the level of the sea go down. This prompted them to expect a tsunami," says Peter Pamara, the Vanuatu Red Cross' disaster response team coordinator. The resulting wave that struck, however, measured only 80 centimeters from peak to trough, according to the national tidal facility at Port Vila.
In November 1999, a magnitude-7.2 earthquake hit the island nation and generated a tsunami on the northern Pentecost Island that surged 2 kilometers ashore and swept five people out to sea. Two of the bodies were never recovered, according to the International Tsunami Information Center. Five others were killed from collapsing houses and thousands were left homeless.
The mildness of this year's tsunami was likely due to its depth and distance from shore, says Eric Geist of the U.S. Geological Survey in Menlo Park, Calif. The earthquake struck 50 kilometers from Éfaté at a depth of 21 kilometers. In 1999, the earthquake struck closer to Pentecost, 90 kilometers from Éfaté and at a depth of 8 kilometers. "A shallower earthquake means potential for a bigger tsunami," Geist says.
Vanuatu sits on the rim of the 9,165-meter deep New Hebrides trench, between New Caledonia and Fiji. The volcanic island arc results from the Indo-Australian plate subducting beneath the Pacific plate. "The 1999 quake occurred on the back-arc region of the New Hebrides volcanic island arc, whereas the one this year hit in the typical subduction zone," Geist says. Aftershocks continued to rattle Vanuatu, with an earthquake the following day reaching a magnitude of 6.6.
Christina Reed

On Jan. 14, rain and favorable weather in parts of Australia helped firefighters bring under control the last of the fires that blazed around Sydney for three weeks. Containment lines and back burning gave the firefighters an upper hand in wrestling flames that had shot up from winds of up to 30 miles per hour on Jan 12.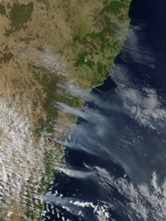 The disaster destroyed more than 650,000 hectares of New South Wales, razing more than 150 homes along the way. As many as half of the original 100 bush fires are considered acts of arson. And since Christmas day, authorities have questioned 34 people — 10 adults and 24 juveniles, the youngest nine years old. The fires killed or evicted countless numbers of koalas and other wild animals that live in the Eucalyptus forests. The operation to control the crises is estimated to cost the state's government at least $AUS70 million ($30 million U.S.), with a similar level of expense to insurance companies.
This true-color image from NASA's Moderate-resolution Imaging Spectroradiometer (MODIS) shows bush fires surrounding Sydney on Jan. 2. Vast smoke plumes ascend from the southeastern coastline of Australia and extend over the Tasman Sea.
In an effort to curb bush fire hazards in the future, the New South Wales government introduced legislation that will give the Rural Fire Service power to enter residential properties to clear vegetation and conduct other hazard-reduction techniques without obtaining permission from the homeowners. The new laws will also require that local councils consult with the fire service when managing residential or other developments in fire-prone areas.
Christina Reed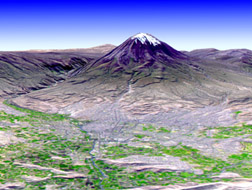 In December 2001, geologists expressed concern over the potential threat to nearly one million people living on the flanks of El Misti Volcano in Peru. The volcano currently shows no sign of activity, but a detailed study on El Misti, published in the Geological Society of America Bulletin, stressed future risk and offered new support for safer development.
"Future eruptions of El Misti, even if moderate in magnitude, will entail considerable hazards to the densely populated area of Arequipa," warn Jean-Claude Thouret of the Université Blaise Pascal in France and his team of French, Peruvian and British scientists.
This 3-D view was created from an Advanced Spaceborne Thermal Emission and Reflection Radiometer (ASTER) Digital Elevation Model combined with a simulated natural color ASTER image. It shows El Misti volcano in Peru towering 5,822 meters above sea leve1 and 3.5 kilometers above Arequipa, which has a population of 750,000.
Spain founded the town of Arequipa at an oasis on the bank of the Rio Chili in 1540, but the town also happened to lie in a depression between two ancient volcanic flows. With the global population increase after World War II the town surged from 86,000 in 1940 to 677,000 in 1995. Today 750,000 people live in Arequipa, while the city center lies 17 kilometers from the summit vent and 3.5 kilometers below it in elevation.
"Anyone who has flown into the airport at Arequipa is very aware of the risk," says Simon Young, a volcanic hazards consultant in Florida.
Thouret and colleagues studied El Misti's eruptive history and provided geologic maps depicting the main drainage channels and areas of debris avalanche deposits; rockslides; and pyroclastic, pumice and lava flows. The last eruption occurred between 1440 and 1470 with phreatic events recorded in 1677, 1784 and 1787.
"We think that the recent studies of Jean-Claude Thouret are in agreement with a large consensus of volcanologists," says Henry Gaudru, president of the European Volcanological Society and International Commission on Mitigation of Volcanic Disasters in Geneva, Switzerland. "This recent work is very interesting and should be integrated in the future risk assessment plan to mitigate volcanic impact for the population living in Arequipa."
While earthquakes regularly shake this region and landslides may pose more of an immediate threat, "the possible impact of Misti on Arequipa is as worrisome as that of Vesuvius near Napoli," Thouret says. He and his colleagues urge the implementation of emergency response policy and land-use planning to help regulate city growth. "Future growth of the city should be preferentially oriented southeast and west of the depression but beyond 25 kilometers from the vent."
Christina Reed
Earthquakes:
For global coverage of new and past earthquakes check out the USGS National Earthquake Center.
The Incorporated Research Institutions for Seismology (IRIS) monitors seismic data and provides interactive maps.
Volcanic Eruptions:
The Smithsonian and the U.S. Geological Survey report weekly on volcanic activity around the world.
Stunning photography and in-depth reports adorn the Web pages of Stromboli on-line, which covers the ongoing activity of its namesake island volcano. Links to other volcanoes are included.
Floods:
The U.S. Geological Survey provides maps and graphs of current water resources conditions.

---