Society Page
---
News about people and
announcements from
AGI's 39 member societies
______________________
To post news in Society Page, send e-mail to geotimes@agiweb.org with the subject: Society Page.
AGU Awards
The American Geophysical Union (AGU) celebrated the achievements of 16 men and women during an emotionally charged 2001 honors ceremony in San Francisco Dec. 12. One of the acceptance speeches brought the audience to tears.
The society presented its esteemed William Bowie Medal to plate tectonics revolutionary Dan McKenzie of Cambridge University. Paleoceanographer Richard Fairbanks of the Lamont-Doherty Earth Observatory of Columbia University won the Maurice Ewing Medal. Albrecht Hofmann of the Max Planck Institute for Chemistry in Mainz, Germany, received the Harry Hess Medal. AGU also honored the late Dorothy Stout with its Excellence in Geophysical Education Award (see Geotimes, October 2001). Other awardees included the James B. Macelwane medalists: Vassilis Angelopoulos of the University of California at Berkeley, Dan Schrag of Harvard University and Azadeh Tabazadeh of NASA's Ames Research Center.
"Azadeh Tabazadeh's acceptance speech, in which she paid tribute to her parents for leaving Iran so that she and her sister could receive a university education in America, brought many in the audience to tears," said Harvey Leifert, AGU's public information manager.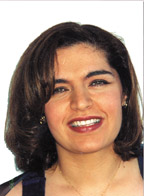 James B. Macelwane medalist Azadeh Tabazadeh
The Macelwane Medal honors young scientists for outstanding ability in geophysics. As a University of California-Los Angeles graduate student in 1993, Tabazadeh ended 20 years of debate when she showed that volcanic contributions of chlorine would be washed out by precipitation before reaching the stratosphere, said Owen B. Toon of the University of Colorado at Boulder.
"Volcanic gases are rich in chlorine, which, if it all reached the stratosphere, would overwhelm the anthropogenic contributions of chlorine to the stratosphere," Toon said. Tabazadeh's work indicated that reductions of anthropogenic chlorine, such as set forth by Montreal Protocol, would be meaningful. Tabazadeh continues to make advances in understanding the Antarctic ozone hole and cloud formation. Says Toon: "She is energetic, willing to challenge accepted dogma and daring enough to overturn them."
Students working with Maurice Ewing medalist Rick Fairbanks are guaranteed an adventure into the twisting realms of ancient deep-sea history. In 1978, Fairbanks and his colleague Richard Dodge pioneered methods for creating ocean and climate reconstructions using long-lived coral skeletons. Fairbanks made his "scientific home run" drilling the drowned Pleistocene reefs in the Barbados, said Peter Eisenberger, also of the Lamont-Doherty Earth Observatory. "Equipped with 200 tons of drilling equipment he installed on a chartered Navy missile-test ship, Fairbanks and crew recovered the Rosetta Stones of Pleistocene studies." His work with students documented the demise of the last ice age, calibrated the radiocarbon dating method and broke the long-standing belief that tropical sea surface temperatures were constant during the past 30,000 years. "Fairbanks's strength in engineering has greatly contributed to his scientific accomplishments in the lab and at sea," Eisenberger says. Indeed, his "mass spectrometer automation designs are found in hundreds of laboratories around the world."
It was the birth year of the countertop microwave oven in 1967 when Dan McKenzie, working with Robert Parker of Scripps Institution of Oceanography, published the first paper to define the quantitative principles of plate tectonics. They were both 25 years old. Their paper independently followed the presentation of Princeton scientist Jason Morgan, made earlier at the American Geophysical Union. McKenzie later worked with Morgan to identify the stability of triple junctions, the point where three plate boundaries meet. The AGU Bowie Medal honors McKenzie for his outstanding contributions to fundamental geophysics and unselfish cooperation in research.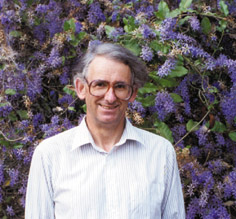 "I am quite sociable and greatly enjoy talking to people about science. If we write papers together, so much the better!" McKenzie says. Indeed, he worked with several scientists in exploring issues relating to mantle convection. Their work established the "basic principles of convection in silicate planets," said John Sclater of the University of California San Diego. "Dan has great passion for earth sciences, keen physical insight, a lively imagination and profound respect for the value of good observations. Those of us who have had the opportunity to work with him over the years and the many others who have benefited from his insights feel much gratitude for both his encouragement and support."
William Bowie medalist Dan McKenzie
McKenzie has also looked beyond Earth to study the convection on Venus and Mars. "Venus I have found a bit of a disappointment," he says. "It is like Earth, but without plates - so some of the fun has gone. I have just published a paper on Mars, which is much more fun because parts of the surface are very old and have not been deformed during the last three-quarters of the history of the solar system. You can actually see the thickness of the lithosphere increase as the planet has cooled."
---
Associate Editor Christina Reed writes the Society Page.