---
News Notes
Editor's note: this article first appeared in a longer version online on Jan. 6, 2004.
---
Planetary geology
Mars geologist in action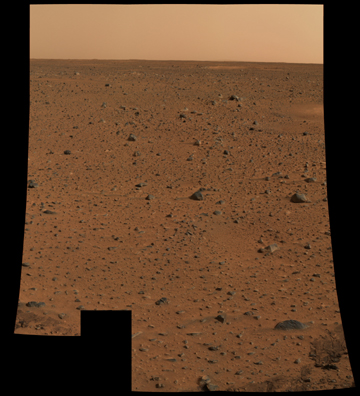 After a successful landing close to midnight EST on Jan. 3, the Mars exploration rover Spirit has been sending back information to its human tenders, in Pasadena, Calif. After its first three hours on the planet, Spirit took the first panoramic view of its new home in the Gusev crater. The following day, the explorer sent back the highest resolution image ever taken of another planet, shown here. Spirit and its twin Opportunity (scheduled to land Jan. 25) are well equipped for geology field work. Tricked out with stereo panoramic cameras (which snapped the high-resolution color image above), the golf-cart-sized rovers can take rock samples and analyze them with onboard spectrometers. See Geotimes online for past coverage and the most recent news on the rovers' findings. Photo courtesy of NASA.
Naomi Lubick

Links:
"Mars geologist in action," Geotimes Web Extra, Jan. 6, 2004
For more coverage of Mars in Geotimes, click here.

Back to top
---