---
Web Extra Friday, February 6, 2004
---
Irian Jaya quakes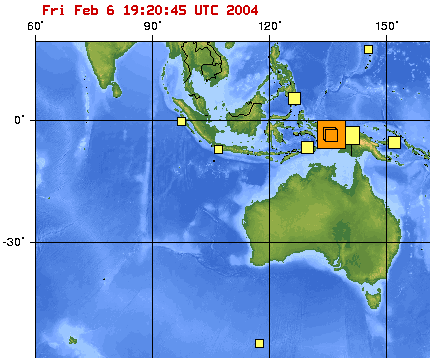 Several large earthquakes have slammed Papua, the easternmost part of Indonesia formerly known as Irian Jaya, over the past two days. Immediate reports of the dead and injured are in the tens, with the latest estimate from the Associated Press at 26 people killed.

On the morning of Feb. 4, Papua shook for tens of seconds during a magnitude-6.0 earthquake, with an epicenter 33 kilometers deep, according to the U.S. Geological Survey (see USGS reports). Almost 48 hours later, a shallower magnitude-7.0 earthquake struck, quickly followed by several magnitude-5 and larger earthquakes within the hour. The local time for the magnitude-7.0 earthquake was 6:05 a.m. on Feb. 6.

Three orange boxes mark earthquakes' epicenters and sizes over the past three days in Papua, a part of Indonesia formerly known as Irian Jaya. Yellow boxes represent earthquakes that have happend in the past week. Map courtesy of USGS.

Reuters reported that damage to infrastructure included a hospital and airport runway in Nabire, a town of 26,000, as well as felled trees and other building collapses. Indonesia is the fourth largest populated country in the world, and the largest archipelago that sits on the Ring of Fire, the volcanic and seismically active rim of the Pacific where it meets other crustal plates.
Naomi Lubick
Links:
Latest earthquakes in the region, reported by USGS Earthquakes Hazard Program
USGS Report for the magnitude-7 earthquake, Feb. 6
Update (Feb. 9): USGS Report for a later magnitude-7.1 earthquake, Feb. 7

---