---
News Notes
---
Space Policy
NASA debates Hubble's fate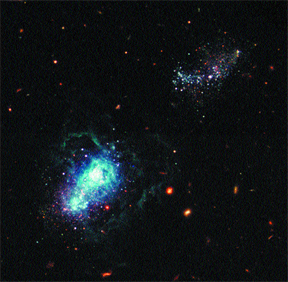 The Hubble Space Telescope is aging, and it's aging fast. Over the past year, NASA has been weighing its options for saving the satellite observatory that had spent over a decade in orbit, photographing the universe. Without a replacement telescope in sight, NASA Administrator Sean O'Keefe announced in the spring that a robotic mission would be sufficient to service Hubble, but now a group of scientists says that a robotic mission is too costly and uncertain.

The Hubble Space Telescope recently took this snapshot of an infant galaxy that formed almost 13 billion years after the Milky Way, making it one of the youngest galaxies seen in the universe. Hubble is aging, and NASA must decide soon whether to fix it with a human or robot mission. Image courtesy of NASA/ESA.

On Dec. 8, a National Academy of Sciences (NAS) committee released a report that compares the possible success of saving Hubble using a robotic mission versus a human mission. Suggesting that humans are the best solution to the problem, the report relies on data from NASA and follows on the heels of another report by the Aerospace Corporation, which was leaked to the public earlier in December and also concludes that a human mission would probably be necessary.

"Hubble is important," said Joseph Rothenberg, president of the Universal Space Network, in Horsham, Pa., and a member of the NAS committee. But with its navigational gyroscopes and batteries in disrepair, "it could be as little as three years to five years when it stops doing science," he said at a press conference on the report's release. "The development time required for the robotic mission is far longer than the project currently has in its budget."

The risks for a human mission to save Hubble are similar to any shuttle trip, with the greatest danger at exit from and entry into Earth's atmosphere, said Admiral Richard Truly, director of the National Renewable Energy Laboratory in Golden, Colo., and another NAS committee member. That threat, however, is already acceptable to the nation, the committee agreed, despite the Columbia shuttle disaster, which occurred two years ago this month. NASA has been planning its Return to Flight mission, with an elaborate review and a procedural process to get the space shuttle back in business.

The main goal of getting humans into space at this point is to complete the International Space Station, which, the NAS committee notes, returns less scientific value than the Hubble Space Telescope. However, the shuttle program is also being retooled in light of President Bush's new plan to get humans to Mars "and beyond" (see Geotimes, June 2004).

At a press conference on Dec. 17, O'Keefe called the findings of the NAS and Aerospace reports "guessing," saying that NASA will release a review in March of the robotic mission that will "tell us more about the capabilities of the mission than an outside review." Instead of relying on "forecasting based on models," he said, "I'm hoping that folks could have the patience and tolerance to see that [process] through."

O'Keefe also noted that once Hubble is decommissioned in several years, NASA plans to bring it down with robots, which is the "fundamental starting point" of any decision for its repair. "Adding gyroscopes and batteries," he said, or any other fixes, "all become additive to that baseline mission."

Alluding to similarly negative assessments made in the 1990s before the first human mission to repair Hubble, which extended the telescope's life dramatically, O'Keefe said that success would never have occurred if NASA had listened to conventional wisdom. "Let's give this a shot; let's see what happens," he said.

However, O'Keefe likely will not be the administrator making the final decision on Hubble. He announced at the same Dec. 17 press conference that he had decided to step down to take a position as chancellor at Louisiana State University in Baton Rouge due to personal, family and financial reasons. If President Bush and Congress move quickly, they may have a new appointee approved by this month, he said.

O'Keefe, who was brought in to set NASA's financial books in order, said he was pleased with the point to where he had brought the organization's administrative and financial standing. Funding for NASA was one of the only increases Congress gave to science in its long-awaited 2005 budget last November (see this issue's Political Scene, "For Starters: Lame Duck").

The Return to Flight mission is scheduled for May, another major event the new administrator will oversee. If the next half dozen or so space shuttle flights are successful, NAS committee members suggested that a manned flight to Hubble could ideally be inserted into the space shuttle's flight plan.
Naomi Lubick

Links:
"To Mars and beyond," Geotimes Web Extra, June 17, 2004
"For Starters: Lame Duck," Geotimes, February 2005

Back to top

---