---
Feature
---
After Katrina: Tracking Air and Water Quality
Naomi Lubick

---
Sidebar:
Waste remains
---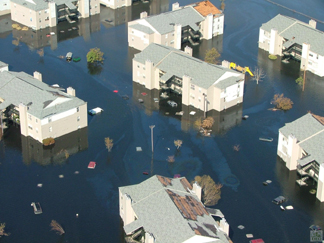 Workers in New Orleans had gathered 3.7 million cubic meters of waste by the end of last year, enough to cover a football field with a mountain-sized cube about 690 meters (2,264 feet) tall. They carted off moldy mattresses and refrigerators, sodden photographs and other pieces of people's lives that Hurricane Katrina claimed last August.

A housing complex in New Orleans flooded after Hurricane Katrina. Water levels in much of the region did not drop for weeks. All images courtesy of the Louisiana Department of Environmental Quality.

But New Orleans and the surrounding Gulf Coast communities have also faced the specter of a different kind of cleanup since the strikes of Katrina and Hurricane Rita, which followed on Katrina's heels four weeks later. In the weeks after the devastating storms and subsequent flooding, scientists found evidence of air and water pollutants, as well as redeposited soils containing high lead concentrations. The initial spikes of chemicals and other toxic materials have faded, leaving the area surprisingly clean, government agencies and others say, but some studies have found some potentially worrisome environmental effects that may linger for years to come.

The wave of water that flooded New Orleans during Katrina's storm surge came mostly from Lake Pontchartrain. At first, scientists monitoring the region, as well as residents, government officials and the media, were "worried about 'toxic soup,'" said Albert Hindrichs of the Water Quality Management Division in the Louisiana Department of Environmental Quality (DEQ), at the Water Environment Federation's annual meeting in Washington, D.C., on Nov. 1. Immediately after the storms, scientists from the U.S. Geological Survey, the Environmental Protection Agency (EPA) and the Louisiana DEQ had started to watch for fish kills in the lake and bayous from dissolved carbon dioxide, tracked volatile organic compounds in the canals and tested all sorts of other parameters, sampling regularly and making tens of thousands of analyses in the weeks that followed.

The first impressions were grim: "The city of New Orleans acted as one giant settling pond for a few days there," said Jane Moore, EPA's officer of environmental information, who coordinated hurricane recovery efforts, in her remarks to an audience at the November meeting. After the Army Corps of Engineers started to pump that water back into Lake Pontchartrain on Sept. 5, however, "everyone was pleasantly surprised" to find that the impact on the lake was "not as negative as we thought it would have been," Moore said.

The surprisingly positive outcome could be attributed to the sheer volume of water, which probably diluted toxic material hotspots, says Chris Piehler, a DEQ environmental scientist. "Between 4 and 10 percent of Lake Pontchartrain was in the flooded New Orleans area."

By November, scientists from the Louisiana DEQ had only seen occasional spikes of contaminants in their monitoring of the canals and of the lake, which was deemed suitable for human swimming at the end of October. Hindrichs reported that some metals exceeded acceptable levels for short periods of time, and researchers found a few instances of fish die-offs on the north shore of Lake Pontchartrain.

More difficult was getting the area's wastewater treatment plants back up and running. Flooding had completely overwhelmed the plants in some sites, resulting in effluent overflows. Although the flooding may have diluted the human waste, it still took days to weeks to get the sewage and water treatment plants back online, Moore said, as electricity remained down and many repairs were necessary.

Despite the better-than-expected short-term results, however, scientists are still investigating the long-term impacts of the floodwaters that swept through New Orleans. Publishing in the Oct. 11 online edition of Environmental Science & Technology, John Pardue, an environmental engineer at Louisiana State University in Baton Rouge, and colleagues said that the floodwaters were much like any other storm's runoff — toxic, but not surprisingly so. "Lead, arsenic, and in some cases, chromium, exceeded drinking water standards but with the exception of some elevated Pb [lead] concentrations generally were typical of stormwater," the team wrote. "Data suggest that what distinguishes Hurricane Katrina floodwater is the large volume and the human exposure to these pollutants that accompanied the flood, rather than very elevated concentrations of toxic pollutants."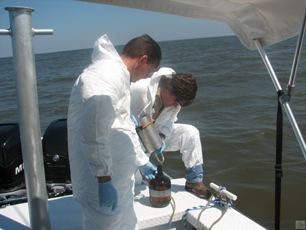 Tests of the floodwaters in some sites also revealed concentrations of chemical solvents and petrochemicals (petroleum and associated organic materials), including from the Murphy Oil spill in Meraux, La. Floodwaters moved a partly filled storage tank off its foundation by a few meters, and more than 1 million gallons of oil from the site spilled, affecting about 1,800 homes, according to EPA and the Louisiana DEQ — the fourth largest spill to affect the region (see story, this issue). At the beginning of December, EPA officials overseeing the company's cleanup area added 70 more houses to those that had been affected by the spill.

Scientists from the Louisiana Department of Environmental Quality collected water samples from Lake Pontchartrain for testing last fall.

What the water left behind, according to Steven Presley, an environmental scientist at Texas Tech University in Lubbock, may be more worrisome in the long term. In tests of the sediment that settled out of the floodwaters, Presley and colleagues found a variety of EPA-ranked hazards at levels higher than acceptable for human and environmental standards, including pesticides (some of which were banned substances) and disease-causing bacteria, they reported in Environmental Science & Technology on Dec. 14.

They also found high levels of lead in soil samples, a persistent hazard in New Orleans lingering from its industrial past (see Geotimes, May 2005). Lead is particularly harmful to children's neurological development, increasing the chance of learning disabilities, as well as causing increased blood pressure and other negative health effects.

After Hurricane Katrina came through, Presley says, soil that was once likely covered with vegetation became "disrupted, suspended in the waters, relocated and deposited elsewhere," reexposing it at the surface. Now that lead-containing soil has been broken up and exposed, it can dry out and be picked up by the wind, carrying lead on dust particles, "which poses a whole new problem" that Presley says remains to be assessed. So far, he has seen few tests in schoolyards, where the leaded dust may settle, he says.

Although the storm kicked up new dust, it also temporarily lowered atmospheric emissions for New Orleans, as cars and petroleum sites were not operating for several weeks. New emissions did come from gasoline spills at private residences — cars and boats left behind — says Chris Roberie, the DEQ Air Quality Assessment Division administrator, "but most of what we saw was unremarkable."

Overall, public health impacts remain uncertain and controversial, says Karen Gautreaux, DEQ deputy secretary, with concerns continuing to arise from mold allergies and other respiratory problems for people returning to their homes, in addition to the leaded dust problem. Still, as the state faces the incredibly complex and expensive rebuilding process, with its intrinsic political and scientific issues, Louisiana has been "incredibly fortunate," she says, with respect to Lake Pontchartrain and contaminants.


Waste remains

The air and water in and around New Orleans may be close to normal after flooding from hurricanes Katrina and Rita. But what is not normal, says Chris Roberie of the Louisiana Department of Environmental Quality (DEQ), is the devastation left behind by the flooding: "It's pretty disastrous to see — empty houses, flooded up to the eaves, all the cars. It's just amazing, the amount of loss."

The physical remnants of people's destroyed lives remained piled up in the street, with many of those objects containing worrisome toxic materials, such as electronics and other computer components. Refrigerators, filled to the brim with rotten food and microbe colonies, also contain freon that must be disposed of safely. And mercury switches from smoke detectors have to be removed to avoid releasing the toxic metal into the environment.

In addition to the mountains of household trash, both hazardous and not, about 350,000 vehicles, which must be retrieved and logged for insurance purposes, have to be dismantled to properly dispose of their toxic components, according to Karen Gautreaux, deputy secretary of Lousiana DEQ. Although vehicles may have released their gasoline into the flood waters, leaded batteries in particular remain, as well as antifreeze, electronic systems and other metals. Around 60,000 to 70,000 boats, both large and small, face the same fate.

What remains of this waste will mostly end up in landfills, though burning the solid waste remains a possibility — one that Roberie says raises concerns over air quality. Although the state burned Katrina-felled trees that were considered agricultural waste, "lots of red flags go up" for combustion byproducts of construction and demolition materials, he says, including excessive amounts of particulate matter and carbon monoxide, nitrogen oxides, and inorganic compounds released from incomplete burning.

NL

Back to top
---
Lubick is a staff writer for Geotimes.

Links:
"Oil spill first responders," Geotimes, February 2006
"Lead's Toxic Urban Legacy and Children's Health," Geotimes, May 2005

Back to top



---