---
What's in the print version of Geotimes this month ...
---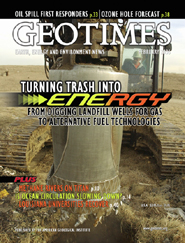 Click the image above to view a high-resolution version of the cover.
February 2006
vol. 51, no. 2

FEATURES

18 Turning Trash Into Energy
The waste disposal industry is getting a makeover, with new technologies to convert waste into electricity and alternative fuels.
Geotimes staff
26 Recovering Landfill Gas for Energy
Landfills naturally produce a tremendous amount of gas, which engineers are now harnessing to fuel a variety of systems.
Amarjit Riat, Wayne Blake-Hedges and Eric Peterson
30 After Katrina: Tracking Air and Water Quality
In New Orleans, researchers are still investigating the long-term impact of Hurricane Katrina on the region's environment.
Naomi Lubick
33 Oil Spill First Responders
When emergency responders rushed into the Gulf Coast region in the wake of many Katrina-related oil spills, they had a variety of tools to clean up the mess.
Megan Sever
---
NEWS & VIEWS


---

7 COMMENT
The High Cost of Subsidized Coastal Development
Policy-makers need to reevaluate the way they award federal aid to coastal communities struck by natural disasters.
Robert S. Young


8 NEWS NOTES
Trees confound global warming * Victory for evolution in Dover * Titanic methane rivers * Tiny moon, gigantic geyser * Carving on glacial time * Arsenic leaching into water from soil * Man-sized scorpion tracks * Is ocean circulation slowing down? * No lake on Mars?

17 POLITICAL SCENE
The Great Washington Rift
The challenge of working on Capitol Hill is separating the policy from the politics.
Steven Quane


38 GEOPHENOMENA
A far-off new ocean
Longer to patch the ozone hole

40 EDUCATION & OUTREACH
Louisiana Schools Shaken, Not Shattered
Students and faculty in the earth science departments at Louisiana universities are trying to return to normal, just like everyone else in the hurricane-affected region.
Kathryn Hansen

44 ENERGY & RESOURCES
British oil fire
Drilling on the North Slope rejected
Mineral Resource of the Month: Tungsten


46 GEOMEDIA
Museums: Darwin's life and work on exhibit
Books: Deciphering the Grand Canyon: Review of Carving Grand Canyon and Grand Canyon: Solving Earth's Grandest Puzzle
On the Web: Impact craters and carbon fund


50 PROFILES
Margaret Kivelson: Magnetically minded

51 BENCHMARKS
Feb. 18, 1930: Pluto Discovered
Clyde Tombaugh identifies the ninth planet from the sun through a telescope at the Lowell Observatory in Flagstaff, Ariz.

60 GEOLOGIC COLUMN
This Revolution Waits for No One
The e-revolution is in full swing and has its benefits, but is it possible to still hit the pause button?
Fred Schwab

DEPARTMENTS

---

4 From the Editor
6 Letters: Perspectives from readers
36 Where on Earth?
52 GeoMarketplace
53 Classifieds: Career opportunities


Want to attend a geoscience meeting? Visit the online Calendar.



Click here to subscribe.

---