---
Energy & Resources
---
British Oil Fire
Drilling on the North Slope rejected
Mineral of the Month: Tungsten
---
British Oil Fire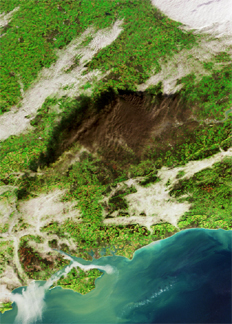 On Dec. 11, 2005, a series of explosions rocked the Buncefield oil depot just north of London, injuring 43 people and displacing thousands of nearby residents, according to BBC reports. In the largest peacetime fire in Europe, smoke covered London and reached as far away as Spain, as the fires burned for three days. Twenty tanks, each holding 3 million gallons of fuel, went up in smoke.

London was completely covered by the black plume of smoke seen over England in this Envisat image, taken within five hours of a blaze that began Dec. 11 at an oil depot just north of the city.

More than 71 million gallons of kerosene, diesel fuel and gasoline are stored in tanks at the site, which sends fuel to Heathrow and Gatwick airports. Still, the explosions did not badly interrupt service at either airport. French oil company Total, which runs the depot, and other oil companies that use it immediately diverted fuel shipments so as not to create shortages.

Initial investigations suggested that the explosions were ignited by a tank rupture that vented volatile vapors around the depot, according to the Daily Telegraph, though officials cautioned that the damage is so extensive they may never be able to sort out the full details of what went wrong. Health officials have been monitoring air quality there since the explosions.

Back to top
---
Drilling on the North Slope rejected

Despite many signs pointing toward the passage of authorization for drilling in Alaska's Arctic National Wildlife Refuge (ANWR), the U.S. Senate once again defeated the measure in a vote shortly before the Christmas recess.

Alaska Sen. Ted Stevens (R) had attached the ANWR measure to the fiscal year 2006 defense appropriations bill, upsetting many Democrats such as Senate Minority Leader Harry Reid (D-Nev.), who said in a statement that "our military is being held hostage by this issue, Arctic drilling," according to E&E Daily, Dec. 22, 2005. The bill also included funding for the military and Hurricane Katrina victims, as well as families that need heating cost assistance this winter.

Senate Democrats filibustered the bill due to the ANWR provision, prompting removal of ANWR from the bill and allowing the defense legislation to pass on Dec. 21. The House of Representatives had already passed the military spending bill on Dec. 19, in which ANWR was included. Both houses recessed until mid-January, without reconciling the bill.

Earlier in 2005, authorization for drilling in ANWR had been included in the budget reconciliation bill (which is immune from filibusters) that cleared the Senate, but failed in the House because of a "revolt" by House Republican moderates and House Democrats spurred by ANWR and spending cuts, among other issues. Some drilling proponents and energy analysts had suggested that the timing was right for the passage of exploration authorization, due largely to high energy prices in the wake of hurricanes Katrina and Rita (see Geotimes, December 2005).

Exploration proponents such as Stevens and Pete Domenici (R-N.M.), chair of the Senate Energy and Natural Resources Committee, said in statements that they would keep pressing for drilling in ANWR in the coming year. Domenici said he plans to try to include the drilling measure in the fiscal year 2007 budget reconciliation package.

Megan Sever

Links:
"Tight home fuel supply," Geotimes, December 2005

---
Mineral of the Month: Tungsten

U.S. Geological Survey tungsten commodity specialist Kim B. Shedd has compiled the following information on tungsten, an important metal used in wear-resistant materials and lighting.

Tungsten has the highest melting point of all metals, one of the highest densities and, when combined with carbon, is almost as hard as diamond. These and other properties make it useful in a wide variety of important commercial, industrial and military applications.

One hundred years ago, the main use of tungsten was as an additive to steel, and scientists were just beginning to research the use of tungsten filaments in lightbulbs. Today, although lamp filaments may be the most familiar use of tungsten, the leading use is in cemented carbides. Cemented carbides, which are also called hardmetals, are made by pressing and sintering tungsten carbide particles in a binder matrix of cobalt metal powder. The resulting wear-resistant parts are used in tools and equipment by the construction, metalworking, mining, and oil and gas drilling industries.

Today, tungsten is still used to make high-speed and tool steels. Pure tungsten metal or alloy is also used to make metal contacts, electrodes and wires in a variety of electrical, electronic, heating, lighting and welding applications. Tungsten heavy alloys are used to make armaments, heat sinks, radiation shielding, and weights and counterweights. Tungsten is also used in superalloys and wear-resistant alloys. A relatively new use for tungsten alloys and composites is as a substitute for lead in bullets and shot. The main chemical use for tungsten is to make catalysts.

Government stockpiles have played an important role in tungsten supply and demand over the years. During the Cold War, large quantities of tungsten materials were stockpiled in the United States and Soviet Union. From 1992 until 2004, tungsten materials were released from former Soviet stockpiles and exported to Western markets. Sales of tungsten materials from the U.S. government's National Defense Stockpile began in 1999 and continue today. At proposed disposal rates, sales of U.S. government stocks of tungsten ores and concentrates could last about seven more years.

China has long been the world's leading tungsten ore producer. More than 90 percent of the world's tungsten is mined there.

In the late 1990s, the Chinese government began a program to make full use of its tungsten resources and to try to stabilize world tungsten prices. This program included regulating the production of tungsten concentrates through mine closures and production quotas, and regulating tungsten exports by restricting the volumes and types of tungsten materials and products that could be sent out of the country. The export of tungsten ore concentrates was forbidden, and over the years there has been a gradual shift toward exporting more value-added downstream tungsten materials and products.

In recent years, most of the remaining tungsten mine production took place in Austria, Bolivia, Canada, Portugal, Russia and possibly North Korea. High prices in the past few years have resulted in various companies working towards developing tungsten deposits or reopening inactive tungsten mines in Australia, China, Peru, Russia, the western United States and Vietnam.

Demand for tungsten tends to follow general economic conditions and industrial activity. During the past decade, the growth in China's economy has resulted in a significant increase in Chinese consumption of tungsten raw materials to produce downstream products, such as cemented carbide tools, for its domestic market. China is now estimated to be the world's leading tungsten consumer.

Visit minerals.usgs.gov/minerals for more information on tungsten.

---