| | |
| --- | --- |
| | The Jason Project |
| | | | |
| --- | --- | --- | --- |
| June 1998 | Table of Contents | Volume 43 | Number 6 |
---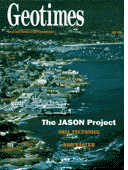 DEPARTMENTS
| | |
| --- | --- |
| Letters | |
| | |
| Industry Watch | Benchmarks |
| Geologic Phenomena | Geologic Column |
| Geomedia | AGI Announces |
COMMENT
The Digital Earth: Understanding Our Planet in the 21st Century
Vice President Al Gore
NEWS & FEATURES
NEWS NOTES
Kristina Bartlett and Devra Wexler
GPS data shake up debate ... Anchors away from Antarctica ... Upwelling of venutian secrets ... Evolution in earth-science classrooms ... Microbes in mines ... Real risk ... Summer fun, summer science ... Blame it on El Nino ...





POLITICAL SCENE
NSF Says No to Institute for the Environment
David Applegate




FEATURES

Oceans of Earth and Beyond
The JASON Project IX
by Robert D. Ballard
A revolutionary approach to learning is bringing the world of science directly into the homes and classrooms of students throughout the world. The JASON Project, founded by the scientist who discovered the lost Titanic, combines the latest advances in communications technology with exploration and hands-on experiments in a unique program that takes place at a different research site each year.

Soil Tectonics --
Interactions between Soils and Faults
by Glenn Borchardt
The science of soil tectonics combines the disciplines of paleoseismicity and pedology. A Berkeley soil scientist describes how soils serve as time-stratigraphic markers and can provide evidence of fault activity. Understanding soil-forming processes can help scientists determine seismic and ground-movement hazards in the future.

Nor'easter
by Anthony R. Wood
Unprecedented development has occurred along the New Jersey Shore since the "storm of the century" in 1962. For many reasons, say coastal scientists, it now takes less of a storm to cause serious flooding. A reporter for The Philadelphia Inquirer describes the efforts of Shore communities to replenish their beaches as sea levels continue to rise.


See the related press release describing the June issue.

---
© 1998 American Geological Institute. All rights reserved. Any copying, redistribution or retransmission of any of the contents of this service without the express written consent of the American Geological Institute is expressly prohibited.
June Geotimes cover source: Monterey Peninsula Visitors and Convention Bureau. Photo Credit: Steve Proehl.
California's Monterey Bay Aquarium, the primary research site for the Jason Project IX.




Geotimes Home Page | AGI Home Page | Education | GeoRef | Gov. Affairs | Members