| | |
| --- | --- |
| | Urban Wetlands |
| | | | |
| --- | --- | --- | --- |
| May 1998 | Table of Contents | Volume 43 | Number 5 |
---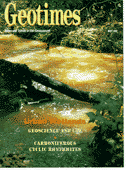 DEPARTMENTS
| | |
| --- | --- |
| Letters | |
| | |
| International Geoscience | Benchmarks |
| Geologic Phenomena | Geologic Column |
| Geomedia | AGI Announces |
COMMENT
Internships and the Geology Curriculum
Robert G. Corbett
NEWS & FEATURES
NEWS NOTES
Kristina Bartlett and Devra Wexler
Window into a triple junction ... Poor performance ... A better look at the sun ... The methane has it ... Lichen or not ... Communicating environmental issues ... Congressional Visits Day ... Earth Science Week ...





POLITICAL SCENE
ASTEROID IMPACT! NUCLEAR TEST!
Why We Need Open Discourse and Data Access
David Applegate




FEATURES

New Roles for an Old Resource
Ferromanganese Nodules Assist Mine Cleanup
by Eleanora Iberall Robbins
Eliminating manganese from acidic discharge water is a serious problem for many Appalachian coal companies. In an urban wetland only minutes away from Washington, D.C., a researcher from the U.S. Geological Survey has been studying manganese fixation in an environment that has a natural capacity to remove toxic substances and metals from through-flowing water.

Geoscience and Law --
Strange Bedfellows or Interdisciplinary Teambuilding?
by John M. Stafford
Lawyers practicing environmental law, natural resources law, or intellectual property (patent) law typically find themselves explaining geoscience concepts before a judge and jury or to government officials who lack even fundamental knowledge about science. An attorney with a Denver-based law firm describes new communication tools that are helping to bridge the technical-information gap.

Implications of Carboniferous Cyclic Rhythmites
by Allen W. Archer
Cyclic rhythmites have interesting implications in the study of sequence stratigraphy, reports a sedimentary geologist at Kansas State University. Rhythmites containing seasonal cycles not only provide detailed information on ancient climatic variability but influence studies of the evolution of the earth-moon system.


See the related press release describing the May issue.

---
© 1998 American Geological Institute. All rights reserved. Any copying, redistribution or retransmission of any of the contents of this service without the express written consent of the American Geological Institute is expressly prohibited.
May Geotimes cover source: Huntley Meadows. Photo Credit: Gary Roisum.
Dogue Creek in Huntley Meadows wetland, Alexandria, Va.




Geotimes Home Page | AGI Home Page | Education | GeoRef | Gov. Affairs | Members