Web Extra: Jan. 29, 2001
---
Magnitude-7.9 earthquake hits India
Monday, Jan. 29: A preliminary magnitude-7.9 earthquake struck India at 8:46 a.m. on Jan. 26. The death toll, originally estimated at 1,100, reached 20,000 by Monday morning. Most of the casualties were reported from the state of Gujarat in western India, mainly in the cities of Bhuj and Ahmedabad. The depth of the earthquake was 23.6 kilometers and felt as far as Pakistan and Nepal. This is the fifth earthquake in January to reach a magnitude of 7.0 or higher.
Geotimes is working to provide readers with up-to-the-minute reports from other news services. The links below provide information on news stories about the event in addition to information about the science behind the the geologic disaster.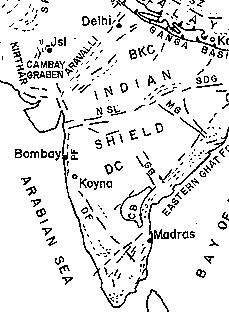 [Image at right taken from A Probabilistic Seismic Hazard Map of India and Adjoining Regions by S.C. Bhatia, M. Ravi Kumar and H K Gupta of the National Geophysical Research Institute, Hyderabad, India.]
Incorporated Research Institutions for Seismology (IRIS) Special Events: India
http://www.iris.washington.edu/DOCS/sindia.htm
USGS Earthquake Hazards Program:
http://neic.usgs.gov/neis/eqhaz/010126.html
USGS earthquake bulletin and map:
http://neic.usgs.gov/neis/bulletin/010126031641.HTML
CARE International relief efforts:
http://www.careinternational.org.uk/
India Development and Relief Fund:
http://www.idrf.org/appeals/GujEQ/GujEQ.html
ReliefWeb reports:
http://www.reliefweb.int/

---
News reports:
Times of India Online:
http://www.timesofindia.com/today/pagehome.htm
Link to several stories on the earthquake from today's home page.
The Times of India also has a link to a photo gallery specifically for this earthquake.
Press Trust of India:
http://www.ptinews.com/
BBC News:
http://news.bbc.co.uk/
Washington Post:
http://washingtonpost.com/wp-dyn/articles/A50035-2001Jan26.html
The Hindu News Update Service:
http://www.indiaserver.com/thehindu/holnus/
---