---
Society Page
---
News about people and
announcements from
AGI's 37 member societies
______________________
To post news in Society Page, send e-mail to geotimes@agiweb.org with the subject: Society Page.
Contents:
An AGI for the new millennium
The American Geological Institute (AGI) inducted Larry D. Woodfork as its new president during a reception and awards ceremony Nov. 14 at the annual meeting of the Geological Society of America.
Woodfork is state geologist and director of the West Virginia Geological and Economic Survey. He is also an adjunct professor of petroleum engineering and a professor of geology in the Department of Geology and Geography at West Virginia University in Morgantown. His 35 years of professional experience include geologic field work for the California Company (now Chevron) in the northern Rocky Mountains, research in industrial minerals at the Indiana Geological Survey, and work as an exploration geologist for the South Texas Division of Humble Oil and Refining Co. (now Exxon). In 1997, Gov. Cecil H. Underwood named him "Distinguished West Virginian." That same year, Kentucky Gov. Paul Patton commissioned Woodfork a "Kentucky Colonel."
Woodfork will lead the 2001 AGI Executive Committee with President-Elect Steven M. Stanley, professor in the Department of Earth and Planetary Sciences at The Johns Hopkins University and a specialist in evolutionary paleontology. Stanley is a member of the National Academy of Sciences and has served as an AGI member-at-large.
L. Stanley Pittman, exploration geologist with Petroleum Logistics Corp. in Dallas continues as treasurer.
John Steinmetz, state geologist of Indiana and director of the Indiana Geological Survey, begins his term on the executive Committee as secretary.
Lawrence P. Wilding, professor in the Department of Soil and Crop Sciences at Texas A&M University, continues as a member-at-large, as does Rhea L. Graham of the New Mexico Interstate Stream commission. Joseph A. Briskey, researcher at the U. S. Geological Survey, joins the executive committee as a member-at-large.
Russell G. Slayback, Chairman of the Board of the environmental consulting firm Leggette, Brashears & Graham, continues on as AGI's past president. On Oct. 13, the American Institute of Professional Geologists (AIPG) awarded Slayback the Ben H. Parker Memorial Medal for outstanding service to the profession of geology. He is one of only three people to receive both the Van Couvering Award and the Parker Medal from AIPG.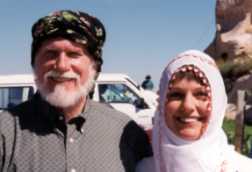 On Nov. 3, the U.S. Geological Survey (USGS) gave Lloyd Cluff, geoscience director of the Pacific Gas and Electric Co. (PG&E), the John Wesley Powell Award for achievement. The award is named for the distinguished scientist who served as the second director of the USGS and is given to those whose actions have made significant contributions to advancing the survey's mission.
[Image: Lloyd Cluff and his wife Janet during field investigations of earthquakes in Turkey. Photo courtesy of Lyn Savage.]
Cluff has dedicated his career to protecting people and critical facilities from the effects of earthquakes, says Mary Lou Zoback, USGS chief scientist. "Cluff has been indefatigable in his contributions to, and support of, the Earthquake Hazards Reduction Program of the USGS."
He leads a flying squad of PG&E experts, who investigate temblors and often arrive before the dust has begun to settle. He helped initiate a Cooperative Research and Development Agreement with the USGS for earthquake hazard assessment work in California and defined the survey's role as one of basic research, with PG&E implementing research results. The award also honors Cluff for his leadership as chairman of the working group that produced the first USGS report in 1988 on the probabilities of a large earthquake on the San Andreas and associated fault systems.

The American Geological Institute (AGI) honored Samuel S. Adams of Lincoln, N.H., with its William B. Heroy Jr. Award on Nov. 12 for exceptional and beneficial long-term service to AGI.
Adams' leadership and service as chair of AGI's 50th Anniversary Planning Committee in 1998 and, more recently, as Geotimes editor-in-chief, "played a major role in providing the institute valuable assistance and guidance," says Russell Slayback, past president of AGI. Candidates for the award are measured against the exemplary service record of William B. Heroy Jr. — president of AGI in 1969 and treasurer and chairman of the finance committee in 1984.

The American Geophysical Union (AGU) honored professor of earth sciences Quentin Williams of the University of California, Santa Cruz, (UCSC) and oceanographer Scott Doney of the National Center for Atmospheric Research (NCAR) with Macelwane Medals for 2000 during a Dec. 17 ceremony. The Macelwane Medal is AGU's highest honor for researchers younger than 36.
The medal was established in 1961 and renamed in 1986 in honor of James B. Macelwane, AGU's 13th president, who was renowned for his contributions to geophysics and his deep interest in teaching and encouraging young scientists.
The award adds to a growing list of honors for Williams, who also won the Mineralogical Society of America Award for 2000 and was a National Science Foundation Presidential Faculty Fellow from 1993 to 1998. "A good portion of my research is focussed on the properties and processes occurring at the core-mantle boundary of the planet," Williams says. "This region is the likely source region of hot spots, and has structural complexity that rivals that of the crust of the planet."
As part of his Ph.D. thesis in the MIT/WHOI Joint Program, medalist Scott Doney worked with William Jenkins on the distributions of transient tracers to infer the workings of basin-scale circulation and water mass ventilation in the North Atlantic.
"This work with transient tracers resulted in a clear demonstration that the deep western boundary current is not a single ribbon of flow, as the popular press prefers to display," says AGU citationist David Glover of WHOI. "But, rather, a complicated system of recirculation cells that have enormous import for the implications of how climatically important, anthropogenic tracers, such as carbon dioxide, are stored in the deep ocean." Doney is extending the ecosystem model into the NCAR global ocean model to explore the large-scale, seasonal evolution of inorganic nutrient, phytoplankton and zooplankton distributions. He also teaches at the University of Colorado, Boulder, and advises several postdocs at NCAR. He is also associate editor for Reviews of Geophysics.
Four other medalists were honored during AGU's fall meeting. James H. Dieterich received the Walter Bucher Medal for his pioneering and insightful experimental and theoretical investigations of rock friction and their applications to the theory of earthquakes.
Joseph L. Reid was honored with the Maurice Ewing Medal for his outstanding original contributions to observational physical oceanography. Richard J. O'Connell was honored with the Inge Lehmann Medal for his fundamental contributions to understanding mantle structure and dynamics.
James R. Holton was awarded the Roger Revelle Medal for his research in dynamic meteorology along with chemistry, radiation and climate.

---
Associate Editor Christina Reed compiles Society Page.