Society Page
---
News about people and
announcements from
AGI's 39 member societies
______________________
To post news in Society Page, send e-mail to geotimes@agiweb.org with the subject: Society Page.
Contents:

AGI celebrates a new relationship …
The American Geological Institute welcomed the American Rock Mechanics Association (ARMA) as a new member society in November 2001. Peter Smeallie, executive director of ARMA, says the 300-member organization is for professionals, researchers and educators interested in rock mechanics and rock engineering issues, including resource recovery, drilling, excavation and civil construction.
The society maintains the U.S. membership for the International Society for Rock Mechanics (ISRM), but Smeallie is quick to point out that the National Academy of Sciences is the official adherent to the ISRM. "It was an accident of fate that we maintain the United States membership," he says. "The ARMA came into being in 1995 when changes at the National Academy of Sciences made some of the functions of the rock mechanics community less than possible to do" - namely, the annual rock mechanics symposium.
Since then, Smeallie has served as executive director. "We had a lot of volunteers more than willing to help out and about 40 people provided founders fees to get things going." Today, ARMA continues the 39-year-old tradition of an annual U.S. rock mechanics symposium, which in 2002 will be held in Toronto as part of the North American rock mechanics symposium series. "Our principal activity is sharing information. And at every symposium 400 to 500 people come to share what they are doing."
The symposium is ARMA's primary focus and is successful largely because ARMA members who belong to other professional societies spread the word. "We have engineers in the American Society of Civil Engineers, mining engineers in the Society of Mining Engineers, petroleum engineers in the Society of Petroleum Engineers, geologists, geophysicists and others," Smeallie says.
A hot topic at the symposium is technology. "They talk about some advance in a new drill bit they are using in petroleum drilling, and it may have application in hard rock mining." Advances in bore-hole stability also cross over the different fields. "You want to make sure when you're drilling a hole that it doesn't collapse. Rocks change as you go down. If you drill down to a different layer you want to keep the hole straight."
AGI welcomed the Society of Mineral Museum Professionals (SMMP) as a new member society in November 2001. Geotimes interviewed SMMP President Anthony Kampf, curator and department head of Mineral Sciences at the Natural History Museum of Los Angeles County. Kampf began his current tenure as president in February 2001 and was previously president from 1989 to 1991. He has served on the board of directors continuously since 1980. He became a member of SMMP in 1977, when he started his career as a mineral curator.
What are some of the challenges you face in mineral collections? Recent trends in the mineralogical sciences away from specimen-based studies have led to less recognition for the basic importance of mineralogical collections. At the same time, dwindling funding for natural history and science museums has put them under increasing pressure to justify their function and mission. Addressing these issues requires museum professionals to communicate more effectively among themselves and with the public, supporters and those who use their collections.
What are your thoughts on the importance of mineral collections to the nation? Mineral collections certainly serve as sources of material for scientific research. In many cases they are the only practical sources, especially in the case of "extinct" localities. Mineral collections are also educational resources, both for teaching and for public displays. Mineral exhibits typically rely on aesthetic specimens to attract attention, while transmitting didactic information on mineral diversity, properties, formation, uses, etc. The importance of minerals as the raw materials of modern civilization cannot be overstated. Unfortunately, in mineral exhibits this point is often woefully understated, if it is stated at all.
Anthony Kampf in Minas Gerais, Brazil
Courtesy of A. Kampf
What do you find most exciting about mineral museums? I get my greatest charge from witnessing the reactions of people, especially children, when they see beautiful mineral specimens for the first time and then realize that they are products of nature. The fascination that minerals hold for many people, myself included, can be very powerful and empowering when it is channeled toward gaining a better understanding of the world around us.

AAPG thanks Hill geoscientists

The American Association of Petroleum Geologists (AAPG) recognized John Rishel, legislative staffer, and Bill Condit, staff director, both of the House Subcommittee on Energy and Mineral Resources, for their efforts to involve geoscience in the nation's energy debate. "John was instrumental in getting several members of AAPG to testify before the committee over the last year and a half," says Don O'Nesky, AAPG deputy executive director. Rep. Steve Largent (R-Okla.), in whose congressional district AAPG is located, presented Rishel and Condit with the AAPG certificates of appreciation.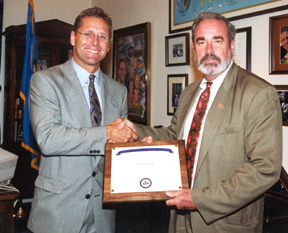 Rep. Steve Largent (R-Okla.), left, gives Bill Condit, staff director of the House Subcommittee on Energy and Mineral Resources, the AAPG award.
Courtesty of AAPG
Both Condit and Rishel are geoscientists. "When you have people in science working in government, it makes it easier to bring scientists into government politics, a crucial issue for our profession," says Lee Gerhard, principal geologist of the Kansas Geological Survey and chair of the AAPG government affairs committee. "What they have done is help create the opportunity for AAPG members to present testimony on the pressing national issue of energy supply for the future, something that has been difficult to do before. Far too much federal policy is made without geological information so that the resulting policy is frequently flawed and does not take into account geologic processes, geologic rates and geologic controls."
Margaret Mangan, a volcanologist with the U.S. Geological Survey (USGS) and a member of the Geological Society of America and American Geophysical Union (AGU), joins the editors-in-chief team of AGU's Journal of Volcanology and Geothermal Research on Jan. 1. She is replacing Greg Valentine, who is stepping down from the editorial position after eight years.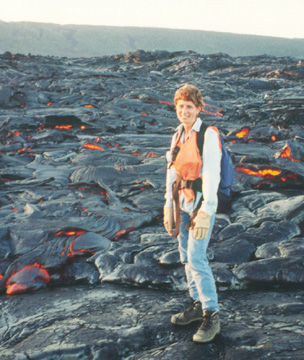 Mangan accepted the editorial responsibilities based on her desire to help encourage young women in the geosciences and on her commitment to help communicate earth science. "Before anything is submitted, part of the role of the editor is to seek out submissions," she says. As an editor, Mangan looks forward to the opportunity to teach young scientists and especially women early in their careers how to better communicate their work and highlight important aspects of a journal article.
Mangan will be one of five editors-in-chief in charge of manuscript submissions and reviews. "The basic job of the editors is setting science policy for the journal, managing the peer review process and being responsible for the acceptance and rejection of individual papers," she says. Mangan has worked with the USGS since 1983 and is currently based in Menlo Park, Calif. Prior to that, she was stationed at the Hawaii Volcano Observatory from 1990 to 1998. When she moved from Hawaii to California, she switched from studying active volcanoes to doing experiments using high temperatures and pressures.
Margaret Mangan at Kilauea Volcano.
Courtesy of M. Mangan

---
Associate Editor Christina Reed writes the Society Page.