---
Geoscience Education
---
Prepare for the science fair!
Christina Reed

With blond hair and freckles, David Hart of Lake Charles, La., patiently sits in a chair, swinging his legs as he explains his project investigating whether rainwater runoff contaminates the Louisiana Bayou. "The Bayou is close to my backyard and I noticed trash and fish kills in areas where people were swimming and playing." Hart, who is 12 and in seventh grade, hypothesized that urban runoff was at least partially to blame for the pollution and designed a project to test this hypothesis. He chose four locations along the waterway and studied them for about four months. "Before and after it rained, I tested for three parameters: dissolved oxygen, phosphate and nitrate. Fish and plant life need dissolved oxygen in order to live, and phosphate and nitrate are nutrients that are not necessarily bad things, but too much indicate poor water quality and deprive the water of its oxygen."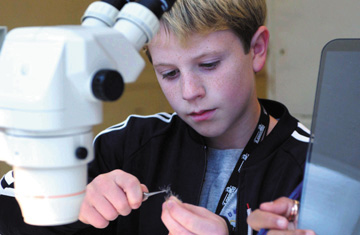 Samples Hart took after the rain showed an increase in all three parameters, but his tests of the rainwater itself indicated that the culprit did not fall from the sky. He also provided samples to a university lab, which found higher levels of total coliforms, fecal coliforms and E. coli contaminants in the samples taken after the rains. Urban runoff, he concluded, must be contributing to the pollution.

David Hart concentrates on extracting the perfect sample from a bird feather during the ornithology challenge at the National Museum of Natural History in Washington.

For his work, Hart won a special prize from the University of California at Santa Barbara's Marine Science Institute to spend a few days working with marine scientists in California studying coastal environments.

Hart was also one of 40 finalists in the fourth annual Discovery Channel Young Scientists Challenge that culminated in Washington for a week of team competitions in October. The challenge is open to winners of regional science fairs across the nation and draws thousands of students each year. While most of the projects focused on biology or physics, at least 12 percent of the finalists investigated earth and environmental science issues affecting their own communities. During the week, all of the students dealt with issues related to earth science at some point during their daily team challenges.

In first place, Christine Haas, 14, of Clovis, Calif., won a $15,000 scholarship and the title of "America's Top Young Scientist of the Year." She won for her science project as well as the skills she demonstrated during the week-long competition. For her project, she created a natural mosquito poison from the buckeye plant that interfered with the pest's development. During the week, her team faced a mock crisis situation involving an approaching hurricane and a terrorist incident at the Washington, D.C., Emergency Management Agency. As part of her award, Haas also won a behind-the-scenes tour of Paramount Pictures' set of the Star Trek: Enterprise television series in Hollywood.

Coming in with the second-place prize for the competition and a $7,500 scholarship was Kurt Dahlstrom of Hillsboro, N.D., for his project on the effects of road de-icers on vegetation and water quality. Dahlstrom's role model in science is his father, who is a farmer and, Dahlstrom says, "has to work with science on a daily basis, whether it is growing under natural weather conditions or enhancing the crop with chemicals." Dahlstrom, 14, tested the toxicity of a variety of chemicals commonly found in de-icers on lettuce seeds and "water fleas," or Daphnia, common freshwater crustaceans. Calcium acetate proved the least inhibiting to the plant and water fleas, whereas calcium chloride, used on Minnesota roads, performed well in the Daphnia experiment but not with the lettuce. The de-icer chemicals most toxic to the two groups were magnesium chloride and sodium chloride.

Finalists Jennifer Gutman of Wheeling, W.V., and Nivedita "Nita" Bhat of Miami, Fla., both learned about toxins in their region from the media and set out to make a difference using their science fair project as a starting point. Gutman, 12, tested for arsenic levels in soils at different intervals away from wooden posts and decks that had been in the ground between one and 20 years and originally treated with copper chromate arsenate. She found nine samples that exceeded the Environmental Protection Agency (EPA) regulations and consistently higher levels in soils closer to the older wooden posts and decks.

Bhat, 14, used geographic information system (GIS) software to analyze the distribution of facilities that EPA had listed in Miami-Dade county as having a Toxic Release Inventory (TRI). She learned that 58 of the county's 363 public schools fell within a one-mile radius of a TRI facility and that, more often, low-income populations lived closer to the facilities than higher-income communities.

"I did this project as an eye-opener. Most people don't know this problem exists," Bhat says.

As the week came to a close, the top three teams competed in a final challenge that tested their understanding of Newton's Laws of Motion. The winning team — Lorren Kezmoh of Pittsburgh, Penn., Yahya Mohammed of Niceville, Fla., Kelydra Welcker of Parkersburg, W.Va., Ashley Woodall of Rawlett, Texas, and Adam Quade of New Brighton, Minn., who also won third place in the Discovery Channel Young Scientists Challenge — will catch up with each other again in June to explore an excavation at Mammoth Site in Hot Springs, S.D., with paleontologist Larry Agenbroad of Northern Arizona University. "This week I learned there's a lot to learn about everything," Quade says. "I learned everyone here has a lot of stuff in common besides science."


---
Visit the Earth Science Week Web site to see the winning entries in this year's contest.
---