---
Web Extra Monday, January 26, 2004
---
Mars Update: Opportunity lands

Two new rovers now inhabit Mars, after the latest of NASA's robot explorers, Opportunity, landed safely over the weekend. Following a brief hiccup last week when its twin went momentarily silent, Opportunity touched down on Saturday night, half a planet away from Spirit. Meanwhile, the European Space Agency (ESA) reports its Mars Express also has been taking a closer look at the planet from its orbit.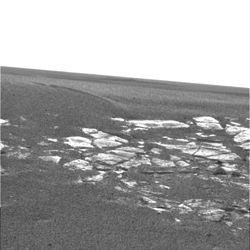 After settling into its new home crater, Opportunity immediately sent back its first photos, showing a landscape that NASA calls "unlike any other seen" before on the planet. The soils seem darker, and there is the promise of the first outcropping of bedrock ever observed on Mars. That outcrop may be a priority once the lander is moving, which won't happen for another two weeks.
First Mars outcrop. This image taken by Opportunity in its Martian crater home shows lighter colored rocks outcropping nearby, surrounded by darker hematite soils. Click the image to see a higher-resolution version.
In the meantime, the team of researchers ensconced at the Jet Propulsion Laboratory in Pasadena, Calif., has determined that Spirit has been suffering from memory management problems. The onboard software uses "flash" memory, as do other compact-technology devices, such as digital cameras. NASA reports that they will be fixing the problem soon, and engineers have found ways to communicate once again with Spirit, which landed Jan. 3.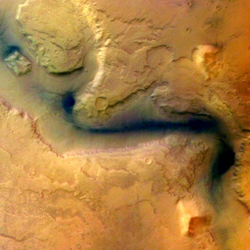 The European Space Agency (ESA) has not been able to say the same for its rover, Beagle. However, last Friday, the ESA presented images from the Mars Express satellite taken over the past month. The mission sent back extraordinary highly detailed, full color 3-D images of the surface of Mars, among them showing the surface of Reull Vallis region, which appears to have been carved by water. The imager also took photos of Valles Marineris, with the highest resolution ever of Mars' surface, at 12 meters per pixel.
Reull Vallis, a seemingly water-carved channel on Mars, as photographed by the High Resolution Stereo Camera (HRSC) on the ESA's Mars Express orbiter. The camera takes full color 3-D images. Click the image to see a higher-resolution version.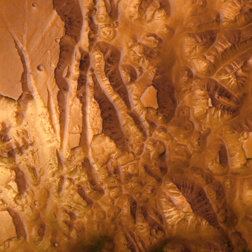 As Mars Express settles into its orbit, it has taken a closer look at the southern polar cap. Infrared spectrometry detected water ice and carbon dioxide ice, according to an ESA press release.

Valles Marineris, or Mars' Grand Canyon, snapped in color and 3-D on Jan. 14, 2004, by the HRSC on ESA's Mars Express orbiter. This image, at 12 meters per pixel, is the first taken at such size — the swath is 1700 kilometers by 65 kilometers wide — of Mars' surface at such high resolution.

For more information and images from the Mars rovers and Mars Express, see the links below, and keep watching Geotimes WebExtras for further updates.
Naomi Lubick

Links:
NASA's Mars page
European Space Agency
Mars Express — first images

First posted 1/26/04; updated 1/28/04.
---