---
Geoscience Education & Outreach
---
Earth Science Week in the Limelight
Cynthia Martinez


October was a busy month for the earth sciences. Teacher Michael Wagner and his science classes at Heritage High School in Leesburg, Va., collected cloud-observation data as part of an intense observation period for NASA's S'COOL (Students' Cloud Observations Online) program. The Cleveland Museum of Natural History hosted an "Antiques Rock Show," where geologists were on hand to identify rocks brought in by museum visitors. Students at the University of Dayton hosted an earth-science career fair, guest lectures and a "geo-movie" night. And fourth-grade students from the Tampa-St. Petersburg area in Florida visited the U.S. Geological Survey (USGS) Center for Coastal and Watershed Studies to explore the ways scientists monitor Earth.

All of these events marked the celebration of the sixth annual Earth Science Week, held Oct. 12-18. Created by the American Geological Institute (AGI) to promote understanding and appreciation of the value of earth science research and its applications and relevance to our daily lives, Earth Science Week encourages geoscientists to share their knowledge and enthusiasm about Earth with the public. This year's event celebrated the theme "Eyes on Planet Earth: Monitoring Our Changing World."

President George W. Bush officially recognized Earth Science Week and released a presidential message on Oct. 10, applauding the efforts of scientists, educators and parents to raise awareness about the importance of studying Earth. In addition, at least 21 governors proclaimed Earth Science Week in their states.

To help facilitate planning, AGI distributed more than 11,000 Earth Science Week information kits, which contained educational and outreach tools for teachers and event organizers. Materials in the kits included NASA lithographs of satellite images, the new AGI "Petroleum and the Environment" poster, a set of classroom activities entitled "Tracking Change Through Time" from USGS and the jointly produced USGS/AGI Global GIS North America CD-ROM.

Included with the CD-ROM was a guided activity to introduce students to the use of powerful GIS software in earth science applications. Initial feedback about the kits indicates that they are a high-quality resource for teachers and geoscientists, who are teaching students and the public about the earth sciences.

AGI also maintains a popular Web site dedicated to promoting the week. Receiving more than 15,000 hits in October, the site includes information about participating in Earth Science Week for geoscientists, teachers, students and the media. It also includes a searchable database of events and a comprehensive listing of events planned during the week all over the world.

This year, in all, leaders in the earth science community organized more than 200 events in all 50 states and in countries around the world as part of the week. Earth Science Week even made it on television, with NASA airing a special program, Virtual Earth, on Public Broadcasting Service stations and NASA TV, in honor of the week.

In Tennessee, Gov. Phil Bredesen urged citizens to join him in the observance of Earth Science Week. "In doing so, Governor Bredesen recognized the importance of geology and other earth sciences in each of our lives," wrote Tennessee State Geologist Ron Zurawski. "From the role they play in supporting mineral and water resources, preparing for and mitigating natural hazards, solving environmental problems, and dealing with complex ecological issues, the earth sciences are crucial to sound decision-making and effective stewardship of our natural environment."


Contest Winners
As part of Earth Science Week, the American Geological Institute organizes four contests open to school-aged children and the public. These include an art contest for elementary school children, an essay contest for middle and high school students, a lesson plan design contest for educators and a photography contest open to the public. The following winners received cash prizes and subscriptions to Geotimes:

VISUAL ARTS CONTEST:
Christina Gill, Herndon, Va., "Keeping an Eye on Our Earth" [see sidebar below]

ESSAY CONTEST:
Jessica Taylor, Cary, N.C., "Who is a volcanologist and what do they do?"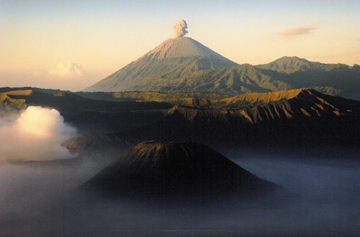 PHOTOGRAPHY CONTEST:
Ben Kennedy, Montreal, Canada, "Tengar Caldera and Mt. Semeru, Indonesia"

LESSON PLAN DESIGN CONTEST:
Mary Ball, Jefferson City, Tenn., "Monitoring our Changing World: The USGS Stream Gage Network"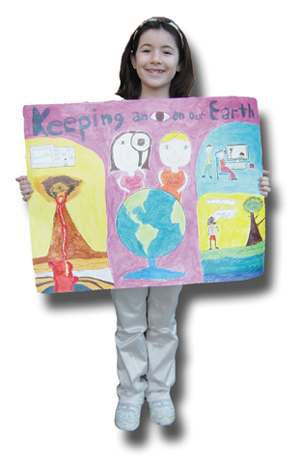 Eyes on Christina Gill

Eight-year-old Christina Gill from Herndon, Va., was the winner of this year's Visual Arts contest. A third-grade student at Cross Field Elementary school, Christina already has a keen interest in learning about the earth sciences. She may even become an earth scientist when she grows up, following in the footsteps of her grandfather, who was a geologist from Peru.

Christina is generously donating her cash award for winning the visual arts contest to two fellow students so that they may attend the U.S. Geological Survey summer camp next August. She met the two students while taking science lessons from older Girl Scouts during the fall of 2003, and she would like to help her classmates who could not otherwise afford to participate in the science camp.
Getting involved

Are you wondering how you can get involved? The American Geological Institute is already planning next October's event. The theme is "Living on a Restless Earth," and will take place from Oct. 10-16, 2004. The restless nature of our planet affects the global community every day. For example, earthquakes rattle the islands of Japan, volcanic activity closes resorts in Italy, the fishing industry in Peru struggles to survive changes in ocean temperature caused by El Niño, and a sinkhole in the karst terrain in Florida causes the sudden collapse of a building. Earth scientists study dramatic phenomena such as these in order to understand their causes and minimize their impact on society. Share your knowledge and enthusiasm about studying our dynamic Earth with others by getting involved in Earth Science Week. To learn how, visit www.earthsciweek.org.

---
Martinez is the manager of the Earth Science Week program at the American Geological Institute (AGI). Email: cmm@agiweb.org.

AGI organizes Earth Science Week, with support from USGS, the American Association of Petroleum Geologists Foundation, NASA and the National Park Service.
Links:
Earth Science Week home page
---