---
In Memoriam:
David M. Delo
Michel T. Halbouty
---
David M. Delo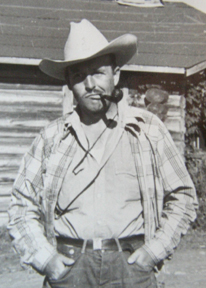 David M. Delo died on Oct. 31, in Seminole, Fla., of congestive heart failure, two months shy of his 99th birthday. A medley of plaques, honorary degrees (five of them) and testimonials reflect what my father once referred to as a "misspent life."

By the time he was 40 years old, my father had abandoned the joys of field geology — but he never forgot the Tertiary turtle he found in the Black Hills, nor did he forget the cold floors of the little mountain cabin at the geology field camp in the Wind River Mountains.

David M. Delo, a geologist shown here circa 1935 outside of an old cabin he stayed in when at the Wind River Geology Field Camp, died on Oct. 31. Courtesy of David Delo Jr.

He was a geologist first, graduating from Miami University of Ohio in 1926 and earning a master's degree from the University of Kansas in 1928 and a Ph.D. from Harvard in 1935. He was a founder and later president of the National Association of Geology Teachers and the first executive director of the American Geological Institute (which publishes Geotimes).

After teaching in several Midwest colleges and universities and holding administrative positions in Washington, D.C., during and after World War II, my father also turned his back on his talent and love of teaching. But he never forgot to tell the story — for decades — about the day he admonished his disbelieving students on a beautiful day that it would storm before noon, and thunder preceded the bell by seconds.

Instead, my father gave in to an obdurate inner voice, and in 1952, he accepted his first college presidency at Wagner College, on Staten Island, N.Y. Six years later, he took over the presidency of the University of Tampa. For the ensuing 16 years, he confronted the challenges that all private educational institutions face — the need to forge an educational philosophy that reaches for excellence and the future, and the urgent need to secure a "golden fleece" to end the plague of inadequate financial support.

"An institution, to be great," my father said, "must maintain great expectations of itself. It must have clear-cut objectives and goals . . . the ability to be flexible and courage to experiment . . . and it must possess an atmosphere which motivates and stimulates the educational process." Those words reflected the expectations that my father held for himself.

One prominent memory stands out in my mind as his son. It was a late summer afternoon, 15 years ago, and he and I stood on a 10,000-foot-high promontory in Wyoming's snowy mountains, sharing a moment of mutual love of nature. Without thinking, he caressed the handle of his geology hammer and spoke to me as though I were one of his students. And even though I was educated as a geologist, I knew that he had forgotten more about Earth than I will ever know.

Halfway down the hill that day he paused and leaned back against a rock. "Aw, hell," he said. "My knees are shot." So that year, at age 82, he cut back. He only attended one archeological dig after his jaunt to Hawaii to peer into Mauna Loa.

I would call my father's life "the life of Dr. David M. Delo: Zen and the art of a life fulfilled."

David Delo Jr.

Back to top
---
Michel T. Halbouty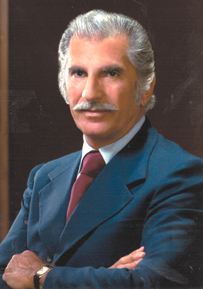 Editors' note: Michel T. Halbouty passed away on Nov. 6 at the age of 95. After he received the American Geological Institute's Legendary Geoscientist Award in 2001, Geotimes profiled him. The following is modified from that November 2001 article.
Born in Beaumont, Texas, Halbouty attended Texas A&M University as an undergraduate and a graduate, earning his professional geological engineering degree in 1956. Ten years later, he received a doctorate in engineering from Montana College of Science and Technology.

Michel T. Halbouty, recipient of the American Geological Institute's Legendary Scientist Award in 2001, died on Nov. 6. File photo.

But his degrees went beyond the United States. In 1990, the USSR Academy of Sciences awarded Halbouty a geosciences doctorate degree, the only such honor the academy bestowed to a scientist outside the Soviet Union. The University of Nanjing, People's Republic of China, presented him with an Honorary Professorship in Geology in 1993. The degree recognized his many years of lecturing to students, academics and geoscientists of numerous governmental agencies throughout China, as well as his numerous contributions to the advancement of petroleum geology in China.

Halbouty began his career as a geologist and petroleum engineer with an independent oil company and later as a consultant before becoming founder and chairman of the Michel T. Halbouty Energy Company. Throughout his career, he was engaged in the exploration and production of oil and gas.

Halbouty was chairman of the Board of Halbouty Alaska Oil Company, known as Halasko, which was the first independent company to discover a gas field in Alaska.

When asked why he went to Alaska, Halbouty explained, "I'm a perennial wildcat." In talking about his first drilling expedition to Alaska, he said: "I was the only independent to have the nerve to go up there because of my enthusiasm to challenge the Earth. I had the unmitigated guts to get out there."

For more information on Michel Halbouty, read War Without End: The Story of Michel T. Halbouty's Struggle for American Energy Security, by Jack Donahue (Gulf Publishing Co., Houston, 1990).

---
Back to top

---