---
News Notes
---
In Memoriam
University of Texas mourns loss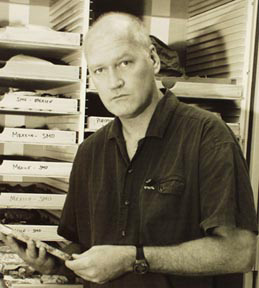 Robert Goldhammer's students remember them well: they called them Bob Props. They would arrive at their field-trip site, and Goldhammer would unroll a laminated map or some other prop, covering an entire side of the van and securing the prop with magnets. Then he would start talking.

"Every time he talked he kind of sucked you in and he had this aura about him and you enjoyed being there and you loved the geology and you loved the rocks. All you wanted to do was learn more and discuss it with him," says Barbara Tillotson, who did her master's work on carbonates with Goldhammer at the University of Texas at Austin and just started a job as a geologist with ConocoPhillips in Houston. "He had all this knowledge in his head and all he wanted to do was take all the knowledge in his head and stick it in our heads."
Photo of Robert Goldhammer supplied by University of Texas.

Recently, Goldhammer's nine graduate students made their own Bob Prop: a 42-inch high, 15-foot long photo montage assembled from images sent by Goldhammer's former colleagues in industry, by his fellow professors within the John A. and Katherine G. Jackson School of Geosciences, by his family and by his students. The Bob Prop was on display May 31 at the university's alumni center as part of a service attended by an estimated 300 people to celebrate Goldhammer's life and to celebrate the life of student Raquel Vieira de Savariego.

Goldhammer and de Savariego both died May 26 in an automobile accident that has shocked and saddened their families and hundreds in the geology community. They were part of a six-car caravan headed west on Interstate-10 on the first day of the geology department's annual six-week field course. Seventeen miles from the town of Balmorhea, the Ford Excursion in which they and three more students were traveling flipped and rolled, killing Goldhammer and de Savariego.

Also in the vehicle was graduate student Timothy Gibbons, who suffered major injuries and had been listed in critical condition at Odessa Regional Hospital until early June, when he was transferred to Austin and began rehabilitation. Two other students in the vehicle suffered injuries and were treated and released from local hospitals.

The Texas Department of Public Safety (DPS) is investigating the accident. It reports that the Excursion veered into the median and, when the driver overcorrected to the right, went into a roll. The driver was the only one wearing a seatbelt, according to DPS.

The driver is certified and employed by the university and has been a driver for past field trips, says Gary Kocurek, chair of the Department of Geological Sciences. Each vehicle had a certified driver and certified backup driver, a few of the many safety precautions the department follows for doing field work, he adds.

"People have put a lot of thought into being as safe as possible," Kocurek says.

Goldhammer was 45 and had just started teaching in the department in 2001. Having worked 12 years in industry, he had an opportunity to pursue a long-time dream of teaching, and he made the career switch.

"He was most happy when he was teaching in the field," writes Scott Tinker, director of the Bureau of Economic Geology at the university, in an obituary released by the Bureau. "Most of us add incrementally to scientific advancement. Bob was one of very few individuals who could make step changes in our science."

By 2001, Goldhammer had established himself as a world-renowned carbonate sequence stratigrapher, having worked at Exxon Production Research Co. in Houston, Shell Development Co., the Bureau of Economic Geology, Sonat and Texaco. He published many papers while he worked in industry, and received the Society of Sedimentary Geology's Outstanding Paper Award in 1994 for a paper on sequence stratigraphy in West Texas. He also toured as a distinguished lecturer for the American Association of Petroleum Geologists. He earned his Ph.D. from Johns Hopkins University in 1987.

The department was reviewing Goldhammer's files for an early tenure decision, Kocurek says. In 2002, at the election of his students, he received the G. Moses and Carolyn G. Knebel Distinguished Teaching Award and the College of Natural Sciences Teaching Excellence Award this year.

He was particularly well known for his work on cyclo- and sequence stratigraphy of Mesozoic carbonates all over the world, says Goldhammer's wife, Ursula Hammes, a geologist at the Bureau whom Goldhammer met on a field trip in The Dolomites in Italy. "He did not know any boundaries. That's why he was such a great scientist. He always had an open mind about developing new concepts," she says.

"He thought outside the box. He used all the tools that were available to him. He could do everything from thin sections to geochemistry to a huge seismic line. … It's not just us that are going to miss him, the family; but he's such a loss to the scientific community. What implications that has — nobody really knows what they're going to be."

Goldhammer also leaves behind two children, Nora, 4, and Max, 1.

Raquel de Savariego was 26 and had just arrived at the University of Texas this spring as a visiting scholar from Brazil. She was interested in petroleum and sedimentary geology, says William Galloway, a professor in the department who designed a special course for de Savariego. Every week, the two met for two hours to help her translate the geological terms she had learned in Portuguese into their English equivalents. Their main tools were pictures and Galloway's knowledge of some geological terms in Spanish. They developed a rapport.

"As a student, she was a real joy to work with," Galloway says. "I was going to remember her anyway … partly because I got to know her and partly because she was very excited about geology and learning more about it. She was a delightful young lady, and it's a real loss."

None of the other vehicles in the caravan, which also carried an assistant instructor, two more TAs and 21 other undergraduate students, were involved in the accident. They stopped at the scene, and the students are still dealing with what they saw, Kocurek says. The university has provided grief counselors for them.

On June 9, the students continued the field course, picking it up in New Mexico. "I think it's incredibly important that we don't lose sight of why we got into geology in the first place," says Brook CD Riley, a graduate student who was also the associate instructor on the field trip. "And just with that we honor Bob because the field was where he loved to be. Just to continue what he thought was fundamental is in itself an end, a goal."

Kristina Bartlett

Link:

University of Texas story
---