---
What's in the print version of Geotimes this month ...
---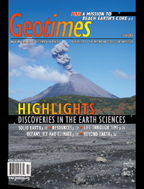 July 2003
vol. 48, no. 7
HIGHLIGHTS: DISCOVERIES IN THE EARTH SCIENCES

12 Solid Earth
Earthquakes by Susan E. Hough * Volcanoes by Tobias Fischer * Geomorphology by Jeffrey D. Niemann and Eric Kirby * Structural Geology by Mary Hubbard * Metamorphism by Michael Brown * Igneous Petrology by Allen Glazner * Carbonates by Evan K. Franseen and Katherine A. Giles * Mineralogy by Richard J. Harrison * Limnogeology by Elizabeth H. Gierlowski-Kordesch * Geochemistry by Adam J.R. Kent * Soil Science by Michael J. Singer


Click the image above to view a high resolution version of the cover.
22 Resources
Mapping by Kevin M. Schmidt * Hydrology by Venkat Lakshmi * Geothermal Energy by John Sass and Wendell Duffield * Economic Geology by Neil Phillips * Petroleum Geology by William Almon * Exploration Geophysics by Michael S. Bahorich * Coal Science by Leslie Ruppert


28 Life through Time
Vertebrates by Donald R. Prothero * Invertebrates by Warren D. Allmon * Geoarchaeology by Vance T. Holliday * Geomicrobiology by Jan P. Amend

32 Oceans and Ice and Climate
Paleoclimatology & Paleoceanography by Thomas M. Marchitto Jr. * Ocean Drilling by Thomas A. Davies * Glaciology by Terence J. Hughes

36Beyond Earth
Meteorites by Kevin Righter * Planetary Geology by Martha S. Gilmore

---
NEWS & VIEWS


---

5 COMMENT
Cooperating to Lead
The American Geological Institute gathered geoscience leaders in Washington, D.C., to find new opportunities for alliance.
M. Ray Thomasson


6 NEWS NOTES
Challenging core ideas * Jumbled Missouri geology linked to impact * Quake protection in the heartland * Watching the planet green * University of Texas mourns loss


32 GEOPHENOMENA
La Niña predicted to boost hurricane season

52 GEOLOGIC COLUMN
The Not-So-Retired Life
At retirement, geologist Robert Spoelhof finally learns what he wants to be when he grows up.
Robert Spoelhof

DEPARTMENTS


---

2 From the Editor
4 Letters: Perspectives from readers
38 Where on Earth?
42 Profiles: Peter Vail
43 In Memoriam: Konrad B. Krauskopf
44 Benchmarks: Looking back in Geotimes
45 Energy & Resources: Sulfur
46 GeoMarketplace
48 Classified Ads: Career Opportunities
51 Contributors Page


---