---
Web Extra Tuesday, July 13, 2004
---
Earthquake rattles Tibet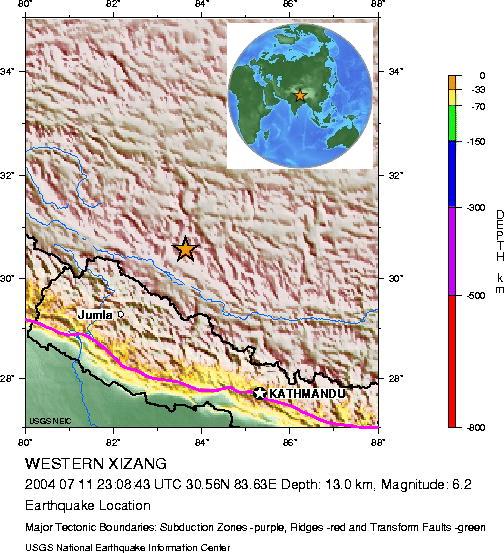 Early Monday morning, an earthquake shook the sparsely populated Gangdise Mountains in Tibet. The U.S. Geological Survey (USGS) National Earthquake Information Center, located in Golden, Colo., reports the magnitude of the quake as 6.0, although Tibetan officials originally suggested the magnitude might be as high as 6.7.
The earthquake's epicenter is located in the "very rough and rural" Xizang province and workers have been unable to get into the area to assess the damage, says Waverly Person, a geophysicist with USGS. The area has an average elevation over 5,000 meters and is located about 200 miles northwest of Katmandu, the capital of Nepal and closest city.
The orange star on this relief map of southwestern Tibet marks the epicenter of the earthquake. The earthquake was located in the Gangdise Mountains, which are located to the north of the Himalayas. Image courtesy USGS.
The Xizang province is mainly inhabited by nomadic farmers, so Person expects there will be little damage. "If this had happened in a highly populated area, you would expect some damage and death," he says. The earthquake is reported to have ruptured at only 10 kilometers depth. Such shallow earthquakes are the most destructive.
The Tibetan region as a whole is known for its shallow earthquakes — a common feature of regions where plates are colliding, Person says. The Indian plate is presently colliding with the Asian plate at a rate of 18 millimeters per year, which continues to push up the Himalayan Mountains and Tibetan Plateau.

Jay Chapman
Geotimes summer intern
Links:
USGS National Earthquake Information Center


---