---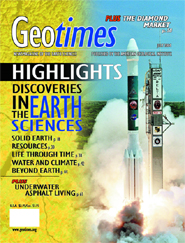 Click the image above to view a high-resolution version of the cover.
What's in the print version of Geotimes this month ...
---
July 2004
vol. 49, no. 7

FEATURES

18 SOLID EARTH
Earthquakes by Rachel E. Abercrombie * Volcanoes by Michael Ramsey * Structural Geology by Mary Hubbard * Sedimentary Basins by Brian Horton * Geomorphology by Noah P. Snyder * Caves and Karst by Louise D. Hose * Geodesy by Jeff Freymueller * Geochemistry by Adam Kent * Mineralogy I by Robert M. Hazen * Mineralogy II by Udo Becker * Clay Minerals by Theo Kloprogge * Carbonates by the University of Kansas Carbonate Research Group * Soil Science by Naomi Lubick * Hydropedology by Hangsheng Lin * Metamorphism by Donna L. Whitney * Igneous Petrology by Lang Farmer


30 RESOURCES
Economic Geology by Neil Phillips * Petroleum Geology by Jim Handschy * Geothermal Energy by John Sass and Wendell Duffield * Mapping by Harvey Thorleifson * Hydrogeology by Stephen M. Testa * Coal Science by Leslie Ruppert * Exploration Geophysics by Craig Beasley

38 LIFE THROUGH TIME
Vertebrate Paleontology by Donald Prothero * Invertebrates by Warren Allmon * Geoarchaeology by David L. Cremeens * Geomicrobiology and Genomes by Jan Amend * Palynology by Frederick J. Rich and Gordon D. Wood * Paleobotany by Brian Axsmith

42 WATER AND CLIMATE
Paleoceanography & Paleoclimatology by Athanasios Koutavas * Ocean Drilling by Thomas A. Davies * Limnogeology by Elizabeth H. Gierlowski-Kordesch

44 BEYOND EARTH
Meteorites by Tim McCoy * Planetary Geology by Geoffrey Collins
---
NEWS & VIEWS


---

7 COMMENT
The Geosciences — Profession or Discipline?
The earth sciences are at a crossroads: Will they broaden into a liberal science or try to retain the status of a profession?
Christopher M. Keane


8 NEWS NOTES
Ocean management 101 * Possible P/T impact crater * Recalculating the warming trend * Shedding light on ancient molting * Homeland security and geospatial data * Volcanic avalanches * Under-reef pipelines get green light * Core compositions * Capitol loss


17 POLITICAL SCENE
Suppressing Science in Policy: Sharing Responsibility
Science is only one of many factors that contribute to decisions on science policy made on the Hill and in the White House.
Eloise Kendy

58 TRENDS
Next Best Friend: Cultured Diamonds
A new breed of diamond is taking the gem and industrial worlds by storm: cultured stones created in the lab in a geologic second.
Megan Sever


60 PROFILES
Joining the academy: The National Academy of Sciences has elected six geoscientists to join its membership this year.

61 GEOPHENOMENA
Underwater asphalt living

64 ENERGY & RESOURCES
Two suits on land use
Mineral of the Month: Feldspar

68 GEOMEDIA
Digital geologic map of Virginia
On the shelf
On the Web


80 GEOLOGIC COLUMN
Manna from the Heavens?
When an ordinary rock shoots to cosmic fame, its finders often seek fortunes only to find geologic truth.
Lisa Rossbacher

DEPARTMENTS


---

4 From the Editor
6 Letters: Perspectives from readers
56 Where on Earth?
66 Benchmarks: Looking back in Geotimes
70 GeoMarketplace
72 Classifieds: Career Opportunities
79 Contributors Page

Want to attend a geoscience meeting? Visit the online Calendar.



Click here to subscribe.

---