---
Energy & Resources
---
Two suits on land use
Mineral Resource of the Month: Feldspar
---
Two suits on land use


Lease sale in Alaska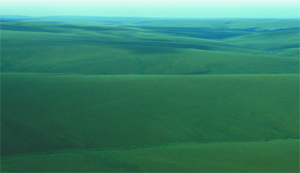 Despite ongoing litigation, the oil and gas exploration lease sale in the northwest portion of the National Petroleum Reserve-Alaska (NPRA) went ahead as planned in early June and ended up grossing more than the Bureau of Land Management (BLM) expected.

In an environmentally controversial area, the National Petroleum Reserve Alaska (shown here), a lease sale went ahead as planned, despite a lawsuit against the Bureau of Land Management. Courtesy of BLM.

As part of the Bush administration's energy plan, BLM offered around 5 million acres of land for lease, of which about 1.4 million acres sold for $53.9 million. Five oil companies bid on 123 remote tracts of land. "We are more than pleased with the support and vote of confidence industry has shown," says Ed Bovy, a public affairs specialist with BLM in Alaska.

Little infrastructure exists in the northwest NPRA, Bovy says, so the oil companies will have to develop infrastructure and explore their tracts before they will know if there is even anything to drill. "The time frame for any oil or gas coming out of here remains to be seen," he says, but he expects it will be more than a decade. And it could be even longer, depending on the resolution of a lawsuit brought by several environmental groups, including Audubon Alaska and the Sierra Club.

The environmental groups sued to stop the lease sale until BLM puts more measures in place to study the effects on and protect the environment and wildlife, such as migrating geese and caribou. In late May, a judge ruled to allow the lease sale but banned surface work, including seismic surveying, drilling or road building, until he rules fully on the case later this summer. The groups are not opposed to oil development in the reserve, says Stan Senner, executive director of Audubon Alaska, but they want to see environmental safeguards in place before development.

For now, BLM is looking over each bid and will formally issue the leases for exploration in NPRA by the beginning of September. The U.S. Geological Survey estimates that the reserve as a whole contains between 5.9 and 13.2 billion barrels of technically recoverable undiscovered oil.
Gas exploration in Utah

In late April, several environmental groups sued to block seismic exploration for natural gas deposits in southeastern Utah in an area known as Nine Mile Canyon, renowned for its Native American rock art — the largest outdoor gallery of petroglyphs and pictographs in North America. BLM had granted permission to the Bill Barrett Corporation to explore 57,000 acres of federal- and state-owned land in this area for natural gas. Until seismic tests are complete, the corporation cannot estimate how much gas might be in place in the region, says Jim Felton, a spokesman for the company.

The lawsuit alleged that prior to the lease, BLM had failed to adequately analyze the exploration project's effects on cultural and natural resources. The groups, including the Southern Utah Wilderness Alliance (SUWA), sued BLM to halt exploration in the area until further evaluation is complete, says Steven Bloch, an attorney for SUWA.

But at the end of May, the Bill Barrett Corporation and the environmental groups reached an agreement, Bloch says, and the plaintiffs dropped their injunction request against BLM. The corporation will seismically explore in less sensitive areas (such as broad plateaus), delay testing in wilderness study areas and conduct additional surveys to ensure protection of cultural resources, he says.

In the meantime, BLM conducted an environmental assessment to measure the proposed project's effects on the landscape. Now that the agency has the results from a public comment period that closed in early June, they are deciding whether to approve the project, says Mark Mackiewicz with BLM in Utah. Furthermore, the agency will decide whether to conduct an environmental impact statement, which is much more in-depth than an environmental assessment. The lawsuit, expected to be finalized this month, could also rule an environmental impact statement mandatory.

"We are hoping that the court will require BLM to do an environmental impact statement," Bloch says. "They need to take a wholesale look at all of the different projects in the area," and right now, he says, BLM is looking at each project singularly. Opponents are not trying to stop energy development altogether, Bloch says. "Our position is that these two resources — cultural resources preservation and development of energy resources — can coexist, but you can't cut corners to try to do that."

Currently, the company is going ahead with seismic exploration on the plateaus. "We don't know how much gas might be there," Felton says. "Seismic exploration will better determine that. But indicators from old wells in the area are intriguing."
Megan Sever

Back to top

---
Mineral Resource of the Month: Feldspar

Michael J. Potter, the feldspar commodity specialist for the U.S. Geological Survey, has compiled the following information on feldspar, the most abundant rock-forming mineral on Earth.

The United States is the third leading producer of feldspar worldwide, after Italy and Turkey, according to data published by the U.S. Geological Survey. Foreign analysts indicate that China is also a leading feldspar producer, but official production data are not available. Feldspars are aluminum silicate minerals that contain varying proportions of calcium, potassium and sodium. Usually occurring in igneous rocks, feldspars are estimated to constitute 60 percent of Earth's crust.

Glass, including containers and glass fiber for construction, is a major end use of feldspar and feldspathic materials in the United States. In glassmaking, alumina from feldspar improves product hardness, durability and resistance to chemical corrosion. Typical feldspar content in glass containers is about 8 percent; content in insulation fiberglass is up to 18 percent. Demand for new glass containers — and therefore feldspar — has lessened with increasing competition from aluminum cans, recycled glass, and paper and plastic (polyethylene terephthalate) containers.

The other major use of feldspar is in ceramics, where the alkalis in feldspar (calcium oxide, potassium oxide and sodium oxide) act as a flux to lower the melting temperature of a ceramic mixture. Fluxes melt in early stages of the firing process, forming a glassy (vitreous) matrix that bonds together the other components of the system. Different types of ceramics require different degrees of so-called vitrification.

Typical feldspar contents in ceramic bodies are the following: 10 to 55 percent in floor and wall tiles; 5 to 30 percent in chemical porcelain and hotel china; 25 to 35 percent in sanitaryware; and 30 to 50 percent in electrical porcelain. The United States has been importing around 75 percent of its tile requirements in recent years from such countries as Italy, Spain, Mexico, Brazil and Indonesia (in decreasing order).

A major U.S. producing area is near Spruce Pine, N.C., where the feldspar ore is alaskite, which is a coarse-grained pegmatitic granite. The Black Hills of South Dakota is another mining area, where pegmatite material is treated to produce potassium feldspar. In Virginia, one company mines aplite, which is a lime-soda feldspar. In Ontario, Canada, and northern Norway, another igneous source rock called nepheline syenite, which contains feldspar and the feldspathoid mineral nepheline, is mined. Also, some feldspar is mined as feldspar-silica sand from certain beach, dune and river sand deposits that were eroded from granitic rocks in California, Idaho and Oklahoma.

Worldwide, at least 50 countries produced more than 10 million tons of feldspar in 2003. Italy produced an estimated 2.5 million tons of feldspar and feldspathic materials, followed by Turkey with 1.7 million tons and the United States with 800,000 tons. Other significant producing areas were Asia and Europe.

For more information on feldspar, visit the USGS Minerals Division online.

Back to top

---