---
News Notes
---
Energy policy
Energy minds meet
WASHINGTON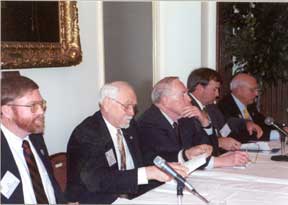 On April 23, delegates from professional societies, governmental agencies, congressional offices, academic institutions and companies congregated in Washington to stake out geologists' role in helping the Bush administration develop a new energy policy. The American Association of Petroleum Geologists (AAPG) called out to geoscience experts to help solve what Secretary of Energy Spencer Abraham said is the most serious energy shortage the country has faced since the 1970s.
[At right: The co-convening societies' presidents spoke during the morning session. Seated from left to right: Jon Price, Association of American State Geologists; Robert Fakundiny, American Institute of Professional Geologists; Toby Carleton, Society of Independent Professional Earth Scientists; Eric Hanson, American Association of Professional Landmen; and Lee Gerhard, principal geologist of the Kansas Geological Survey. Photo by Laura Wright]
"Fundamentally the U.S. has some really serious energy supply problems," says Lee Gerhard, pricipal geologist of the Kansas Geological Survey and one of the conference organizers. "The U.S. has had an energy policy for 200 years that calls for cheap energy at any cost and that's no longer an acceptable policy," he says. Geoscientists, Gerhard adds, have a responsibility to share their knowledge and expertise with policy-makers. The AAPG Energy Summit was their chance to do so — 65 representatives from congressional offices and federal agencies attended the conference as did about 50 professional geologists and other members of the energy industry.
In his opening remarks, AAPG President Marlan Downey charged his fellow speakers to pare down their lives' work into 15 minutes of take-home points and practical suggestions so that a new national energy policy might appear on the horizon.
Downey led his own charge as he outlined what he believes are the two most important short-term changes. First up: increased use of natural gas to quickly boost electricity production. Downey suggests that the industry turn to small, independent exploration companies — not "big oil" — that rely on their own cash to drill wells and must recover their expenditures before they move on to drill new wells. In doing so, production would accelerate and the national treasury would incur few costs.
Toby Carleton, president of the Society of Independent Professional Earth Scientists (SIPES), agreed that the American public and policy-makers have the misconception that all oil and gas production comes through the hands of the major, integrated petroleum companies. But small, independent companies drill approximately 85 percent of wells in the United States. Altogether, these companies produce 40 percent of the domestic oil supply and 65 percent of the domestic natural gas supply. Yet all oil producers are lumped under the umbrella of "big oil," Carleton said.
Solutions also require that we dig in our own yards, rather than making a mess in those of our neighbors, said Robert Fakundiny, president of the American Institute of Professional Geologists (AIPG). Fakundiny expressed AIPG's support for increasing access to public lands to develop energy and mineral resources. In recent years, the United States has encouraged the import of oil and other resources while essentially exporting the environmental responsibilities of resource recovery. Fakundiny quoted from AIPG's draft position on access to public lands as it was issued on Jan. 20: "As a major consumer of energy and mineral resources, the U.S. should be a world leader in environmentally responsible development of its own resources."
Downey's second suggestion: Pay more for gas. He called for a 50-cent-per-gallon gasoline tax and added, "We need such a tax to prepare for, to fund, to actually solve our national energy problems. Talk's cheap. Solutions cost money."
Carleton had other suggestions, including plans to diversify energy supplies and emphasize conservation. "Everything to do with energy should be considered, including such exotic and still undeveloped sources as fusion, gas hydrates and fuel cells," he said. Carleton briefly touched on conservation as he said, "It is self evident that for every barrel of oil conserved, one barrel of foreign oil does not have to be imported." He suggested that conservation should be an important part of energy policy and could be most effectively achieved through fair tax treatment and price adjustments.
The president of AAPG's Division of Professional Affairs, Skip Hobbs, emphasized the correlation between commodity prices and investments in energy research and development. Ultimately, price drives supply. Prices averaged over the past 15 years have been low compared to other commodities; the oil industry has turned one of the poorest annual returns of any industry. The average return since 1990 has been a mere 7 to 8 percent. As a result, Hobbs said, energy investments plummeted and the United States now needs more supplies and new sources of energy. "Cheap energy is great for the economy. However, cheap energy comes at a price to future supply. The day of reckoning has now arrived," Hobbs said.
Laura Wright
---