---
Geology Roadtrips - - - - - - - - - - - - - - - - -
---
GREAT LAKES STATES:
Ohio, Michigan, Minnesota and Indiana
Hocking Hills State Park, Ohio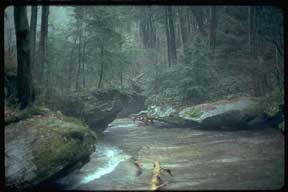 Located in southeast Ohio, Hocking Hills State Park is developed in a terrain underlain by Mississippian siliciclastics, the most spectacular of which is the Blackhand Sandstone. The sandstone forms huge cliffs, narrow, deeply incised valleys and some beautiful waterfalls. There are miles and miles of hiking trails, a state park lodge and rental cabins. The Blackhand was deposited in lower delta plain to delta front environments. There are some flat-pebble conglomerates that were probably deposited in massive offshore-bar environments. The trail through Old Man's Cave valley is a sedimentologist's dream come true.

Thomas M. Berg, Ohio State Geologist

Details:
Phone: 740/385-6841
Web: www.hockinghillspark.com
Directions: From Columbus: Take U.S. 33 East through Lancaster to Logan, and exit onto State Route 664 South. The park is off 664 South about 12 miles from Logan.

---

Keweenaw Peninsula, Michigan

The Keweenaw Peninsula juts into Lake Superior in the northernmost area of the state. It is formed of Middle Proterozoic volcanic and sedimentary rocks and sits on the southern flank of the Lake Superior Syncline at the northwestern end of the mid-continent rift system. The basalts and conglomerates contain native copper, making the peninsula the site of a large copper mining industry from the 1840s to the late 20th century. Specimens of native copper, agates, and other collectible minerals can still be found. While on the peninsula, visitors should stop at the Seaman Mineral Museum located on the campus of Michigan Technological University.

Hal Fitch, Michigan State Geologist

Details:
Phone: 906/337-3168
Web: www.nps.gov/kewe
Directions: Keweenaw National Historical Park: The Quincy Unit is just north of Hancock, along U.S. Highway 41. The Calumet Unit is in and around Calumet, about 8 miles north of the Quincy Unit on U.S. Highway 41.
---
Jay Cooke State Park, Minnesota
Lee Dund works at the Illinois Geological Survey but likes to venture north once in a while to Jay Cooke State Park. "The gorge at Thomson Dam is awesome! Plenty of hiking trails," Dund says.
Phone: 218/384-4610 Web: www.dnr.state.mn.us/parks_and_recreation/state_parks/jay_cooke/index.html
---
Falls of the Ohio State Park, Indiana
Falls of the Ohio State Park is in Jeffersonville, just across the Ohio River from Louisville, Ken., and a mile within I-65. From the Visitors Center, take a complimentary tour of the exposed fossil beds (no collecting is allowed). Phone: 812/280-9970. Web: www.fallsoftheohio.org
---